More than five decades after hopping a fence at an all-star practice and being taken under the wing of Winston Hill, Greg Coleman's legacy – and that of his mentor – became further intertwined Saturday when they were enshrined in the Black College Football Hall of Fame.
Hill passed away in April 2016 but not before leaving his mark as an eight-time all-star tackle (in the AFL and NFL) and influential figure in Coleman's life.
Coleman remembers their first meeting like it was yesterday: Coleman's hometown of Jacksonville, Florida, was hosting the 1968 AFL All-Star Game at the Gator Bowl. He and his friend, young teenagers at the time, scaled the chain-link boundary in hopes of glimpsing Joe Namath a week after the star QB backed up his guarantee in Super Bowl III.
Rather than being kicked out, however, the pair was noticed by Hill, who invited them to come by the hotel after practice. Coleman recalls sitting in Hill's room and soaking up everything Hill imparted about what it meant to be a pro in the NFL.
"Then he took us down to the pool, and we did meet Joe Namath, who was out suntanning by the pool with a couple of different girls," Coleman said with a chuckle.
Coleman took Hill's advice to heart, having set his sights on being the NFL's first Black punter. He would accomplish that goal seven years later when the Bengals selected him in the 1976 NFL Draft after an impressive career at Florida A&M.
Coleman, Hill and four others were inducted into the Black College Football Hall of Fame during a ceremony hosted in Atlanta.
"For months, I have tried to keep the lid on my emotions about this recognition," Coleman admitted this week. "And now that it's a done deal, I can't begin to describe what this feels like – being recognized and called a Hall of Famer."
The moment's magnitude began to sink in Saturday evening.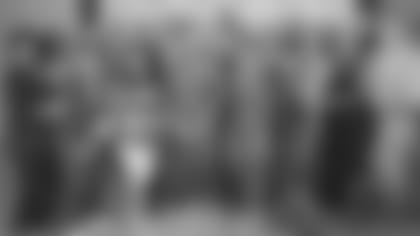 Coleman noted NFL media "big guns" Charles Davis and Steve Wyche, who emceed the program and interviewed each honoree. Previous inductees filled the room, their black blazers matching the new ones of Coleman and the others.
"And then it hits you, walking into the spotlight," Coleman said. "Then you know it's not a dream. It's real. You try not to trip over your feet, and then you try to compose yourself."
Brief sit-down interviews with Wyche and Davis replaced formal speeches, which Coleman appreciated – despite having some natural preacher in his blood.
"I was tempered," he explained. "Mama said, 'You can't say everything at one time. So just say a little bit, be grateful and move on.' "
While Coleman's mother Beatrice passed away in September 2019, she no doubt would be proud of her son's accomplishment. Coleman and his wife Eleanor made sure to share the honor with loved ones, though, hosting more than 50 family members and friends for the special weekend.
The BCFHOF was established in 2009. In 2019, it became permanently included as an exhibit at the Pro Football Hall of Fame in Canton, Ohio. Hill also will be enshrined in the Pro Football Hall of Fame this August when the 2020 class is celebrated after last year's postponement.
In addition to Coleman and Hill, the 2021 class included Pro Bowl defensive lineman Coy Bacon, Pro Bowl tight end Jimmie Giles, former Eagles cornerback Roynell Young and former college football coach Willard Bailey.
The six are part of a unique brotherhood, and not just because of Saturday's ceremony.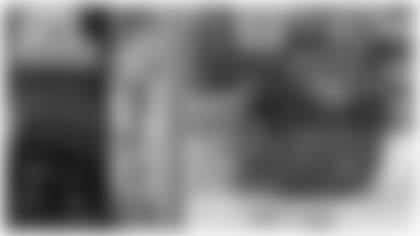 All played for Historically Black colleges and universities (HBCUs), which were established before the Civil Rights Act of 1964 with the intention of primarily serving the African American community.
"The men that I went in with … were all so deserving," Coleman said. "It was a great time of fellowship with men who had [similar] struggles. All coming from HBCU institutions. All – or most – of us had to deal with some sort of racism or oppression. And I think that our class was so fortunate, and it was by God's grace, that we were inducted on June 19, Juneteenth.
"It had a double meaning for me," Coleman added of the date, which just last week was declared a U.S. federal holiday, commemorating the emancipation of African American slaves.
Coleman relies heavily on his Christian faith and believes in the ordained timing of his induction into the Hall.
"Kamala Harris, an African American woman being Vice President. Juneteenth being a national holiday. The focus on HBCUs. The racial unrest in this country and saying, 'Enough is enough,' " Coleman said. "I know God's favor is still upon me, and that's something that I don't take for granted … I'm going to do with it whatever He tells me to do with it. And if he tells me, 'Shine a light,' that's what I'm going to do."
One way in which Coleman hopes to make a difference is by reducing hurdles for Black kickers and punters and the NFL.
"We've gone through the plight of the Black quarterback. I still think the darkness [remains] on the corner of Black punters and kickers. And I'm going to use the platform to shine a light as much as possible," Coleman explained.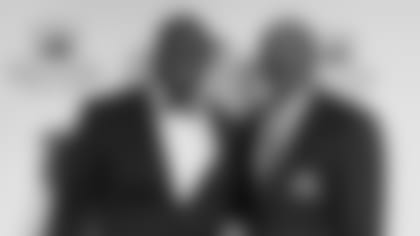 "I wanted to share this moment to give him a context of history and what's possible," Coleman said.
He and Eleanor have established a scholarship program called "The Golden Touch Award," which aims to provide Black punters and kickers at HBCU schools the necessary resources to attend well-respected kicking camps and sharpen their skills.
"To not have one athlete from an HBCU school drafted this year … it's a travesty," Coleman said. "I'm not gonna cry about it, but I'm going to do something about it. I'm gonna help these kids. … I said [during the ceremony], 'When preparation meets opportunity, it's going to equal success.' All these kids need is an opportunity."
Coleman wants to pay forward the support and helping hands he received from others throughout his own academic and career journey.
He referenced Big Ten Commissioner and former Vikings COO Kevin Warren, who once shared the following analogy:
"If you see a turtle on the top of the post in a forest and he says he got there by himself, he's lying through his teeth. Somebody helped him."
From family members to coaches and teachers, Coleman is thankful for each and every individual who helped him reach the BCF Hall of Fame.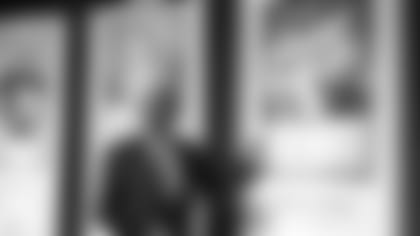 There were the women who worked in the cafeteria at Florida A&M, who used a stick to prop open the door and ensure that football players finishing a late practice would get dinner.
There was Coleman's mentor and track coach, James Day.
There was his English teacher, Sadie Gaither, who offered to tutor him on Wednesday evenings after class.
"Her husband was the legendary coach of Florida A&M, and the athletic director, Jake Gaither," Coleman recalled. "So I go to sit in his den, with all of these amazing photographs of Bob Hayes and Willy Galimore and the great Ken Riley and so many other great athletes from Florida A&M. And all of the trophies and all of these things.
"I'm sitting in there, and he asks, 'Sadie, what is he doing here?' And she said, 'Well, Jake, you get your behind in there and leave this baby alone. He's going to get his homework [done], because he's going to graduate.' "
Now it's Coleman's turn. If he can help in any way, he's going to help.
One such way includes an $8,500 grant that Florida A&M's athletic department will receive on behalf of the Black College Football Hall of Fame. But Coleman didn't stop there; he also appealed for a matched donation from the Vikings, who were happy to oblige.
"Darn near $20,000 is going to go a long way to help some of the student athletes," Coleman said. "I applaud the Vikings, and I appreciate their Social Justice Committee and what [Vikings Owners Mark and Zygi Wilf] have done, and I'm just elated."
Coleman is honored to leave behind a football legacy. But he hopes it's so much more than that. He longs to leave a legacy defined by his off-field impact, his faith and his humanity. And he's already doing just that.
Prior to Coleman's enshrinement, Vikings punter Britton Colquitt tweeted the following:
Asked about Colquitt's post, Coleman's voice grew thick with emotion. He spoke slowly and deliberately.
"It makes every bump in the road. Every pothole. Every slur that you ever had to endure – it makes it worth it. Regardless of whether he's Black, white, green, blue or purple – that statement meant more to me than you can imagine," Coleman said. "All of the struggles … going through the N-word and getting spit balls thrown at you and all that kind of stuff, fighting every other day, and just what you had to go through … to have a young man like Britton, to make that kind of comparison, and to have those words come out of his heart – because I know it's from his heart – it means everything. It means everything. …
"Words are so critical. They're so powerful. They can set you sky-high, or they can make you feel like dirt," he continued. "We are responsible for what comes out of our mouths. The Bible says, 'Life and death is in the power of the tongue.' And I believe that. That's why I'm so careful about what comes out of my mouth."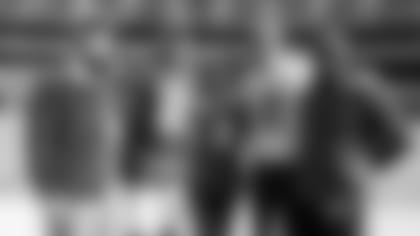 The ceremony may be over, but his work isn't. Coleman plans to continue living up to the words written by Colquitt and other contemporaries. From Ray Guy to Mitch Berger and Sean Landeta, multiple former specialists have reached out to praise Coleman for his enshrinement.
"That group of men just sent me a string of emails: 'Oh man, you thought you were going to sneak in under the radar and we wouldn't say anything about it?' " Coleman laughed. "Reading those, it makes you want to stick your chest out. But it also makes you want to bow your head. Because it makes you think, 'Damn, man, they're talking about me?' Wow. So yeah, it's been – and still is – a great ride."