MINNEAPOLIS —Chad Greenway is no stranger to speaking to 52 teammates.
The former Vikings linebacker delivered several locker room speeches during his 11-season career. Greenway called on the experience in a new role and fresh facility on Saturday morning at the grand opening of the Crew 52 Volunteer Headquarters.
Greenway, who served as a season-long captain for the Vikings in each of the previous two seasons, is now Crew 52 Captain, leading the way for the 10,000 or so people who will be selected to volunteer for Super Bowl LII, which will be hosted by Minnesota at U.S. Bank Stadium on Feb. 4, 2018.
He spoke to a group of lead volunteers moments before they began interviewing hundreds of others who signed up to volunteer in a variety of roles around the area for 10 days of festivities.
"This is a pretty intense group this morning," Greenway said after a robust welcome. "I like this. This is awesome to walk into. This is the volunteers volunteering for the volunteers. You guys are the captains, so as the captain of the captains, I need you guys to be my leaders.
"This is our locker room. What about this space? This is unbelievable," Greenway continued before quipping, "Hopefully, it smells better than our locker room did."
Greenway told the lead volunteers a goal of the program is to identify volunteers who will be able to show visitors "what Minnesota is all about, showcase our state, our people to the whole world."
"We can't find these volunteers without being a little fired up," said Greenway before leading the group through a chant: "Bold!-North! Bold!-North! Bold!-North!"
Greenway then opened the doors to the Crew 52 Volunteer Headquarters, a leased space inside City Center on Nicollet Mall (40 S. 7th St.) that has been decorated with Super Bowl LII banners and arches and photos from around Minnesota. Thin trunks of birch trees stood from floor to ceiling, bringing an element of Minnesota's outdoors inside.
The space will be where volunteer candidates are interviewed as the Minnesota Super Bowl Host Committee rounds up 10,000 volunteers and gives them a few tips on how to best support out-of-town guests. Eighty candidates were interviewed each half hour on Saturday. During the 10 days of Super Bowl-related events, the space will provide a gathering spot for volunteers to meet, prepare for a shift or rest and have a cup of coffee between shifts.
There was plenty of pep on Saturday, with help from Viktor the Viking, the SKOL Line, Minnesota Vikings Cheerleaders and Sirs Skolt Scott, Gunnar and Floki from the Vikings World Order. Skolt Scott is a member of Crew 52.
John Wahl, of Minneapolis, was the first volunteer candidate in line. Originally from the area, Wahl lived in Houston, Lincoln, New York and New Mexico but moved home from Houston in 1968 and has been here since, which is somewhat appropriate since Houston hosted Super Bowl LI.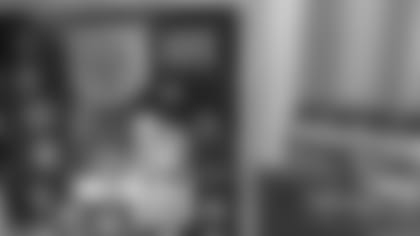 Wahl's connection to the Super Bowl goes back to 1992, when Minnesota hosted Washington and Buffalo during Super Bowl XXVI.
"I was a host at the Marriott in Minnetonka, and that was pre-GPS," Wahl said. "So when people came to us and said they wanted to go somewhere, we'd get the paper maps and highlighters out and give them directions. Hopefully they made it."
Wahl, who will turn 85 in December, said he averages about 350 volunteer hours to multiple organizations each year and is looking forward to being an "ambassador" for the place where he and his wife raised seven children.
Greenway, a South Dakota native who played collegiately at Iowa and is making his post-career home here with his wife and four daughters, said the uniqueness of Minnesota will be fun to showcase for a game that is traditionally held in warmer climates.
"I think it's almost better that it's February and it could be 10 degrees out," Greenway said during an interview. "We know it's cold in Minnesota, especially that time of year, but for us, that's why we're calling it the 'Bold North' because the reality is this is where we live, and the people who come here from all over the world have never experienced anything like that.
"We're excited to show them different things that are fun to do and things we can do," Greenway said. "Ice palaces and ice mazes are going to be really fun. I think the community is obviously rallying behind this event because it's going to be a huge opportunity for businesses and development."
Minnesota Super Bowl Host Committee CEO Maureen Bausch said there are roughly 9,000 prospective volunteers who have registered at mnsuperbowl.com and have scheduled their interviews at the Crew 52 Volunteer Headquarters. She said the organization plans to interview about 14,000 candidates this fall and narrow down that list to 10,000 to 12,000.
Prospective volunteers quickly showed their enthusiasm for the Super Bowl's return to Minnesota.
"I think we broke a record in the NFL. We had almost 10,000 people sign up in 48 hours, and now we have over 20,000," Bausch said. "It's amazing. People came [Friday] to figure out where the center was so they wouldn't be late for their appointment — only in Minnesota. They are excited about the Super Bowl."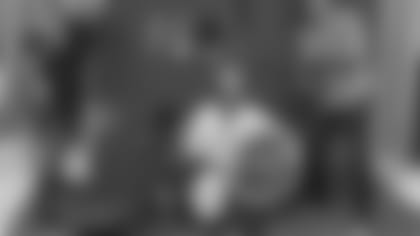 Bausch said registration for prospective volunteers will close around Labor Day, so those who haven't signed up yet need to act quickly so that the screening interviews and training sessions for selected volunteers can be scheduled.
"We're Super Bowl LII, and as we say, there's no one that does 52 better than Chad Greenway," Bausch said. "He wore it proudly for many years with you guys. He represented the number well. When we said, 'Would you be our captain?', he said, 'Yes,' right away. I actually think he's one of the reasons we've had so many register."
Greenway began his work as Crew 52 Captain just prior to Super Bowl LI. He visited Houston before the game to observe all of the events that are part of the build up to the game and the role that volunteers in Houston played in making that game successful.
He wants Minnesota to help make what was viewed as a successful Super Bowl this past February even better.
"This event is going to be what the people make it," Greenway said. "The 10,000 people are going to make these million visitors remember or forget their experience, so for us, as a committee, we're trying to put our best foot forward in identifying the best people and go from there. It's so cool to have the Super Bowl here. Obviously we hope that the Vikings are in it."