EAGAN, Minn. — Frontline Features presented by Miller Lite is recognizing extraordinary individuals who have overcome challenges to make a difference for others during the COVID-19 pandemic.
When the COVID-19 pandemic hit the U.S., Tyler Kielman knew he needed to help.
Tyler, a surgical nurse at Avera Health in Sioux Falls, South Dakota, volunteered to use his past experience in the emergency room.
He did so after discussing the situation with his wife Katie. The couple evaluated the ways their lives would change.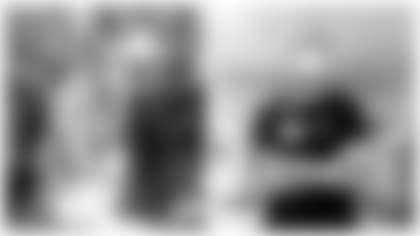 Tyler would no longer wrestle with the couple's two young sons or kiss them goodnight. They knew he potentially would miss his son's first steps and witness his first birthday from a distance. But for the sake of helping others, Tyler separated himself from his loved ones, understanding there would be no concrete "end date."
While caring for patients and interacting with colleagues, Tyler makes his Vikings fandom known. From a Norseman clip on his nametag to tattoos on his left forearm of a Vikings helmet and Hall of Famer Alan Page at the line of scrimmage, he proudly represents the Purple and Gold.
Tyler has volunteered at COVID testing centers several times and willingly taken on a variety of different tasks and health care responsibilities to help as needed.
The Vikings and Miller Lite are proud to recognize Tyler for the sacrifices that he and his family have made.