MANKATO, Minn. –For Vikings receiver Cayleb Jones, football really is family.
It's in his blood to be on the gridiron. Cayleb's father, Robert Jones, was an NFL linebacker – and three-time Super Bowl champion – from 1992-2001; his uncle, Jeff Blake, a quarterback for seven teams from 1992-2005; his cousin, Emory Blake, spent some time with the Rams; and most recently, Cayleb's brother, Zay, was drafted in the second round by the Bills.
When Cayleb was young, he would ask other kids, "Which team does your dad play for?"
"I thought everybody's dad played in the NFL," Cayleb said, smiling. "My dad – I've never second-guessed him being my hero."
Robert Jones played for the Cowboys from 1992-95, the final two years overlapping with Vikings Head Coach Mike Zimmer's start in the NFL as a defensive backs coach in Dallas. In 1994, Robert was voted to the Pro Bowl. He then went on to play with the Rams (1996-97), Dolphins (1998-2000) and the Redskins (2001).
"I vividly remember his second and third year in Miami – I think I was 6, 7, 8 – and then his last year in Washington," Cayleb said. "I remember being in the facility, meeting players and just idolizing all of those guys at such a young age."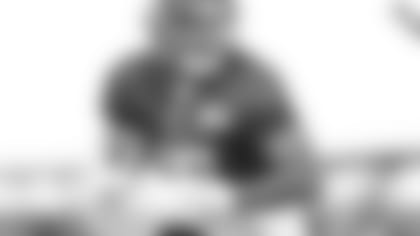 It was a natural progression that Cayleb, Zay and their younger brother, Levi, currently at USC, would get into the sport themselves. And while Robert was well-involved with his sons, it's a lesser-known fact that it was actually their mother, Maneesha, who first got them actively started in football.
"She was the one that home-schooled us, and by the time my dad got home from his day, he didn't want to do anything with football," Cayleb said. "We wanted to be like my dad, and we wanted to play. He was at all of our games that he could be, but our mom was really the one that taught us how to play basketball, taught us how to play football, really just helped us learn."
Cayleb played at Austin High School (Texas) where he was an All-American, three-time all-state, three-time all-area and three-time all-district performer at wide receiver.
He started his collegiate career at Texas before transferring to Arizona, where he was a standout receiver for the Wildcats. Although Cayleb was finding success on the field, he said the NFL didn't feel like a reality to him until midway through his redshirt sophomore season.
"I had so much fun playing the game that I didn't really think that far ahead and didn't really understand how fast life moves," Cayleb said.
In September of 2014, the Wildcats faced the California Golden Bears. Cayleb scored three times, his first on a 41-yard pass in the third quarter, to help Arizona edge California 49-45.
After the game, he thought earnestly about the pros for the first time.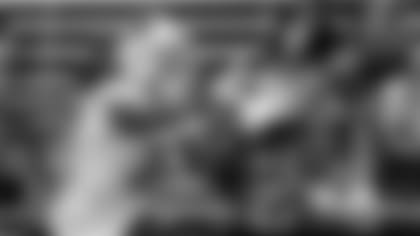 "That was kind of like, 'OK, I have what it takes. I know I have what it takes,' " Cayleb recalled. "And I think from then on, I kind of took it way more seriously than I did before then, beyond just playing for fun."
Added Cayleb: "It's definitely always been a dream of mine, but I've always known the scarce reality of it, too."
He has already defeated the odds by making it to the highest level and is hoping to keep that dream alive.
Cayleb went undrafted in 2016 but was signed as a rookie free agent by Philadelphia, where he spent the preseason through Sept. 19. It was with the Eagles that he first met quarterback Sam Bradford. The Vikings traded for Bradford in early September after Teddy Bridgewater suffered a season-ending knee injury, and when they signed Jones as a free agent in December, he was reunited with a familiar face.
While Cayleb hasn't received reps with Bradford in the Vikings first-team offense, the quarterback has still been a source of support.
"Sam's always been helpful," Cayleb said. "It doesn't matter who it is, you can always go up and ask him questions. When I got here in December, he was one of the first people I walked up to, and he always does a great job of making people feel comfortable."
As Cayleb and Zay are prepping for their second and first NFL offseasons, respectively, they're grateful for each other and for the family members that have gone before them.
The brothers talk to one another every night, and they also welcome advice from their father.
"Some of the things that Zay's going through, I went through last year," Cayleb said. "There's things I feel like you can't prepare for, and then there's things that my dad prepared us well for.
"In my position, [my dad] just preaches to me special teams and the importance of working hard, being diligent, being consistent day-in and day-out," Cayleb continued.
It's been a while since Cayleb and Zay have played together.
"In high school, I was a senior and my brother was a junior. I caught like a post over the middle, was getting tackled and pitched it to him, and he scored," Cayleb recalled. "That was probably one of our coolest moments."
On Thursday, their parents and other family members will have the unique opportunity to see them on the same field again – but this time, they'll be on opposite benches.
The Vikings are slated to play at Buffalo at 6 p.m. (CT) for their first preseason matchup.
"It means so much," Cayleb said of his parents watching him play. "I'm [not where] I want to be – I just know how short-lived this career is, and I just want to really take advantage of every opportunity I have. It's been a dream come true, and it will be a dream come true – for our family, too."
Since the game is in Buffalo, Cayleb is leaving the logistics to Zay and keeping his mind on the playbook.
And as to whether his family will be wearing Vikings Purple or Bills Blue? That's the least of his concerns.
"I don't know, I really don't. It doesn't matter to me – I'm out there trying to win a job," Cayleb said. "But I'm just excited to see them – I haven't seen them in a few months, and it will be fun."