When Jason Lindula started on a massive construction project in the spring of 2015, he never imagined where it would lead him.
Lindula, a safety coordinator for Egan Company, worked for more than a year on the construction of U.S. Bank Stadium. He had been a Vikings fan since moving to Minnesota with his family as a fourth grader, but it wasn't until Lindula watched the team's new home rise from the ground up that he felt drawn to purchase season tickets.
The 2018 season will mark Lindula's fourth as a Season Ticket Member along with his friend, Kelly Jacobsson. Lindula is also a **Vikings Rewards** member, and over the past couple of years he's entered various contests and sweepstakes using his rewards.
When the opportunity came along to enter points for a trip to the NFL Draft in the Dallas area, Lindula didn't hesitate to throw his hat in the ring.
The longtime fan got a phone call a few weeks later, and at first he wondered if it might be a prank.
"I didn't know if it was real," Lindula said. "This is one of those trips that are kind of once-in-a-lifetime that you can't buy, so I thought it was somebody playing a trick on me at first."
The opportunity was very real, however, and Lindula and Jacobsson traveled to Texas for a multi-day draft experience.
On Thursday evening, the friends witnessed Minnesota select CB Mike Hughes with the 30th overall pick, and Jacobsson walked on stage to hand the Purple jersey to NFL Commissioner Roger Goodell. On Saturday, Lindula will have the opportunity to announce one of the Vikings late-round picks.
The Vikings have previously found hidden gems in the late rounds of the draft, and Lindula hopes he'll be part of another success story.  
"There [have been] Hall of Fame players picked in the fifth, sixth, seventh round," Lindula said. "With the Vikings scouting, hopefully they can get somebody who can come and be an impact player, and that moment will hopefully live on in Vikings history as a great pick who can help the team in the future."
Lindula and Jacobsson weren't the only Vikings fans on-hand at the Cowboys stadium in Arlington. As part of a league-wide initiative, the NFL welcomed more than 1,600 football fans from across the country.
Each team designated more than 50 loyal fans, which in the Vikings case were Vikings Rewards members and fans from the Dallas area. The "Inner Circle" experience featured team-rivalry zones and chances for fans to celebrate the team selections with NFL players and Legends.
Vikings fans received custom-designed SKOL T-shirts, rally towels and a Vikings 2018 Draft hat. The highlight of the night, however, was a surprise visit from All-Pro cornerback Xavier Rhodes.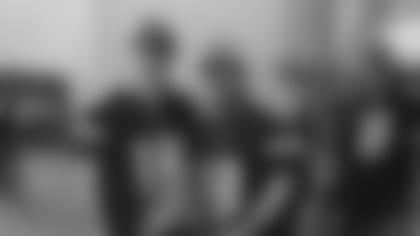 Lindula and Kelly have enjoyed connecting with fellow football fans over the past three days, and opportunities to meet Goodell and NFL Legends will make lasting memories.
The peak of the trip, however, will happen on Saturday when Lindula announces one of the newest Vikings.
"The excitement's building to be able to get up on stage and help celebrate the moment that a guy's been working for his whole life, to make it make it to the NFL," Lindula said. "To help him accomplish that dream and to be a part of the production and the experience [is special]. It's another one of those once-in-a-lifetime experiences."
---
Lindula is just one of the 45,000-plus fans who have created Vikings Rewards accounts and are racking up points by attending Vikings events, watching videos and reading content on Vikings.com, and interacting on social media. Those points can then be exchanged for a number of fun perks, memorabilia items, experiences and rewards.