Blood dripped down from Eric Wilson's forehead, hueing the normally clear protective shield on his face mask an unmistakable red.
Tears streamed down Wilson's face a year later, resulting from a pain that's less visible but more difficult to burden for even the toughest among us.
The bleeding resulted from a cut that Wilson suffered while blocking a Falcons punt — after which he recovered the football — on the fourth snap of Minnesota's 2019 season. The Vikings built off the momentum and scored a touchdown a minute later, seizing control early against the Falcons.
Punter Matt Bosher's right foot went through the protective shield during the play, but the adrenaline of the moment prevailed.
The signature play is documented by an "awesome picture" that is on display in Twin Cities Orthopedics Performance Center, and his uncle had a friend, artist India Joi Rush, hand-draw a portrait — "it's huge, like, 3 feet by 2 feet" — for Wilson.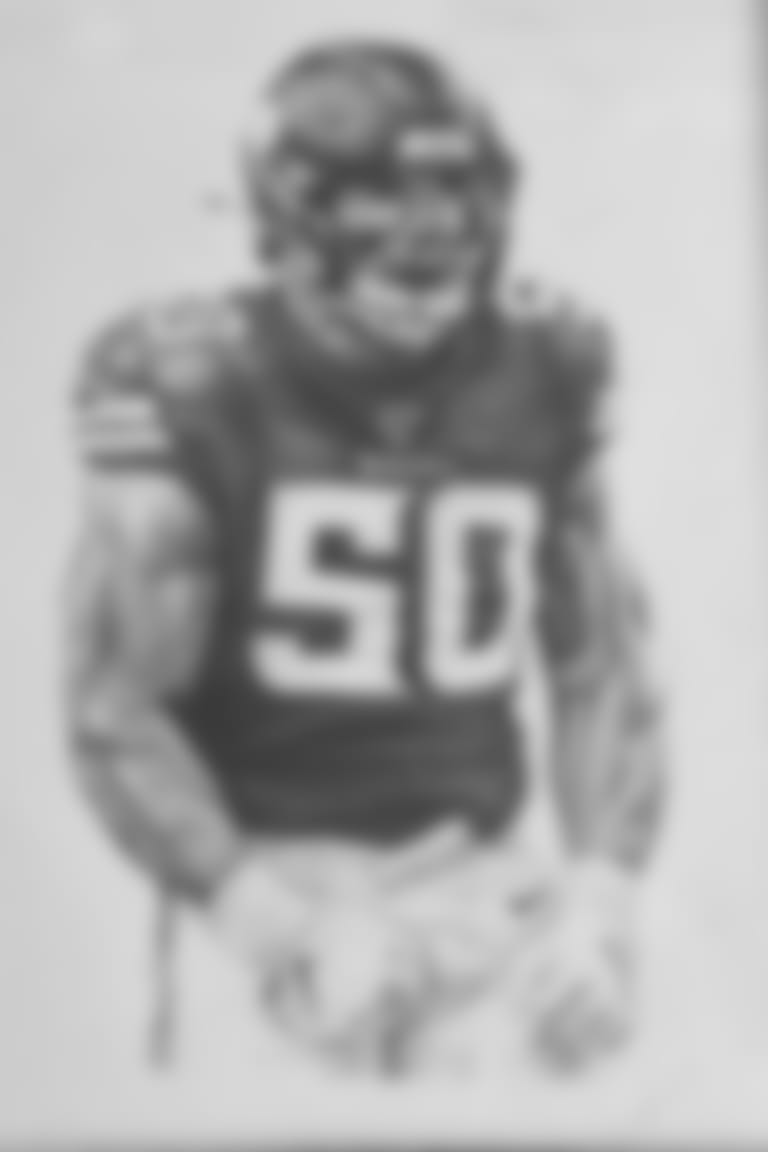 "We have multiple blocks and returns, and depending on whatever down and distance certain blocks are better, but it lined up great on that one," Wilson explained. "Coach made a great call, and my teammates did a great job of doing their part, and I did the same. It was great. I got it right off his foot.
"You just have to adjust. You don't really know when the [right] circumstances are going to get called," Wilson said. "You've got to do what you've got to do and execute your responsibility."
It was a case of the right call and Wilson getting to the right place at the right time, making good on his work as a special teams ace since arriving in Minnesota in 2017 as an undrafted free agent out of Cincinnati.
"I remember my rookie year there would be several [plays] where the ball is right here and my hand is right here, and I'd just barely miss it, so it was great to finally get one." Wilson said. "I don't know what would have happened if I hadn't had the face shield.
"The face shield definitely saved me some bruising and some scarring and [offered] protection from a cut because his foot actually did go directly through my face shield," Wilson added. "It was wild. It's never expected for a punter to basically kick you in the face, but it happened and was a big play."
Wilson said he wore the protective face shield "on and off" in college, opting for it in cold-weather games and avoiding it in hot weather because "you might sweat more and then you're trying to clean it off all of the time."
The protective piece is now non-negotiable for Wilson, who has worked his way up from being an understudy and learning each of the three positions in Minnesota's defense to playing a role in sub packages, and finally this year, the starting lineup in the Vikings base defense.
Before what would be Wilson's first start on a Kickoff Weekend, he and teammates lined up on the goal line. They locked arms and fixed their eyes on the west video board of U.S. Bank Stadium for a pre-recorded performance by Alicia Keys of "Lift Every Voice and Sing," as well as a tribute to George Floyd, who tragically died less than five miles from the stadium on Memorial Day.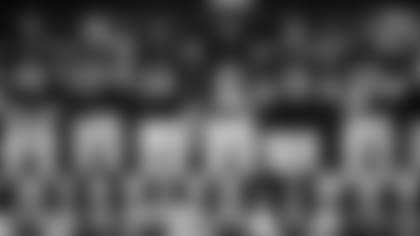 Wilson "just felt all of that emotion" in that moment.
"I couldn't help myself, and I cried because I felt that pain," he said. "I cried because it's kind of frustrating that our people are still being mistreated."
Instead of freeze-framing Wilson's gusto for the game, images taken by Vikings photographers of him in that moment reveal a tremendous pain brought by injustices and inequalities.
"I think that's very accurate, the pain that I've felt, the pain that my people have felt, the pain that my ancestors have felt, I've really felt that this year," Wilson said.
He deeply reflected before deciding this season to kneel during the National Anthem and said he appreciates the NFL allowing players to better express their emotions this year and use their platform to work toward meaningful changes.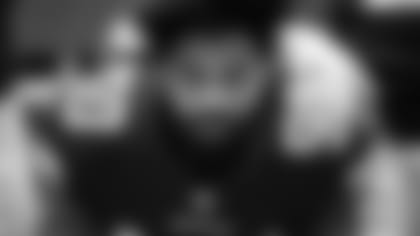 "I think it's become so clear, not only for me, but it should be that clear for society and being aware that there's discrimination and wrongdoing toward my people, and this year, you know, I guess the league understands what's going on, so they're OK with people kneeling," Wilson said.
"Even though it's apparent, nothing apparent is being done to solve those issues. That's frustrating," Wilson said. "Us as a team, we're taking proper measures to do better in the community and within ourselves and families, and knowing that change and that approach to mentally understanding it — it starts with yourself. You have to understand what's going on and be able to communicate it to others if they don't understand."
When asked about his source of inspiration to strive toward meaningful changes, Wilson said, "I think what inspires me to know that we can do better is it's not, I guess some are drastic changes, but things throughout our history have gotten better."
"It hasn't gotten to where it needs to be for true equality and true justice, but it has gotten better," Wilson continued. "I think what motivates me is my family, myself, my teammates, my ancestors who have fought and gone through so much more hostility and violence than I guess I have. Them pushing through and having that ability to persevere through those challenges has allowed me to live the life that I'm living, so I'm grateful for that."
Wilson recorded his first career interception at Indianapolis in Week 2. He showed good instincts and reaction in corralling a pass tipped by Harrison Smith. It was a high point on a down day that also included a season-ending injury to Anthony Barr, who usually wears the helmet with the headset device to relay calls from Head Coach Mike Zimmer to the rest of the defense.
Eric Kendricks took over in that game, but coaches shifted the responsibility to Wilson in Week 3.
Wilson's prior experience of learning all three linebacker positions has "definitely helped" his transition to the role.
"Knowing the little intricacies of the defense, and even if we have new guys in there, knowing what they should be doing and being able to relay that information to them so we're all on the same page on defense," Wilson said.
"It might be a little hectic sometimes, but when you have the headset, you have to be the one that's able to communicate to everybody and in a way where everybody can hear you and use that information," Wilson added. "You definitely have to be poised. You can't overreact or be too calm. If you're too calm and just trying to say the call like some guys do, they're focused on their responsibility, so they might not hear you.
"You have to find that balance in telling them the call, not yelling and keeping your cool without saying the call too quietly," he continued. "And you definitely have to know how to diagnose certain calls, too. I think for me, it's definitely allowed me to develop my understanding of the defense more, understanding the play calls, when we're going to call certain things in certain parts of the field."
He's welcomed the opportunity to start and build on the trust he's earned. Coaches' faith in him shows in the way they've added to his responsibilities since Barr's injury.
"I love that I'm starting now," Wilson said. "I guess the coaches have more trust in me and the guys know how I play, and we all can feed off that energy. … It's great to go out there and be able to play three downs. I love playing ball and I love the different intricacies of the game. Sometimes teams go three tight ends, two tight ends, one tight end, whatever, or two running backs and no tight ends. I think I match up well against it all, so it's nice to be able to do that."
Wilson recorded his second interception last week at Seattle, when he picked off a pass that Russell Wilson intended for running back Chris Carson. Earlier in the game, he notched his second sack of the season.
"I knew he was close to out of bounds, and Russell was probably going to scramble, so I pushed [Carson] out of bounds, got my head back around and [Kendricks], I think, got some pressure on [Russell Wilson] and I just see the ball and I went up and made a play on it."
Zimmer said Wilson has "done a nice job" and is "starting to play a little bit more free and relaxed."
"He's a good athlete, really smart guy, tough and physical," Zimmer said. "He had some mistakes [against Seattle], as well, but the interception he made was a terrific interception. He had a nice sack earlier in the game. He's continuing to get better, just got to keep pushing him in the right direction."