EAGAN, Minn. –Ask anyone who has played for the Vikings over the past four-plus decades, and he'll tell you that longtime equipment manager Dennis Ryan is the **hardest-working man in show business**.
Long before Harrison Smith made it to the pros, he played youth football for former Vikings tackle Tim Irwin. And when Smith was drafted by the Vikings in 2012, Irwin encouraged him to do one thing.
"When I got here, Irwin told me to take care of Dennis, because Dennis took care of Irwin when he was here," Smith said. "He's been here for a long time, and he's done it the right way the entire time."
According to Smith, Ryan is the type of guy who enjoys getting the job done "behind the scenes."
"Anything we need football-wise, whether it's our equipment, or specific things that guys like to wear, the logistics of getting all of our gear from game to game, when we were practicing in Mankato, all of that," Smith said. "Just our daily use of shorts, socks, you know, it's 90 guys just running through all of these things, and he's always there.
"He knows what each guy likes and already has that set up in our locker when we get there on game day," Smith added. "If something happens mid-game, he's always there to fix it immediately. Anything messes up with your equipment, he's on it. He's kind of an institution within the Vikings organization."
Ryan's dedication to his craft is recognized far outside the walls of the Vikings headquarters, however.
"It's an honor to be recognized by your peers and to be included in the same vein as Whitey Zimmerman," Ryan said. "I've worked with a number of these guys in the league for a lot of years, and then there's also a lot of young guys. I really appreciate that they gave me the support and honored me with this award."
Ryan emphasized that the honor really is a reflection on the entire Vikings equipment staff who help things run smoothly and support him in a role that he's never stopped loving. Even after four-plus decades, the equipment manager looks forward to work each day.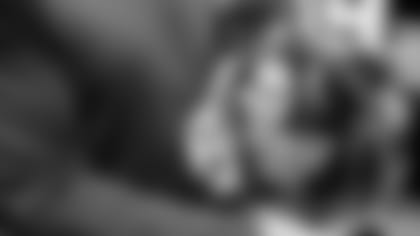 "I really enjoy my job. I enjoy all the young players and being able to be a part of the organization and part of a team," Ryan said. "I guess it's just who I am and what I do … I try to not overlook anything. I always make sure we're on top of things."
And while Ryan would prefer to keep the spotlight on players he works with, those around him are quick to highlight the crucial role he plays in the Vikings organization.
Vikings General Manager Rick Spielman spoke highly of Ryan's calm demeanor that enables him to work well with various personality types and fulfill unique needs or requests.
"In Dennis' role, I guess the best way to determine if you're doing a great job or not is if no one's complaining," Spielman said with a smile. "And from the coaches, from the players, you never hear a peep out of them about his side of the business. He's so efficient at everything he does and is so knowledgeable of all the new equipment coming out, all of the things that coaches and players may need on the field."
Spielman said that the recognition of Ryan is well-deserved and a reflection of the culture fostered within the Vikings organization.
"And not only does it reflect how Dennis handles his business in the building, but also the respect that he's earned outside of the building – especially through his interactions with visiting teams at U.S. Bank Stadium," Spielman said. "He just has a very unique way of being so unassuming yet being so efficient at what he does."
Equipment assistant Terrell Barnes joined Ryan's team in 2014 and described his supervisor as "caring and fun to be around." Barnes appreciates feeling trusted by Ryan and said that he "treats you as a person should treat another person" and invests in each member of the equipment staff.
"He cares a lot about his work. He comes in really, really early and stays really, really late," Barnes said. "With a lot of equipment managers, your job often goes unnoticed. Everybody goes to see football, but they don't really see behind the scenes. … So seeing the hard work that Dennis puts in, day-in and day-out, it's good that his peers recognize it."
Smith quipped that Ryan may be uncomfortable with the honor but added that it's well-deserved recognition.
"I think it's hard for fans to know what Dennis means to the Vikings," Smith said. "He's a guy that we have some of the most interaction with, and he makes sure that everything runs smoothly and we're all taken care of. And he's not a guy who wants the spotlight."
Added Smith: "We as players, coaches, our entire organization and all of Dennis' peers know how great he is and know that he's very deserving."
Only three people in the building have worked with Ryan throughout the entirety of his career: Scott Studwell, Hall of Fame Coach Bud Grant and longtime athletic trainer Fred Zamberletti, who has remained in a consultant role since his retirement.
"I tell everybody that Dennis is the most important employee in this organization. If people only knew what he has to do," Zamberletti said. "I can't think of another equipment manager in the NFL that does a better job than he does. He's on top of everything."
Zamberletti first encouraged Grant to hire Ryan full-time in 1977, and it's a move the coach didn't regret.
More than forty years later, Grant enjoys visits with his former employee. Grant **recently toured** the team's new headquarters at Twin Cities Orthopedics Performance Center, and he crossed paths with Ryan a number of times throughout the afternoon. The two connected in the locker room, and casual conversation quickly turned to swapping memories from over the years.
As Ryan went back to work, never one to pause for too long, Grant pointed in the equipment manager's direction.
"They need to build a statue for that man," Grant said. "He deserves it."