David Carr is excited about the 2019 Vikings offense.
The NFL Network personality and former quarterback knows football, knows offense, and he knows Gary Kubiak.
The Vikings hired Kubiak as their new Assistant Head Coach/Offensive Advisor, and he will work closely with Offensive Coordinator Kevin Stefanski. Carr's NFL tenure stretched from 2002-12 and included the 2006 season with Kubiak in his first season as head coach of the Texans.
Carr recently spoke with Vikings.com's Mike Wobschall and said he understands the trepidation fans have expressed surrounding Minnesota's offensive line, which struggled to find consistency last season.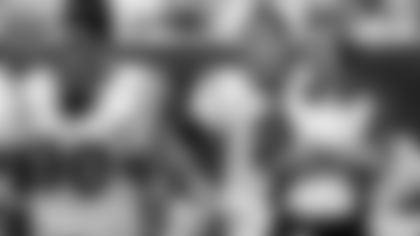 "I get it. I've been through … having an offensive line that struggled," said Carr, who was sacked an NFL-high 68 times during the Texans 2-14 campaign in 2005. "Gary came in my last year there, and he shored up a lot of those issues."
In his first season at the helm in Houston, Kubiak helped the Texans improve to 6-10, and Carr was sacked 41 times. The Texans finished 8-8 in Kubiak's second season, and Matt Schaub was sacked just 16 times over the 11 games he started.
"They steadily got better and improved; they got to where the sacks were limited, and it wasn't with guys that [the team] paid a whole bunch of money to play tackle," Carr explained. "You just have to find guys that fit the scheme, and the scheme kind of takes care of a lot of that. Gary has a pretty cool philosophy – I mean, he talked about it all the time, about throwing the football down the field: 'If we're going to throw it down the field, we have to utilize play-action; we've got to get guys moving.'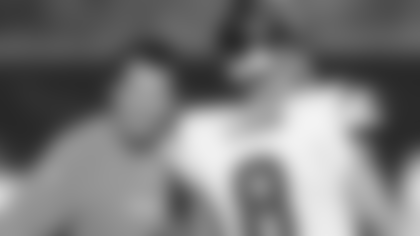 "It's too hard to make big plays in the NFL just asking the quarterback to drop back seven steps and asking your tackle to block the best athlete on the field," Carr continued. "I think his philosophy is dead-on, and you have to utilize that. You have to utilize your schematic advantage to beat some of these explosive defensive ends that you're going to play against."
Carr told Wobschall he believes the Vikings offense will be "a lot better" in 2019 with a scheme influenced by Stefanski and Kubiak.
He pointed out the ties between Kubiak and Vikings quarterback Kirk Cousins, who started four consecutive seasons in Washington before signing with Minnesota last spring.
"Just the history of that offense – you think about when Kirk Cousins was playing some really good football in Washington with [Offensive Coordinator] Kyle Shanahan – [it's] the same system," said Carr, who reminded that Shanahan was Houston's wide receivers coach in 2006 before coaching quarterbacks in 2007 and becoming an offensive coordinator for the first time (2008-09)
"I think Kirk Cousins is going to play a lot better football under Gary, in that system with Kevin. I think Kevin's a good football coach, as well," Carr said. "I think they have some good pieces [offensively], and I think that Kirk's going to be really good in this system."
In his lone season under Kubiak, Carr led the NFL with a completion percentage of 68.3, one year removed from a completion percentage of 60.5.
He called Kubiak "a guy who knows what to ask" of a team's quarterback.
"That's all you can ask for from the quarterback position, is a guy that understands what you're going through out there, doesn't ask you to do anything crazy, is reasonable, but also is going to be put you in a position to make a ton of plays, and he's going to find completions for you," Carr said. "When you look around the league, the best [coaches] are guys that create offense for their quarterback, and Gary's a guy who can do that."
Carr spoke highly of Minnesota's talent at other positions.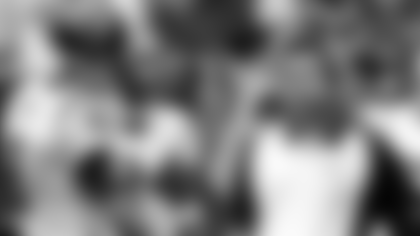 "I think he'll be able to find ways to get Stefon [Diggs] and Adam [Thielen] and those guys involved," Carr said. "And obviously with the run game. That's going to be the biggest difference I think you'll see – the run game's going to really improve."
Carr believes that Vikings running back Dalvin Cook will be "perfect" for the type of offense that Kubiak and Stefanski will implement under Head Coach Mike Zimmer in 2019. He pointed out that Kubiak's teams often lead the league in under-center snaps.
That's a good thing, Carr said.
"It's good for play-action. The Rams utilized a lot of that, and [Rams Head Coach] Sean McVay's kind of from that same [Shanahan coaching] tree," Carr said. "I think Dalvin's going to flourish in this system."
He emphasized his belief that Minnesota will field an offensive line well-suited for that system.
"It might not be fancy names," Carr said. "[It might be] guys where you scratch your head in Minnesota and say, 'Why are they bringing this guy in?' It's just to fit that system," Carr reminded. "They're going to be athletic and be able to move and play multiple positions, but that offensive line will turn into one of the strengths of the team, just based on the scheme that they run.
"I'm high on Minnesota," he added. "I think it's going to be exciting to watch them play offensive football."