Since meeting each other as students at Furman University in South Carolina, Dakota and Haley Dozier have appreciated being alongside one another for the unique path that is an NFL career.
Dakota was drafted by the Jets 137th overall in 2014, and Haley said it's been "pretty exciting to experience his dream with him."
"He works so hard, so it's amazing to see him accomplish what he has been able to so far in his career," Haley said. "I know that I didn't exactly dream this up to be my life, but it really is a special journey that we're doing together."
Haley and Dakota welcomed their first child, son Dak, in October 2018, and in March 2019, Dakota signed with the Vikings in free agency. He played in all 16 games last season, making four starts, and also appeared in both of Minnesota's playoff games.
We caught up with Haley recently to chat about making the transition from New York to Minnesota and navigating an unprecedented 2020 offseason as a young family. We also asked her about a treasured piece of parenting advice and "must-have" newborn items.
Q: When Dakota signed with the Vikings, what was that move/transition like as a young family?
A: We were both so excited when Dakota signed with the Vikings. He was drafted by the Jets and we had been with them for all five years of his career, so I think we were both looking forward to a change. As excited as we were, I know I was a little anxious about all of the changes – the big move, leaving behind a place we had called home for five years, leaving friends behind, etc. Our little guy, Dak, was born during our last year with the Jets, so it was definitely bittersweet to leave that home behind.
Over the years, I feel like I've become an expert packer because we have always moved back and forth between our home in North Carolina and whatever city our football team is in. Packing and moving certainly became a little more complicated with the addition of Dak. Babies need all the things! I was definitely intimidated by the long move and the logistics of it all, but we had a lot of help from family that made it all go smoother.
Our transition to Minnesota could not have been better. I feel like we immediately found a community, connected with other players and their families, and really felt like we were home. We have absolutely fallen in love with Minnesota, our community and football family, and we were so thrilled to be able to sign back with the Vikings this offseason.
Q: What have you enjoyed so far about being a "boy mom" to Dak?
A: Being a boy mom is a blast! Dak is so fun and full of life, and each day is really a new adventure. Right now, I'm completely in awe of how much he changes every week. It's almost as if he can do or say something new every day. That really makes the days more exciting – he's just fun to be around.
Q: Is there one milestone or experience Dak has had thus far that's been the most exciting for you and Dakota as parents?
A: Recently, Dak has really started to string thoughts together, which is so much fun. We're able to communicate with him better and better every day, which really helps us get to know him and his personality more. Dakota and I often look at each other and just marvel at the fact that he's so cool and that we get to be his parents; it's a lot of fun!
Q: It's no secret that 2020 has been a strange year so far with the challenge of the COVID-19 pandemic and ramped-up efforts for social justice in the Twin Cities and across the country. How has the first part of this year impacted your family, particularly with a young child?
A: 2020 has certainly been a wild year; I don't think any of us could have anticipated just how crazy life would get. We were actually home in North Carolina for the entire offseason and during most of the spring, when normally we would have been back in Minnesota for offseason workouts. It was special to have extra time at home with our families. We went on a lot of family walks and cooked big meals together and played lots of games. We tried to always find the silver lining in all that was going on with the pandemic and take advantage of the unique opportunities we had to spend more time together as family and enjoy a slower pace.
Dakota and I have also had a lot of really good conversations on how we should let the social justice efforts going on in our country affect the way we parent Dak. We want to raise him to be someone who recognizes injustice and unfairness and equip him with the tools to love others. Our hope is that we can help him be both a listener and someone who is spurred to action.
Q: Like you mentioned, coronavirus has altered the way the NFL offseason has looked – were there additional challenges and/or benefits of having Dakota home during the virtual offseason program?
A: It's been amazing to have Dakota around so much more than normal. Dak definitely struggled with the virtual offseason program more than anyone else because it drove him crazy to see that Daddy was home but couldn't play – it was really sweet. One challenge for Dakota has definitely been having to get creative with his workouts. Gyms in North Carolina [weren't open], so he [was] doing some pretty creative home workouts: using sandbags, resistance bands and even the tailgate of his truck for box jumps! Dak has had a blast mimicking Dad's workouts and helping him get stronger.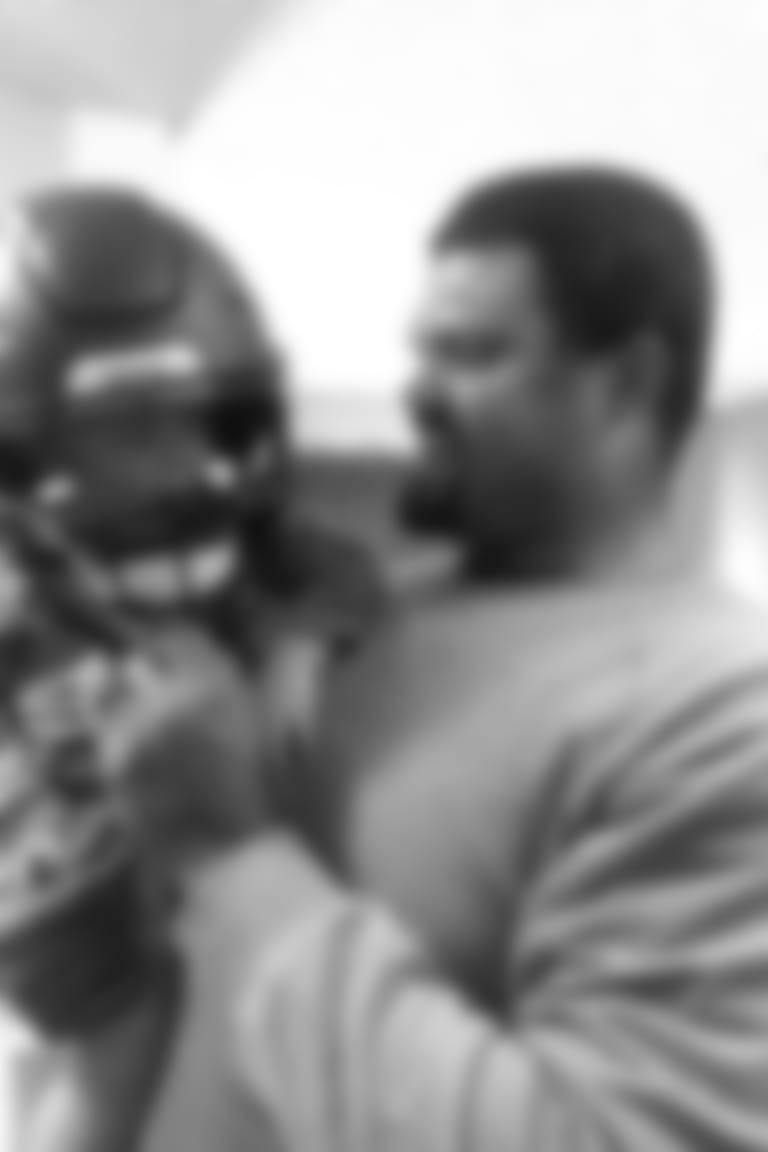 Q: What is a piece of parenting advice you've gotten that you'd pass along to other moms?
A: One of the most important pieces of advice I've gotten came from my own mom. As I've gotten older, she has often reflected on her time as a young mother and has shared that she wished she had cared less about the things that don't really matter/the pressures that come with raising children (having a spotless home, being involved in a lot of activities, always having perfectly nutritious meals, etc.) and just really been present with us when we were little.
I've really taken that to heart and have tried my best to be present with Dak and my family, and to not let other pressures distract me when I'm with him.
Q: What are 2-3 "must-have" items for new parents?
A: I would say definitely a good sound machine. We were given one that is actually a small, travel-sized noise machine, but we use it every day when Dak is napping and when he goes to bed for the night.
Another life-saver for us was a good guide for sleep! Dak has been a great sleeper from the get-go, and I think it has a lot to do with some of the resources we used. Good sleep just helped him be a happier baby in general. The two guides we used were the book On Becoming Baby Wise and the Taking Cara Babies blog.
Finally, we loved using sleeping gowns when Dak was really little because they made middle-of-the-night diaper changes such a breeze, not having to worry about fumbling with buttons or snaps or zippers!