Defensive linemen and linebackers are scheduled to participate in media sessions Friday at the 2015 NFL Combine.
A total of 56 defensive linemen and 34 linebackers have arrived in Indianapolis for a four-day stay that involves being placed under the microscope, physically and mentally, as NFL teams comb through more than 320 top draft-eligible prospects who were invited to the annual event.
Head Coach Mike Zimmer said Thursday that the linebacker group is "not as deep as I'd like, but there are so many other holes."
"We're trying to get the team better in every way," Zimmer said. "I do think, I always think, even your 53rd player, you're trying to improve him and get him better and keep going and looking at guys at the bottom of the roster. There isn't a position that we're not trying to get better at."
The Vikings are scheduled to select from the 11th overall spot in the first round of the 2015 NFL Draft on April 30.
Vikings.com's Mike Wobschall (@wobby on Twitter) and the Vikings Entertainment Network will bring fans updates from Lucas Oil Stadium, which turns into the "Center of the NFL Universe" during the annual event.
NFL Media analyst Daniel Jeremiah has 11 players listed as defensive linemen and seven listed as linebackers in a list of 50 top prospects that will continue to evolve between now and the draft. Jeremiah's rankings of players scheduled for media sessions Friday:
Leonard Williams, DE, Southern Cal, Jr.
Randy Gregory, OLB, Nebraska, Jr.
Dante Fowler Jr., OLB, Florida, Jr.
Danny Shelton, NT, Washington, Sr.
Shane Ray, DE, Missouri, Jr.
Arik Armstead, DT, Oregon, Jr.
Malcom Brown, DT, Texas, Jr.
Vic Beasley, OLB, Clemson, Sr.
Eddie Goldman, DT, Florida State, Jr.
Eli Harold, DE, Virginia, Jr.
Bud Dupree, OLB, Kentucky, Sr.
Denzel Perryman, ILB, Sr.
Bernardrick McKinney, ILB, Mississippi State, Jr.
Preston Smith, DE, Mississippi State, Sr.
Jordan Phillips, NT, Oklahoma, Jr.
Carl Davis, DT, Iowa, Sr.
Paul Dawson, ILB, TCU, Sr.
Owamagbe Odighizuwa, DE, UCLA, Sr.
NFL Media analyst Mike Mayock divided players as interior defensive linemen, edge rushers and linebackers. He lists Williams as an interior lineman that is versatile.
"I think his beauty is that he can play anywhere up and down the defensive line of scrimmage," Mayock said Monday. "He reminds me of Richard Seymour who the Patriots took years ago at No. 6 and became one of the preeminent defensive linemen in the NFL for years."
The chart below shows 2014 and career stats for Mayock's top interior defensive linemen (six players are listed because he has Eddie Goldman and Jordan Phillips tied for fifth):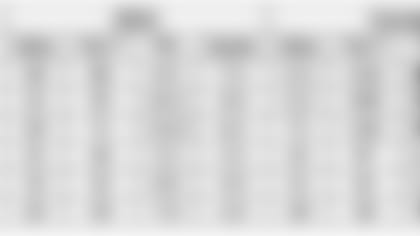 In answering a reporter's question Monday about who might be available when Dallas goes on the clock at 27, Mayock said Fowler, Gregory and Ray will all be off the board by then. The chart below shows 2014 and career stats for Mayock's top edge rushers: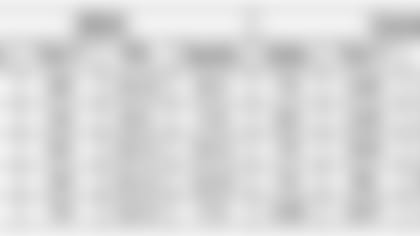 Mayock projected that Dawson, McKinney and Perryman will be selected in the second round. The chart below shows 2014 and career stats for Mayock's top five linebackers (all are listed as inside linebackers):
Groups 1-3 (offensive line, tight ends, specialists): Feb. 17-20 (media Wednesday, timing Friday)
Groups 4-6 (quarterbacks, receivers, running backs): Feb. 18-21 (media Thursday, timing Saturday)
Groups 7-9 (defensive line, linebackers): Feb. 19-22 (media Friday, timing Sunday)
Groups 10-11 (defensive backs): Feb. 20-23 (media Saturday, timing Monday)