An offseason coin flip will impact the Vikings position in the 2017 NFL Draft.
Officials from the Vikings, Colts and Eagles will be involved in a coin flip on Friday that will decide positioning in the draft that starts on April 27. The Eagles are in the mix because they own Minnesota's first-round pick as part of the trade that brought Sam Bradford to the Vikings in September.
The coin to be used is double-headed, displaying the Vikings logo on one side and the Colts logo on the other. The two teams each finished the 2016 season 8-8 and with the same strength of schedule, which tied them for the 14th overall pick and necessitated the coin flip. Philadelphia will receive the 14th or 15th pick, depending on the coin flip.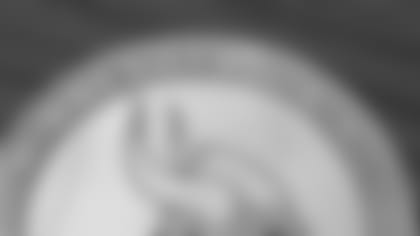 Minnesota will feel the impact of results in the subsequent rounds. Depending on how the coin flip shakes out on Friday, the Vikings will have either the 46th or 47th overall pick.
Of the eight draft picks currently belonging to the Vikings, two have been determined – a pair of picks the Vikings received from the Dolphins in last year's trade that sent Minnesota's third-round pick to Miami. The Vikings this year have a third-round (No. 86) and fourth-round (No. 129) pick from the Dolphins.
The Vikings full list of draft picks, depending on the coin flip's results, are below:
Second round:46th or 47th overall
Third round:78th or 79th overall; 86th overall (via Miami)
Fourth round:121st or 122nd overall; 129th overall (via Miami)
Fifth round:158th or 159th overall
Sixth round:198th or 199th overall
Seventh round:232nd or 233rd overall
Friday's coin flip will take place at 11:30 a.m. (CT) from the NFL Scouting Combine in Indianapolis.