Charles Johnson made a commitment and honored it.
Despite dealing with an injury to his ribs that sidelined him in Denver (and the following week against Kansas City), Johnson made the trip to Colorado and made good on a promise to meet two young men and their father, an ailing veteran who is the son of another veteran.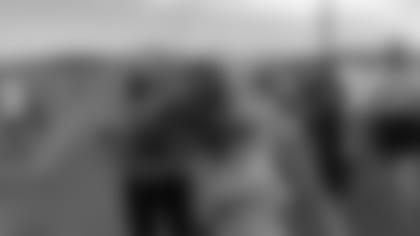 The Vikings receiver's steadfastness rewarded the Feight family by greeting the group of honorable men at the team hotel and treating them to tickets when the Vikings visited the Broncos in October.
Johnson had met Davian, 9, and Vincent, 7, at a football camp this summer. He connected with Vincent, who decided to become a Vikings van and buck the Broncos fandom of his father, Micah.
Johnson gladly autographed Vincent's Vikings hat and shirt. It's an experience that the 7-year-old has kept dear for months, often wearing the hat and T-shirt and prompted a hand-written note in which Micah said Johnson "changed [his sons] lives forever."
The unique moment was trumped this fall when Johnson hosted Micah, his sons and father, William Feight, whose career in the Navy spanned from Vietnam to service in Iraq and Afghanistan.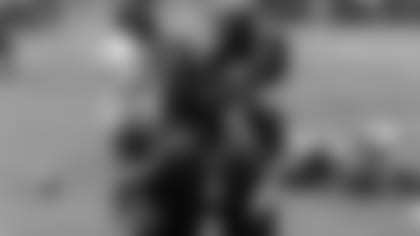 Micah is a former member of the Colorado National Guard who deployed to Bosnia in 1999. Ten years later, Micah found himself in a personal fight, ending up in the emergency room because of a blood clot in his lungs. The condition has continued and been complicated by sarcoidosis, a disease that was cited in the death of Hall of Famer Reggie White, and remains a medical mystery nearly 11 years after White's passing.
"I've been to pretty much every hospital you can think of," Micah told Vikings.com in a phone interview Tuesday. "I've been to the Mayo Clinic, and they're just unable to find a medication that will stop me from clotting. I continuously blood clot regardless. I'm on a bunch of experimental medications, but it's still pretty tough.
"It's kind of one of those no-cause, no-cure type of things that kind of gets you," Micah added. "I've got that in my lungs and then the blood issue, so it's definitely tough. There's no way I would have been able to get the boys there. It's definitely the experience of a lifetime that I will never forget for sure and hopefully I'm assuming they won't either."
Micah has been sick since 2009. He said the first couple of years were the hardest to deal with mentally. Physical challenges continue.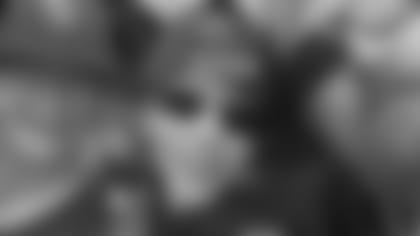 Johnson was able to relate. His father was extremely sick years ago, has made progress but continues to fight, just like Johnson. The seventh-round pick of the Packers in 2013 dealt with injuries, including a torn ACL that wasn't diagnosed until Johnson arrived in Cleveland. Johnson battled back but landed on the Browns practice squad to open 2014 until he was signed by the Vikings.
Looking to build off the 31 catches for 475 yards and two touchdowns he posted after arriving in Minnesota, Johnson suffered the ribs injury in Week 3.
"My journey to get where I am, even today, I'm still fighting and I know how to fight," Johnson said. "I know what it takes to fight and that sometimes it can be hard. It's important to be able to be there for somebody, give them a helping hand, let them smile a little bit and let them know there's some people out here who do care and that we're going to support you to continue to fight."
Johnson has bounced back, catching a critical 35-yard pass from Teddy Bridgewater during the game-winning drive in Chicago.
The Feight family has continued to keep in touch with and follow Johnson this season, including this past Sunday's Salute to Service game, when Johnson had a 25-yard catch against St. Louis.
Micah said he appreciates all of the elements that honor all members of the military and veterans.
"It's great that people thank me, but I take a step back and I'm not worried so much about me. I want to thank the other veterans," Micah said. "I hate to compare who has done what, but to have guys like my father, and then I've got a neighbor who has PTSD real bad and is definitely having a tough time, I kind of get teared up when I see all the Salute to Service stuff that you guys do. It definitely means a lot.
"[On Veteran's Day] I'm going to be volunteering at the kids' school and telling them about service," Micah added. "It definitely means a lot [when people thank] me. I kind of see it as an undeserved thank you, but I'm extremely grateful at the same time if that makes sense."
That's kind of how Johnson views the Feight family's appreciation for what he did.
"I think they really enjoyed it," Johnson said. "It was good to help somebody out. When somebody asks for something, it's not too much to give them something to make them smile."