The Eagles gave Chandon Sullivan a shot in the NFL, but they didn't give him a choice in jersey number.
Sullivan signed with the NFC East squad as an undrafted free agent in 2018 and was handed a No. 39.
"They said, 'Here you go.' At first, I hated it," he told Vikings.com.
Sullivan, who sported No. 10 at Georgia State, wore 39 in five games during the 2018 season before being waived the following spring.
He got a second chance with the Packers, signing with Green Bay in May 2019 and going on to make the team's 53-man roster out of training camp.
When Sullivan inked his second NFL contract, he this time was asked what number he wanted.
The cornerback thought about it before responding: "Thirty-nine."
"I wanted to make my name known in that number," Sullivan said.
Sullivan's affinity for the digits grew, as did his status around the league. In three seasons with the Packers, "Sully" started 20 of 49 games played; he totaled 102 tackles and nabbed five interceptions – including one returned for a touchdown against Detroit in 2020.
Opposing offenses prepared for No. 39 and the damage he could do in the slot, a position new to him.
Though Sullivan had shined as an outside corner throughout his collegiate career, he readily embraced the nickel corner role in Green Bay.
Vikings Assistant Head Coach Mike Pettine coached Sullivan as the Packers defensive coordinator and watched the youngster take ownership of the assignment.
"The nickel position isn't something that had come natural to him before, but it made sense given our personnel and his skill set that he threw himself into it," Pettine said. "He saw, 'Hey, this is a role that I can carve out a niche for myself.' And he's not gonna let go of it."
Added Sullivan: "It's very challenging, but I love it. I found a home in it the past few years."
The slot cornerback has become an increasingly important position over the past several years with offenses increasing their use of three or more wide receivers.
The evolution of offenses has been matched – by necessity – by the development of defenses that spend a lot less time in their base formation and a lot more in nickel (usually one fewer lineman or linebacker and an extra DB) or dime packages (six total DBs).
In Pettine's mind, the nickel back essentially has become a starting position.
"The third corner … falls in the top 11, as far as importance, because he's out there so much," Pettine said.
In 2021, Sullivan played in 77 percent of Green Bay's defensive snaps. The previous season? Seventy-one percent.
"It's such an important position because offenses are doing a better job now of forcing the nickel, essentially, to play linebacker. Forcing them to be more involved in the run game. Whereas at outside corner, you're kind of insulated from that a little bit," Pettine said.
Sullivan has fully accepted that challenge.
"I see Chandon as a guy who understands it all. He knew that the run stuff was going to be important, and he really immersed himself in it and made sure he had a good understanding of it, knew where to be when he needed to be there," Pettine said. "That guy kind of has to be a jack of all trades, but it's such an important spot.
"It's kind of an undervalued and underappreciated spot that I think is vital to every NFL defense," Pettine added.
When Pettine joined the Vikings under new Head Coach Kevin O'Connell, he knew Sullivan – who had become a free agent – would be a valuable addition to Minnesota's defense. As did Vikings outside linebackers coach/pass rush specialist Mike Smith, who also previously was in Green Bay.
Pettine called it a "no-brainer" to advocate for adding Sullivan to the roster.
"When you see the list of available free agents, the older you get in coaching it's, 'Hey, I've worked with a lot of those guys.' But you're only going to stand on the table for a few – and he was one," Pettine said. "Mike and I knew all he had to do was come here and be himself. He was going to fit right in, he was going to know the defense, he was going to be able to communicate well and offer feedback and do his job at a high level.
"This is a guy that's going to help young players; he's going to do stuff off the field. All that stuff fits right in with what we're trying to build here and the type of player we're trying to bring in," he continued. "With Chandon, it checked every box."
So, the Vikings brought in Sullivan.
The cornerback signed his contract in March and swapped his green and gold for Vikings purple.
And when Vikings Equipment Manager Dennis Ryan asked Sullivan what number he wanted? Donning the 39 has become an easy decision.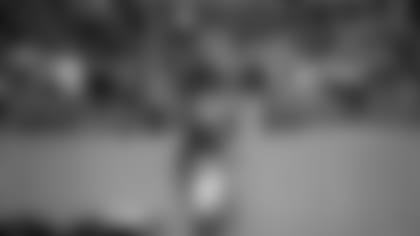 As comfortable as he feels in the jersey number, Sullivan feels equally at home in Minnesota.
"It's been fun. We've got a whole new energy, a whole new vibe here in the building. It was an easy transition," he said. "It's like I've been here all along. It's an easy transition."
Sullivan has familiarity with the system Vikings Defensive Coordinator Ed Donatell is running, which has helped tremendously as he's established himself with a new team.
Minnesota's defensive backs room "is real close," Sullivan said. The group is bookended by veterans Patrick Peterson and Harrison Smith and 2022 draft picks Lewis Cine and Andrew Booth, Jr.
Sullivan sits comfortably somewhere in the middle, learning all he can from Pat Pete and "The Hitman" while also mentoring his younger teammates.
He doesn't mesh only within the secondary, either. He's settled in well to the entire defense and prides himself on communicating well on and off the field.
"You just see him having a lot of conversations," Pettine said. "There will be guys off to the side and you hear them at practice – they might be talking about the rims on their car. Where when you hear Sully, he's talking about 'carrying the vertical' and 'making sure you see No. 3 go to the flat' – it's high-level football conversations, where other guys can sometimes get a little distracted.
"That's what I love about him. He's just all about football," Pettine added.
Sullivan's been all about football since elementary school.
The middle child of five remembers watching his older brother, Dexter Sullivan II, playing football. Sullivan had been heavily into basketball but felt his interests shift.
"Of course my mom, she almost had a heart attack," he laughed. "But she was like, 'If you want to try it, go ahead.' I tried it and it was love at first sight. I knew that was it."
Jannice Sullivan may have initially been nervous about her 8-year-old – the middle of five children – starting football, but she's also been his biggest supporter since day one.
Sullivan recalled the pep talks he got from Jannice while playing for Winder-Barrow High School, roughly 50 miles northeast of Atlanta.
"My mom used to say, 'You need to go out there, and you need to perform today. Put on a show,' " he said.
Sullivan credits Jannice for his nickname, "Showtime," which "just kinda stuck" from high school, throughout college and into the NFL.
The moniker could have held a double meaning at Georgia State, from which Sullivan earned a broadcast journalism degree in 2017.
Dipping his toes into the media side of the business seemed natural for Sullivan. A dated LinkedIn profile details his goal of "working his way up to become the next Stephen A. Smith."
He's at times been compared to Smith by his family, who told Sullivan from a young age he'd either be a lawyer or another version of the ESPN First Take personality.
Sullivan gained a newfound respect, he notes, for media members and what it takes to succeed in the industry. Maybe, someday, he'll take over for Smith.
But right now, he's all football all the time.
The other side of the coin
When outside linebacker Za'Darius Smith was asked to comment on his former Packers and now Vikings teammate, he first offered a confused expression.
From one NFC North team to another, Sullivan and Smith have watched out for each other on and off the field.
Sullivan works at containing the backfield so Smith can get to the quarterback; and Smith seeks out sacks or create pressures to hopefully set up Sullivan for an interception.
"We work hand-in-hand," Smith said. "He's a dog. [And] he's a humble guy. Even though during the game, he's all about winning – he's all about the team. That's why I'm so glad to have the opportunity to play with him."
Smith and Sullivan have spent the past five-plus months prepping for the 2022 season, which they're kicking off with Sunday's game against their former team.
"It's extra juice," Sullivan said of the Border Battle. "But at the end of the day, it's still just football. I don't want to over-complicate it or make it bigger than what it is. I have to be confident, relaxed and prepared.
"But there are a lot of emotions going into it just because it's the first game of the season – there's always emotions with that – and then I'm playing for a new team. And against my old team, on top of that. So there's just a lot going on, but I'm staying level-headed and just taking it a day at a time."
Sullivan isn't new to U.S. Bank Stadium, having played in the Vikings home venue three times over the past three seasons.
This time, though, he's looking forward to being the home team.
"I'm ready to hear that SKOL Chant, and the [Gjallarhorn]," Sullivan said. "It gave me chills, you know? As soon as they [sounded] the horn [for the preseason game against the 49ers], I turned around and looked at Pat Pete and he was like, 'It's about that time, Sully. It's real, right?'
"The stadium is beautiful. I can't wait. My family can't wait," he added.
Sullivan is looking forward to playing in front of his family, including Dexter – who is celebrating his birthday Sunday. He's especially grateful that his grandfather, Alvin Sullivan, will be in attendance.
Those who follow Sullivan's social media know his pinned Tweet is a photo of him last season, handing a ball he intercepted into the stands to his "Papa."
"That was his first time actually being able to come see me play in a live NFL game. Just because of COVID, some different situations," Sullivan said. "They're from South Carolina. He made the trip up, and I was able to get an interception and bring the ball right to him. That's a moment I'll never forget, for sure."
Will he have a similar opportunity this weekend? Maybe. But whether Sullivan picks off Aaron Rodgers or simply helps Minnesota's defense against his former team, he's deservedly proud of where he's come.
For Sullivan, what started as a random, insignificant number now holds enormous meaning. It tells the story of an NFL voyage marked by grit, resiliency and determination.
"This is a guy who loves football," Pettine said.
"Of course my job is serious, but I know when it's time to have fun and I know when it's time to lock in," Sullivan said. "I'm just bringing a lot of energy, a lot of positive vibes every day, just trying to make this as fun of a process as it can be."