One chamber is perseverance and passion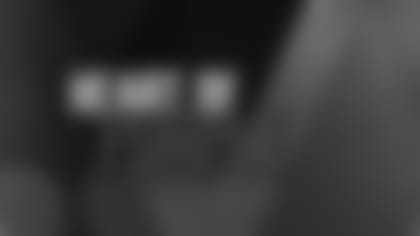 Chad Greenway's heart of purple pumps lifeblood through teammates patrolling the Vikings defense and responding to challenges that are presented across the NFL each week in rectangles 100 yards long by 53.33 yards wide.
A journey that began in Purple with his first-round selection by the Vikings in the 2006 NFL Draft has resulted in him being one of the most-acclaimed linebackers in franchise history.
Greenway's first season ended before he had the opportunity to get going, when he suffered a torn ACL while covering a kickoff in the preseason. He and the Vikings, however, have the opportunity to extend Greenway's 10th season.
Sweat and dedication year-round prepare players for moments like this, an opportunity for the Vikings to secure their first playoff berth since 2012.
Selected as one of four season-long captains, Greenway has led in many ways, readily accepting roles the team has needed.
This season began with Greenway scripted to play fewer snaps, and he made the most of them early, returning a one-handed interception 91 yards for a touchdown against San Diego in Week 3. It finished off the Chargers in the first NFL game ever attended by his grandfather Tom Greenway, an egg and dairy farmer from South Dakota.
Four generations of Greenways enjoyed the resonating memory. Greenway's oldest daughter, Maddyn, joined him at the post-game press conference podium as Chad said, "Tom is a guy that you're proud to have as a grandpa. … For me, it's about carrying that legacy forward."
Moments later, Maddyn and her sister, Beckett, lined up at the 9-yard line where their dad had caught the ball and recreated the run to the end zone.
As the season progressed, injuries to Anthony Barr, Eric Kendricks and Audie Cole mounted. Greenway stepped in wherever he could best help the team, including his first-ever start at middle linebacker at Oakland. Greenway has answered the bell time and time again, garnering credit from Vikings Head Coach Mike Zimmer.
When Zimmer arrived in Minnesota in 2014, he met with Greenway, a two-time Pro Bowl selection and three-time Vikings Defensive MVP who led the team in tackles six straight seasons (2008-13). The message was that the former longtime defensive coordinator saw areas where Greenway could further improve, and Greenway listened with an open mind.
"I had the idea when it comes to football, the more success I had, the more humble I wanted to become because the more success you have in anything, people tend to lean toward, 'I think I know it all. I think I'm the best player I can be,' " Greenway said. "The reality as an athlete, there's always something you can do better, there's always something you can improve.
"When Coach Zimmer came in, it gave me such an eye-opening experience, 'Wow, I can improve this, this and this,' " Greenway added. "It just helps you as an athlete kind of continue to reinvent yourself. That's really the biggest part of trying to continue to improve."
The attitude and approach from a player who has the fourth-most tackles (1,263) and fourth-most starts by a linebacker (133/134) in Vikings history is one that younger players observe in a mentor-mentee way but perhaps less formal.
"When I'm in the moment or talking to him or just being around him, it doesn't feel like that," Barr said. "It feels like a friendship, but when I look back, I'm following his footsteps even though I'm not realizing I'm doing it, whether it be things he did on the field, how he controls the huddle or off the field, in just the type of guy he is and the way he presents himself. I try to carry myself the way he does."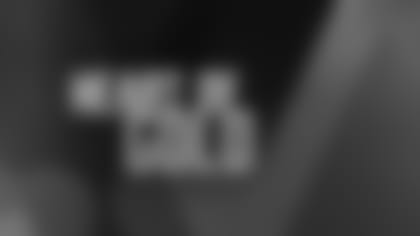 ---
Another houses care and compassion
Chad Greenway's heart of gold pumps goodwill and help throughout the Upper Midwest, responding to children's and families' needs created by medical challenges that know no bounds.
A calling to help others began in Greenway years before the 2008 launch of his Lead The Way Foundation. It's grown each year and has raised more than $1.5 million.
Greenway sincerely appreciates help from teammates during his annual "Celebrity Waiter Night" fundraiser and through the generosity and commitment of people and businesses like The Bohannon Group that hosts an annual golf tournament.
Perhaps the only thing he values more is the opportunity to connect directly with recipients of the efforts.
Greenway has opened seven "Chad's Lockers" at children's hospitals in Minnesota and South Dakota, providing access to entertainment and educational resources for critically and chronically ill children and their families to use during prolonged hospitalizations. He also hosted patients and families for a "Field of Dreams" weekend getaway at Mall of America that included shopping sprees and free run of the Nickelodeon Universe theme park.
Donning an apron during the annual Celebrity Waiter Night at Manny's and joining patients for a ride on the ups, downs, twists and turns of rides like SpongeBob SquarePants Rock Bottom Plunge are fun ways to show support, but Greenway delivers in a more sentimental setting when he and his wife, Jenni, host the annual TendHER Heart Luncheon.
In addition to a meal, pampering and gifts, mothers of the sick children receive respite from the stress of watching their loved ones struggle. It's become a support network for the moms. Greenway recalled one mother who lost her child between the first and second luncheon.
"As a parent, I couldn't imagine what that would feel like," Greenway said. "I think that kind of just hits you like, 'Wow, this is so real for this family. This family is forever affected by this, emotionally scarred.' Obviously they love and cherish the memories they have of the child but are forever changed.
For us to give her that day, she was around a support group of women that could really understand her struggle, really understand what she had gone through, what her family had gone through, and just to watch her, it wasn't anything about us, but to watch her interact, socialize and be around other empowering women, it was so great for her," Greenway continued. "She told us how much it helped her. I think that was when you kind of realize this is bigger than a foundation event and you come here and we give you gifts or do this or that. It's really not about that. It's about that interaction with people and being a part of something bigger."
Teammates have recognized Greenway's impact on others for years. They selected him as the Vikings Community Man of the Year for a second straight year and third time overall.
Greenway was chosen earlier this year by the NFL Players Association as the 2015 recipient of the prestigious Byron "Whizzer" White Award. He is the Vikings representative for the Walter Payton NFL Community Man of the Year Award that is the highest community award bestowed by the league.
The announcement of Greenway as the Vikings Community Man of the Year occurred during a pep rally that rewarded Shakopee High School students for winning the second-annual Warm & Fed Challenge to benefit The Salvation Army. The following day, after Greenway spoke to reporters, Vikings Head Coach Mike Zimmer opened his press conference with his opinion of Greenway.
"That guy right there is a tremendous guy – great person, great individual, great teammate, good captain," Zimmer said. "I wish I would have had him 10 years ago. He's my kind of guy."