MINNEAPOLIS – Two football players, two cancer battles, two fundraisers and one incredible surprise.
When Jack Simon was diagnosed in April – the day after his 16th birthday – with Stage 2 Hodgkin's Lymphoma, he was thankful for the opportunity to connect via Zoom with Casey O'Brien.
Casey, a former walk-on placeholder for the University of Minnesota Golden Gophers, has been battling osteosarcoma off and on for the past nine years – and he's done it all with a smile on his face.
"I have so much fun living life. To me, life is about people and about the relationships that you have and the stories that you get to hear, tell and learn," Casey recently said via phone call. "I love being alive and being around people.
"I've got no choice but to keep going, because I can't picture the other side of it – not being alive – because I have too much fun," Casey added.
Inspired by the grace and positivity with which Casey has faced his cancer journey, Jack garnered strength to tackle his own battle head-on.
Jack initially wasn't sure what to think – "I was scared because I had no idea what was going on" – but after about a week of reflecting on the situation, Jack realized that he really only had one option.
"You can't really change anything, and you've got to do what you can with what you've got," he said.
Stay positive, everyone says in these situations.
It's easy to say when you're the one who doesn't have cancer; but for Jack, remaining in high spirits came naturally because that's just who he's always been.
"From the very beginning, he was so positive," Jack's mom Stacy said. "I remember being in the car with him and saying, 'We don't know what this is and it's scary, but we're going to stay positive about it.' And he looked at me and said, 'Mom, I'm always positive. I think you need to be more positive about this.'
"So even from the beginning, I don't know how, but he was always just very positive and just knew that everything was going to be OK," Stacy added.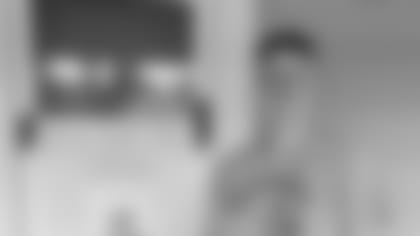 During his battle, there were two outlets for Jack: football and the community.
A tight end for Wayzata, Jack continued to train as he typically would for the upcoming season. It brought him a sense of normalcy.
"That really helped me push through the hard times because I had something to look forward to," Jack said.
He also was motivated to use his situation and turn it into a positive for the greater community.
Jack had seen that done firsthand by his fifth-grade basketball coach and KARE 11's Randy Shaver, who has courageously and famously battled cancer and helped raise money for cancer awareness. Jack's connection with Shaver led him to raise as much money as he could for the Randy Shaver Cancer Research and Community Fund.
So far, Jack has raised more than $9,000.
And he's not the only one raising money for an important cause.
Casey, who is once again battling cancer after two years of receiving clear scans, has started the Team One Four Project.
"The reason I named it that was, obviously I wore No. 14 in college, but the reason I believe I was able to get through everything I have is [because of all the] people I look at as part of my team," Casey explained. "Whether it's friends, family, high school teachers, professors, all these different people who have had my back – sat with me while I was getting chemo, came to visit while I was recovering from surgery. I feel like it was the team going through cancer; I just happened to be the one who had to lie in bed."
The Team One Four Fund will specifically benefit the ninth floor of the University of Minnesota Masonic Children's Hospital, where Casey has been treated for the past nine years.
If young people are on the ninth floor, Casey noted, they're either reviewing scan results with their oncologist or receiving daily chemo infusions.
"So it's a floor where, if you're up there, you're up there for something pretty serious. I decided as my college career was ending that I wanted to do one last big thing with my platform, and that would be to raise a million dollars for that floor," Casey said. "I know that we're not going to cure cancer overnight, but what we can do is make the experience a little bit better for kids who are going through it."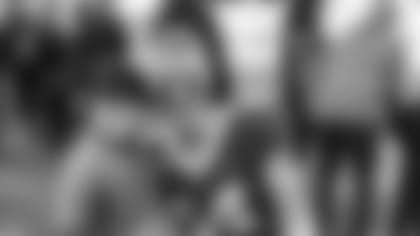 Casey, who has already raised nearly $700,000, intends to designate those funds to "make the experience a little bit better" for children and their families going through such difficult times. Among his plans are weekly massages for each patient, new iPads that can be loaned out and ensuring every room's TV has access to streaming services such as Netflix and Disney+.
Casey is tackling all of this while also focusing on his own health and preparing for an operation in November to remove a small spot in his right lung. Earlier in the spring, he had surgery to remove a spot in the left lung.
"They're taking really close care of me," he said of the Masonic Children's Hospital staff.
On Sunday, Casey was recognized at the Vikings "Crucial Catch" game at U.S. Bank Stadium as Minnesota's honorary captain. He accompanied captains C.J. Ham, Eric Kendricks and Brian O'Neill for the coin toss ahead of the Vikings-Bears matchup.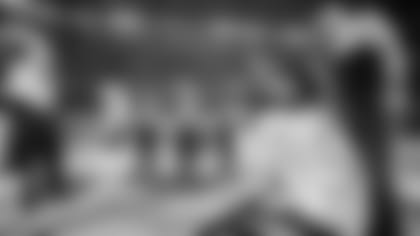 Casey most appreciated the opportunity to connect pregame with Ham, whom he's worked with on Crucial Catch initiatives or Masonic Children's Hospital events in the past.
"I saw him down there warming up and just made sure to say, 'C.J., good luck.' He came over and I tried to give him a high-five, and he was like, 'No, no, I want a hug.' And he came over and gave me a hug," Casey said. "It just reminds me of who C.J. is as a person, [and] the fact that he took time to come over during warmups was pretty special for me."
Casey, who has also developed a close relationship with former Vikings tight end Kyle Rudolph over the years, is consistently grateful for the organization's commitment to making an off-field impact.
"This is something that I saw growing up, as a fan, just looking up to these guys – seeing them out in the community doing work for the underprivileged or people who need it most," Casey said. "And then getting to know some of those guys, like Kyle, and seeing it isn't just them showing up; it's them doing it because they really care.
"That's something that was really special to me watch, and it was also something that motivated me to do more with my platform," he added.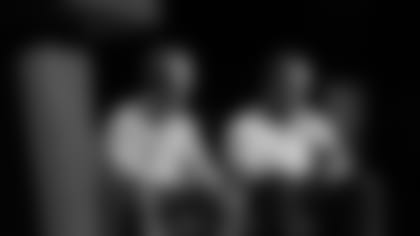 The Vikings inspired Casey, who inspired Jack, who has continued to inspire many around him – including his own family.
"I think one of the ways that it's impacted me personally is the idea that if you have the ability to do something good in the world, that you kind of have the responsibility to do that," said Jack's father, Jesse. "Jack didn't have to raise money for cancer, he didn't have to play football. But he did and he used that platform to kind of do good in the world."
Jack's cancer journey and give-back efforts were honored by the Vikings Sunday, when they recognized him as the U.S. Bank Hometown Hero. He was able to finally meet Casey in-person prior to the game, and the two talked for quite some time.
Jack was recognized in-stadium during the third quarter, and the tight end received a warm reception from 66,929 fans … and then was met with an extra surprise.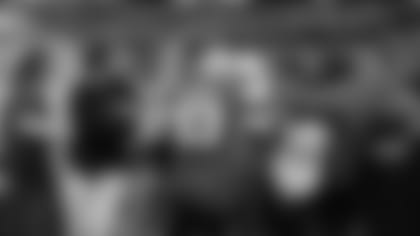 After being shown on the videoboard, Jack turned around to see his Wayzata Head Football Coach Lambert Brown and teammates running onto the field to join him, offering excited cheers and hugs of support.
Jack was approached by Casey himself, who presented him with two tickets to Super Bowl LVII, which will be played Feb. 12, 2023, in Arizona.
"I was shaking, and I didn't even have to do anything. All I had to do was hand him the tickets," Casey laughed. "But it makes me really happy for him, for their family. They've been through a lot, and I know how they feel. So to have a moment to be recognized and then also to get a chance to attend the Super Bowl? I mean, that's about as good as it can get – and he's more than deserving of the opportunity."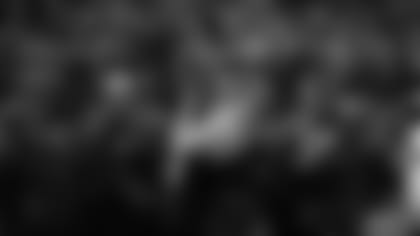 The surprise was an emotional one for Jack, who now is in remission and continuing to play the sport he loves.
He recently played in his first football game since receiving the original diagnosis.
"It meant everything to me," Jack said. "I just remember before the game I got a little emotional on the field. I don't think anyone really knows that, but I got emotional. I was just happy to be out there. Being able to play with my brothers was everything. And then after the game, I remember giving Coach Brown a hug and everything kind of hit me."
During the cancer process with a loved one, it's easy to go into a dark place and allow worst-case scenario thoughts to permeate. Jack's parents admit to getting there. As for Jack, well, it doesn't seem like he hit that point. He just kept living.
"This journey obviously has a lot of ups and downs and a lot of emotions," Stacy said. "You go to those really dark places and while you're in it, you try to stay positive and then you kind of see the end and once you reach the end, it's just unbelievable how happy you are for your kid that they went through this and they came out on the other side, because unfortunately not all families get that.
"We feel really lucky and are blessed that Jack is in remission," Stacy added.
Cancer survivors honored in unique roles during Vikings-Bears pregame
Casey and Jack weren't the only individuals impacted by cancer who were recognized as part of Sunday's Crucial Catch game.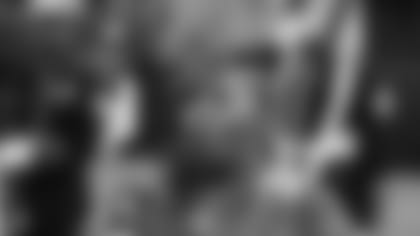 JaQuita Morris, a Twin Cities native who has defeated cancer twice and is currently battling the disease again, performed the National Anthem. JaQuita attended a previous "Pamper Her Purple" event hosted by C.J. and Stephanie Ham, where she was encouraged by the Vikings fullback to continue pursuing her dreams of being a singer.
Also spotlighted was 8-year-old Charlie Huizinga, who was diagnosed with Acute Lymphoblastic Leukemia in May 2021.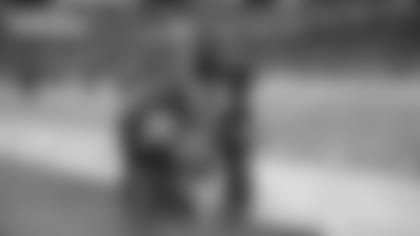 Charlie was a special guest at the Vikings Saturday morning walk-through, where he wore a full Vikings uniform. Through Make-A-Wish, Charlie had the opportunity to run a couple of plays with Adam Thielen and Justin Jefferson and break down the team huddle. He also was told by Head Coach Kevin O'Connell that he'd be sounding the Gjallarhorn ahead of Minnesota's game against Chicago.
Charlie has undergone multiple hospital stays and treatment and is currently in a "maintenance phase," having clinic visits every three months.
Statistics show that one in every three people will receive a cancer diagnosis in their lifetime. And while that news is something no one wants, Casey is encouraging anyone affected by the disease to take heart and keep fighting.
"You're not alone," Casey said. "No matter what stage or what your situation is, there's someone else who's going through the exact same thing.
"The most important thing you can do is have a positive attitude and show up every single day," Casey added. "As long as you show up every day, you give yourself a chance, and that's all you can ask for."