Inside an office at Denfeld High School in Duluth, Minnesota, two defensive coaches fought over a player.
Hunters Defensive Coordinator/linebackers coach Andy Verhel wanted C.J. Ham to stick at LB for the upcoming weekend's game. Defensive line coach Brad Havron was down a lineman and argued that he needed C.J. to strengthen the front.
Havron eventually got his way. C.J. moved to defensive tackle two days before the game, and the 5-foot-11 junior who played both sides of the ball snagged two picks en route to a Denfeld win.
It wasn't an uncommon scenario during C.J.'s high school years. Able to play running back, linebacker and defensive line, position coaches wanted him in their corner.
"The Wednesday before the game, he sometimes didn't know if he was going to be a [defensive] tackle or an outside linebacker or inside linebacker," Verhel recalled this summer of his time coaching C.J. "He's just a natural athlete, and he can play wherever you need him to play."
Added Hunters assistant coach Richard Swanson: "He just said, 'OK, where do you need me?' That's why I think he made it at the next level – because he said, 'I want to be on the field. Tell me where to go, and I'll go.' "
Nine years before C.J. signed with the Vikings as an undrafted free agent, his willingness to play wherever needed – and his physical ability to do so – impressed Head Coach Frank Huie. The longtime Denfeld coach also noticed that C.J. had quick feet and a natural athleticism that didn't always accompany high school athletes of his stocky build.
Huie took note of C.J.'s aggressiveness on the football field and the way he exuded confidence despite having a shorter stature than some of his opponents.
"He was one of those quiet, confident kids," Huie said. "I don't think he ever thinks there's a challenge out there that's too big for him. If there was a kid out in front of him, he viewed that kid as in trouble – not the other way around."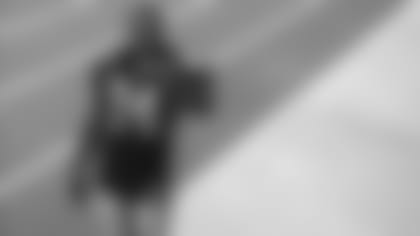 Huie's first impression of C.J. wasn't actually at the high school level but rather as a fifth-grader in Huie's phy-ed class.
"He was a short, portly, big-smile kind of a guy who had all kinds of energy, was polite and was just a joy to be around," Huie remembered. "At the end of his fifth-grade year, I told him that at some point, he was going to be the leader of my football team."
Huie's prediction of course came true, and C.J. became a quick standout at Denfeld.
As a teenager, he exhibited the same coachable, blue-collar mentality that later helped him reach his current role in the NFL.
Per Huie's recollection, C.J. fumbled the ball just once in his four years at Denfeld.
"I got after him pretty good about that. We might have had a conversation about him moving to the offensive line if fumbling was going to be a habit," Huie said with a chuckle. "He was not happy with me that week. I remember that clearly."
As Huie kept an eye on C.J.'s next step at Augustana, it reconfirmed what a special player he was.
"He was still dominating. I thought, 'Somebody's got to look at this kid,' " Huie said. "And then when he gave me that call the offseason after his junior year and said, 'Coach, there's four teams that are going to be tracking me,' it was like, 'This is going to happen.' "
Trading in knee pads for shoulder pads
Football doesn't run in C.J.'s family. In fact, team sports in general weren't much of a focus. His grandfather was a boxer, and C.J.'s father, Cortez, enjoyed karate.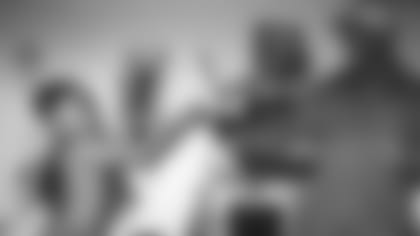 C.J. considers himself fortunate to have "picked up" the sport of football. But interestingly enough, his great-grandmother predicted his success on the gridiron long before anyone else. His mother, Tina, recalled sending a photograph of C.J. to his great-grandmother shortly after he was born.
"She called us and said, 'Wow. He's going to be a great football player.' And we just giggled," Tina said. "It was like, 'OK, she must know something we don't know.' When he finally started playing football, we were like, 'Hmm. Maybe this is going to be true.'
"I never even knew he was interested in football," Tina admitted with a laugh.
And in reality, he initially wasn't.
C.J. will tell you that his "first love" was actually skateboarding. At an early age, he spent a lot of time at skate parks and a local skateboard shop, and he and his friends rode up and down the hilly neighborhoods of Duluth.
"I wanted to be the next Tony Hawk," C.J. said.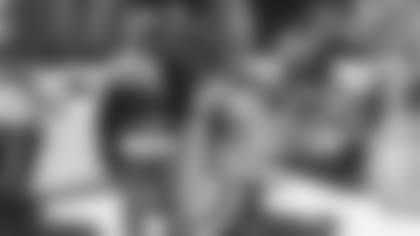 In early middle school, C.J. started playing football but continued to also skateboard for a few years. When he reached the eighth grade, Cortez told him he probably should decide which sport he wanted to focus on.
"Skateboarding, you get hurt all the time, so," C.J. quipped with a shrug of his shoulders.
Cortez was C.J.'s biggest fan. Unbeknownst to his son until years later, Cortez kept a scrapbook of newspaper clippings from high school games and never missed a chance to support from the sideline. He sat in the bleachers holding a camcorder, even during Minnesota-cold contests under the lights. He laughs that he so carefully documented each play on grainy tape signature of the 90s, and now fans can search for C.J.'s college and NFL highlights on YouTube.
While watching one of C.J.'s college games at Augustana University (South Dakota), Cortez recognized that there was something special about C.J.'s game.
"People were just falling off of him like butter," Cortez said of a particular long run by C.J. "And I heard a commentator say, 'He's an NFL prospect.' That's when I knew."
When C.J. played backyard football and cheered for Cris Carter and the Vikings every Sunday, no one, not even his grandmother, could have predicted that he would one day don the same Purple jersey.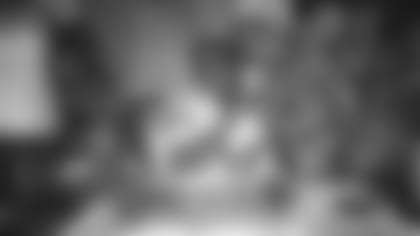 Somewhere in the family photo archives is a photograph of 11-year-old C.J. at Duluth's Bayfront Festival park, posing with Vikings cheerleaders during the team's annual Winterfest. At the same event a handful of years later, he and three friends met Vikings receivers Bernard Berrian and Bobby Wade.
Now, it's C.J. doing the meet-and-greets and encouraging young fans.
In a way, things have come full-circle. But the journey to the pros wasn't entirely storybook. At least not at first.
"When college was over I was thinking, 'OK, you're going to start your career, teaching,' and I was a little bit excited about that because I didn't have to be nervous in the stands anymore, pacing the bleachers every game," Tina said. "And then he said, 'Ma, I'm going to try out for the NFL.' And I'm like, 'OK, now what do I say to that?' "
C.J. was a non-invite to the NFL Combine but worked to impress at Augustana's Pro Day. During that time, his wife Stephanie was pregnant with the couple's first child, Skylar. The two are expecting their second daughter this winter.
"We got some good looks, or so you think, and then he [got an invite to the Vikings] rookie minicamp," she recalled.
C.J., who played running back at the time, had a shot with the team he had grown up watching, and he took it.
On Mother's Day 2016, Tina got a call from C.J. – but it initially wasn't the one she expected.
"He said, 'I haven't gotten that phone call, Ma.' And I told him, 'Don't worry. Just head on to church. You never know.' "
C.J. followed his mother's advice, attending church and attempting to put the anxiety out of his mind. A little more than an hour later, Tina's phone rang again. The Vikings had called C.J. and told him he had made the 90-man roster.
"I was so excited," Tina recalled. "I had never been that excited about football, period. But that's when I realized how much he really wanted it. It was like, 'Wow, he's going to live his dream. Something he really wants to do.' It was very exciting to get that news on Mother's Day."
C.J. spent most of his rookie season on Minnesota's practice squad but was promoted to the active roster in Week 16. The next spring, he was asked to switch to fullback – a position switch he embraced wholeheartedly.
Since the start of the 2017 season, C.J. has played 26 games for the Vikings. He's recorded 11 rushes for 20 yards and has 15 catches for 129 receiving yards.
"It's nice when you have a fullback in there. It allows your play-action game, your two-back, play-action game to really take off," Vikings Offensive Coordinator John DeFilippo said earlier this season. "It obviously allows you to run the football with two backs and some old-school ISO plays. You can run power with a fullback which, we love.
"I think whenever you have a fullback with an athletic guy, that is not just the old-school, 'I've got a big old neck roll on,' type fullback that is just a straight-ahead guy, I think that provides you a lot of position flexibility," DeFilippo added. "The thing with C.J. which I love, he is still athletic enough to be able to move around and catch the football."
As C.J.'s role with the Vikings has increased over the past two years, he has continued to stay active in the Twin Cities community as well as his hometown.
On a sunny morning in Duluth this past June, C.J. sat in jeans and a Vikings warmup shirt at **Uncle Loui's Café**. Tucked on East 4th Street just outside the touristy hub of downtown Duluth, the diner is a local favorite, explained C.J., who added that it's been a go-to spot for him and his father since high school.
Over a stack of fluffy, plate-sized pancakes, C.J. shared why it's so important for him to regularly make the two-plus-hour drive north.
"I remember specifically meeting those [Vikings players], how big of an influence it was on my life, so I always want to try to be that same influence," C.J. says. "I grew up in the community, I grew up in the Boys & Girls Clubs, and the staff members there played such a big part in me being who I am today.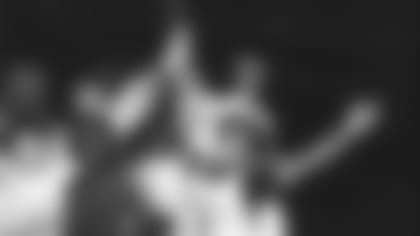 "Now having the platform that I have, I'm able to [have that same impact]," C.J. continued. "And I have a lot of fun doing it."
When C.J. left the restaurant, he caught the attention of a father and son passing by.
"Are you C.J. Ham?" the boy asked in awe.
It's not quite as easy for C.J. to blend in these days, but he greets any fanfare with humility.
The fullback shook both of their hands with a smile, asked the boy his name and spent a few moments talking about football before happily obliging a photo request.
It wouldn't be the only time C.J. was stopped while he gave a tour of his former stomping grounds. From time to time, someone spotted the hometown hero and yelled from a sidewalk across the street, prompting a wave and a grin from C.J.
At Denfeld High School, he climbed the stairs of the clocktower and showed us years of graduating seniors' signatures – a school tradition – on the concrete walls. While he searched for his own name, the face of a coach's son appeared from the stairwell in hopes of snagging a quick conversation with C.J. Of course, he took the time.
"He comes back here periodically – unannounced, usually," Swanson explained. "He comes back to school, and it's been great. He sets a good example for the kids, and the kids just flock to him like Santa Claus when he shows up. And he loves that, but not in an arrogant way – just in a friendly, 'I'm here to help' way.
Added Swanson: "I'm sure we'll have a C.J. Ham wing here someday."
Tina said that C.J. has "always had that gift with kids," and she's proud to see the way her son continually has a positive influence on young fans who look up to him.
For C.J.'s family and those who have watched his path to the NFL, it's no surprise to them that C.J. has handled "making it" the way that he has. And no matter what he accomplishes on the field on Sundays, he'll never lose his biggest fans back home.
"He's just a great example. He comes back and says, 'Hey, I'll tell you where I lived,' and he'll tell them. It wasn't the best part of town. But they'll say, 'Well, you made it. Maybe I can make it, too,' " Swanson said. "I've always thought he's the kind of guy you'd like to have because he's not about, 'Let me tell you about my story.' It's, 'Let me hear yours.'
"He always makes time. He's smooth. He just comes in and out, no big deal," Swanson added. "He doesn't say, 'Excuse me, I'm here now.' He doesn't play that game. He's just one of the guys."