EAGAN, Minn. – Salaam Day was beyond thankful to be awarded a $5,000 scholarship toward his college education.
But then to also meet Vikings linebackers Eric Kendricks and Anthony Barr, and receive a surprise shopping spree at the Vikings Locker Room store?
Salaam wasn't quite sure how to express his gratitude for such a special day.
Barr and Kendricks met Salaam at the Vikings Museum earlier this week to congratulate him for being named the 2021 "Be the Change" Scholarship recipient.
They told Salaam, who recently completed his first semester at Augsburg University and plans to study computer science, they're proud of his efforts both academically and in the area of social justice.
"It means everything to me. I would have never expected to receive a scholarship from the Minnesota Vikings. They're my favorite football team, and they're [creating] an opportunity for me to keep going through college and not to give up. It's a blessing," Salaam said. "Not many people have the opportunity to pay for college, and a lot of my friends don't go to college. So you've just got to take advantage."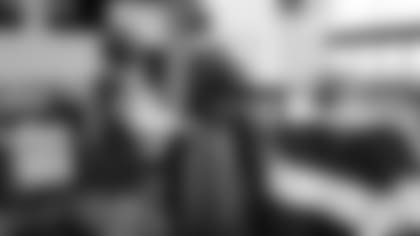 Salaam said growing up in the environment he did "wasn't easy," and he set his sights on first graduating from Washburn High School and next achieving a college degree in order to set himself up for success. He also hopes to encourage his sisters, 7 and 13, to follow in his footsteps.
"I want to inspire them to do well in school and show that they have better things [ahead of them], not the same life that [we've had]. I just wanted something more," Salaam said.
Salaam was selected for the scholarship by the Vikings Social Justice Committee after players and leadership read the young man's submitted essay. In it, Salaam placed priority on education and on making a difference in his community through his involvement with the Boys & Girls Clubs.
As part of his essay, Salaam shared a trauma he experienced at 10 years old, when he and his older brother were detained at gunpoint by police officers after leaving a store. The boys were handcuffed, put in the back of the squad car and questioned before ultimately being let go because Salaam's brother "didn't quite fit the description they were looking for – 'a tall Black male.' "
Through peaceful protesting in the wake of George Floyd's murder in May 2020 (former Minneapolis police officer Derek Chauvin was sentenced in June 2021 to 22.5 years on a second-degree conviction in the State of Minnesota v. Derek Michael Chauvin), Salaam said he "gained a sense of confidence and strength within [his] community to combat systemic racism that has plagued [his] life, and countless other African Americans, for years."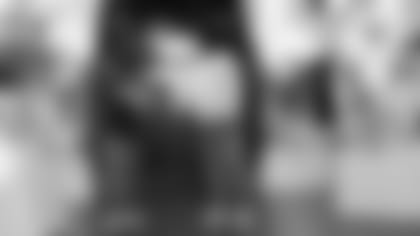 Barr and Kendricks are impressed by the work Salaam is doing.
"He went through it, too," Kendricks said of the societal unrest following Floyd's death. "I'm not even from Minneapolis, so he has a different experience than me, being from here and experiencing it at a younger age.
"The opportunity for him to step up and … use [a tragic situation] as a beacon of motivation is crucial, and it's awesome to see him turning his heart and his emotions to do good for the community," Kendricks added.
Barr echoed Kendricks' sentiments. He also explained to Salaam his shared passion for education and the work he and his mom Lori do through Raise the Barr foundation.
The eighth-year linebacker said Salaam is "well-deserving" of this year's scholarship.
"The work he's done in the community, the work he's done for himself to put himself in this position, it's inspiring. It's a big deal," Barr said. "I told him that the work was far from over. He has a platform now, resources now, and he's gonna use it to continue inspiring others."
Added Kendricks: "Education, putting that at the forefront is important, and we thought it was appropriate. We couldn't think of anyone more deserving."
Barr accompanied Salaam on a shopping spree through the Vikings Locker Room store, helping him pick out an assortment of items.
"This is your guy, right?" Barr asked at the jersey wall, pulling down an Adam Thielen Primetime Purple jersey. "We've gotta get you one of these. You should probably get it signed, too. I can take care of that."
Among Salaam's other selections were a Vikings hoodie, hat, and a stocking cap and mittens he chose as a gift for his mom.
"I never expected this," Salaam said, laughing.
"We've got you," Barr said.
Salaam appreciated the opportunity to connect face-to-face with athletes he's looked up to for years – both on and off the field.
Watching Barr's and Kendricks' responses to the happenings of the past two years, Salaam noted, has kept him motivated to create positive change.
"They're players for the Minnesota Vikings, and they're leaders, too," Salaam said. "For people who have a name, and an audience behind them, I think it's very important for them to put actions [behind their names in] the city – and in the whole country, in general, too. It just shows that they actually care."
Barr and Kendricks certainly care, as does the Vikings organization as a whole.
The Vikings Social Justice Committee, which was established in 2018 and is whole-heartedly supported (personally and financially) by Vikings Owner/President Mark Wilf and Owner/Chairman Zygi Wilf, recently committed $100,000 to the George Floyd Legacy Scholarship Endowment, meaning the academic scholarships will not only continue but will increase in coming years.
"It's great to be able to give this opportunity," Kendricks said. "Last year we weren't able to meet [the recipient]. It's good to meet in-person, good to shake hands, look each other in the eyes, 'Let's get this done.' We're in this together."
Added Barr: "They're the future. They can really bring about this change that we're all striving to accomplish."