Adversityis no match
Some say the true mark of a person's character is not how they handle prosperity but how they respond to adversity. While in Dallas, Zimmer remained on staff through four head coaching changes. In 2009, Zimmer endured a personal tragedy and through it helped guide the Bengals to the playoffs and earned the Halas Award, which recognizes the individual in the NFL who overcame the most adversity to succeed. He is equipped to avoid or handle the setbacks he'll encounter as head coach of the Vikings.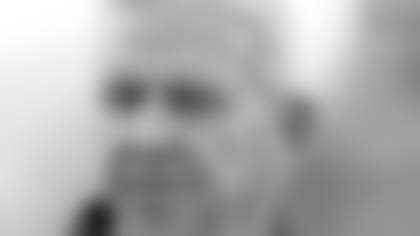 Bill Parcellsendorses him
If a Hall of Fame, two-time Super Bowl winning coach who guided four different franchises to 10 playoff appearances endorses you, who is anyone else to question your credentials? Here is what Bill Parcells said about Mike Zimmer: "I can tell all the fans of the Vikings, you couldn't possibly get a more diligent, energetic, determined guy. He's a terrific worker. These jobs entail a lot of hard work, but he's especially that way. He won't leave a stone unturned."
Communityis important to him
The Vikings organization is community-conscious and emphasizes the importance of its coaches and players giving back to the community. Zimmer shares the same ideals and will instill those values into his players.
Disciplinehe will preach
Zimmer has used "smart" to describe the type of team he wants to field in Minnesota, and in observing him coach through the years it's clear he runs a tight ship and will demand his players fall in line with rules both on and off the field.
Experience –35 years of coaching
Zimmer brings with him to Minnesota a wealth of experience at both the college and pro levels and as both a position coach and coordinator. He's been on NFL sidelines for 20 seasons, including the last 14 as a defensive coordinator.
Formerplayers speak out in support of him
From current Cincinnati Bengals who played for him over the past several seasons, such as Terence Newman and Domata Peko, to Hall of Famers who played for him, such as Deion Sanders, Zimmer's former players have come out in droves in support.
Minnesota Viking fans new Headcoach Mike Zimmer is a great Coach but a overall good Hardnose football guy. He won't stand 4 mediocrity.Truth — DeionSanders (@DeionSanders) January 15, 2014
Greatmentors
In 35 years of being a football coach, Zimmer has learned under some legendary names in the game, including Parcells and Barry Switzer, just to name a couple. He's the son of a coach and has dedicated his life to teaching the game of football.
Knows the benefit of Home-fieldadvantage
Over the last three seasons, Zimmer and the Bengals have won 16 of their 24 games at home, including going 8-0 at home during the 2013 regular season. The Vikings will be moving outdoors to play their home games at TCF Bank Stadium for the next two seasons, something an old-school, defensive-minded coach such as Zimmer can appreciate.
Illinoisis home
Zimmer is a Midwestern guy. He's "one of us." Growing up in Illinois, Zimmer has many of the same values that Vikings fans have.
He's learned from his Journeyto the top
Zimmer is 57 years old and he's been a coach for 35 years while working for Hall of Famers and advancing to the postseason with regularity. This may be his first job at the top, but he brings with him plenty of experience and lessons learned.
Knowledgeof the game
No, experience and past success do not guarantee future results. But knowledge is power. Zimmer is considered a student of the game by his peers and former players, and he'll rely on his experience and knowledge in his first head coaching job.
Late-gamedefense
In 2013, Zimmer's Bengals defense ranked second in the NFL with just 58 points allowed in the 4th quarter and they allowed zero touchdowns in the last two minutes of the first and second half.
Man on a MissionZimmer is a man on a mission with the Vikings and has said repeatedly since taking the Vikings job that he is determined to deliver a Super Bowl championship to Minnesota.
Numbersdon't lie* *When he took over Cincinnati's defense in 2008, the team was coming off a season in which they ranked 24th in points allowed. Zimmer's defense in 2013 ranked fourth in that category.
He's an Old-schoolcoach
Distractions. Press conferences. Media obligations. He'll handle the ancillary duties of being a head coach in the NFL with aplomb, but Zimmer is an old-school football coach primarily and nearly exclusively interested in coaching football.
Playoffexperience
Vikings players will know that the man trying to lead them to the playoffs is a man who knows where he's going. Zimmer has coached on teams that qualified for the playoffs 11 times, including the past three seasons and four of the past five seasons in Cincinnati.
An eye on the Quarterbacksituation
Zimmer has a defensive background as a coach and some may not look to him when trying to find a fix at the quarterback position. But perhaps Zimmer has a better eye for the position than many realize. He played quarterback in college and has made a successful living defending the position for 35 years.
Impressive defensive RankingsZimmer's Bengals defenses since 2008 have ranked in the NFL's top 10 in total defense four times, climbing to No. 3 in 2013. Since 2011, the Bengals have allowed 18.8 points per game, ranking No. 4 in the NFL in points allowed. The 2013 Bengals posted 20 interceptions, the fifth-best mark in the NFL.
Sackattack
The Vikings play in a division with three outstanding quarterbacks. Since 2011, Zimmer's Bengals defense ranked No. 2 in the NFL with 139 sacks (46.3 per season).
Creating TurnoversSince 2011, the Vikings have created 65 turnovers. In that same span, Zimmer's defenses have created 83 turnovers, ranking No. 3 in that category last season and No. 8 in 2012.
Understandingwhat it takes to win
Zimmer has coached on teams that have won seven division titles in his NFL tenure, including as a defensive backs coach for the Dallas Cowboys when they won the Super Bowl following the 1995 season. With Cincinnati, Zimmer has coached defenses that helped the team reach the playoffs in each of the past three seasons.
Versatilecoaching style
There's a lot of talk publicly about the 4-3 or the 3-4 scheme for the Vikings. Either way, the Vikings will be in good shape because Zimmer will fit his defense to his players' skill sets, and he's led top 10 defenses in both a 4-3 and 3-4 scheme.
He can Win without his best players
Zimmer's peers say he gets the most out of his players, and that trait was most recently illustrated in 2013 when the Bengals won their division and their defense ranked third overall despite its two best players – defensive tackle Geno Atkins and cornerback Leon Hall – missing a combined 18 games.
Xs and Os
Zimmer has been a coach for 35 years and the game has changed a lot in that time. The Xs and Os remain the same, though, and Zimmer will tackle the challenge of stopping some explosive offenses in the NFC North.
Youngplayers
Several times since accepting the Vikings head coaching job, Zimmer has mentioned his excitement about working with a young group of Vikings players. The Vikings have 16 of their most recent 19 draft picks still on the roster, including youngsters Sharrif Floyd, Xavier Rhodes and Harrison Smith on defense.
A Zimmerteam is…
Zimmer says his teams will play with energy, will play with passion, will be smart and will make Vikings fans proud.