HOPKINS, Minn. – Just inside the door and to the right, a hodge-podge of Vikings characters gather on a table: detailed figurines of Bob Lurtsema and Jerry Burns, a generic bobblehead from the Bud Grant era, a hand-knit wizard with a tiny white beard and tall Purple hat.
An old-school, road-white Alan Page jersey – Penny's personal favorite of all uniform designs – hangs on a mostly bare wall. Across the room, a corkboard barely peeks from behind overlapped photos, spanning decades, and a newspaper clipping of President George W. Bush holding a custom jersey.
Penny talks as she works, retracing a path she's walked thousands of times. To a box of white Nike letters where she pulls H-U-G-H-E-S from organized compartments, breaking her train of thought only to look up at us over the rim of her glasses, "Spelling's a big deal"; to an ironing board where she places the letters meticulously onto a fabric nameplate; to a large heat-press that more firmly secures the surname.
At the sewing machine, Penny is on autopilot. She checks a spool of white thread and pushes her foot to the pedal, guiding the jersey through and perfectly outlining the letters with little-to-no effort.
"It takes about a minute a letter, I suppose, to sew it," Penny says. "The sewing is actually the fastest – it's all the other little parts [that are more time-consuming]."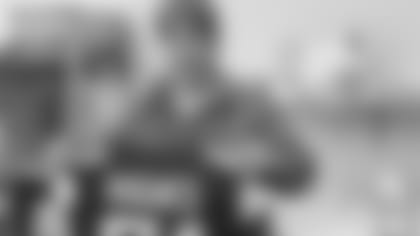 The night before, Penny had watched Round 1 of the 2018 NFL Draft and saw the Vikings selection of Hughes. It's her annual tradition, tuning in and thinking ahead for the next morning's sewing project. She pays special attention to college film or photos shown of the drafted player.
When she retrieves the large white numbers, she smiles a bit mischievously before revealing: "Do you know what his number is yet? Am I the first to tell you?"
"I saw him in his college clips, and he was wearing 10 and 19," Penny explains, holding up the digits. "And I said, 'Well, 10's not an option; and 19's taken.' So, he's 21."
She places the numbers carefully, the perfect distance apart, using a ruler.
"I kind of know the routine, [but] with different numbers, they fit a little differently together. There needs to be a preciseness to it," Penny says.
"My aunt always said, 'You need to have the best quality, whether it's a pee-wee, a little leaguer or a pro. You take pride in your work.' " Penny later shares. "It's part of my nature, the detail."
Ask Penny, and she'll tell you the meticulousness has always come naturally for her. After all, it's part of her DNA. Her grandmother was a quilter; her father a finish carpenter, known and respected in the industry for his attention to detail.
"Mitering corners, he was known as one of the guys they'd always call to build the steps," she says proudly.
After growing up and learning the craft from her grandmother and great aunt, Penny started working with the Vikings in January 1970, when she moved patches on Super Bowl jerseys from the sleeve to the shoulder. The team at that time accounted for approximately 10 percent of her business. Nearly 50 years later, it has become closer to 75 percent of the workload.
The coaching staff and marketing needs have grown, as have the number of named-and-numbered jerseys needed each summer. Heading into training camp, Penny sews four game jerseys – two in each color – for each of the players on the 90-man roster.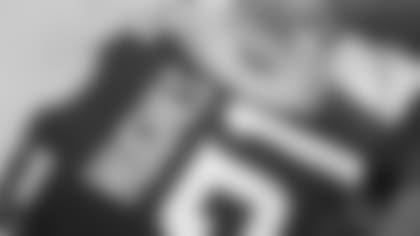 And as the demands have changed through the years, so have the uniform designs. Whereas jerseys used to be designed in a universal style with different sizes, a variety of cuts have been developed for different position groups.
Penny gestures to Hughes' jersey, turned inside out to make the sewing simpler, and explains that it's called a "linebacker cut" and is used for positions that require a wider range of movement.
"They fit pretty tight in the shoulders. The sleeves are a little different, they're capped, and they kind of have elastic," Penny says. "They have a 'quarterback cut,' too, and then there's a 'line cut' for the linemen, with smaller sleeves."
Over the course of many changes, however, Penny's machines have remained constant. One of them, an old black Singer, was vintage before the business even started.
"My great uncle pulled that one out of a junk pile," Penny says, pointing. "He cleaned it with kerosene, put a new belt and a new needle, and I'm still sewing on it. I sew the Hopkins letter jacket names with that."
The newer sewing machine, dating "only" back to the early 1950s, is used more frequently for the zigzag stitching that secures that nameplates and lettering onto the jerseys.
Penny runs her fingers over the intricate path that's woven into the Purple.
"I use a real heavy thread for the nameplates so they don't get ripped off," she says. "[Daunte] Culpepper was the only one we had to sew on double – the way people would grab onto him, and he'd just kind of carry them on his back. They'd be grabbing his jersey, and it came loose once; after that it was, 'That's it. We're doing it twice.' "
Stories are nearly as plentiful as the years of Penny's service, and she remembers players' various quirks and requests.
"Jared Allen was real fussy with his knee pads, so I had to make special pockets that had these little teeny pads," Penny says.
The 1987 season threw Penny and longtime Vikings Equipment Manager Dennis Ryan a sizeable curveball, when players went on strike and teams supplemented with replacements.
Penny vividly recalls Dennis arriving with jerseys that needed the names swapped out.
"He was sitting on the table ripping off names, and I'm sewing new names, so that was pretty intense," Penny says.
Dennis also weighs in on the story, accentuating Penny's role in keeping everything afloat.
"It wouldn't be a big deal to run over three or four times a week to Penny's shop. That month, we were back-and-forth seven days a week," Ryan says. "We literally were cutting players almost daily and bringing new guys in, and we were always getting jerseys ready for the following game and for practice."
Penny recalls the frenzy when Culpepper changed his number from 12 to 11 and re-tells the story of Randy Moss, who requested 88 when drafted, but the number formerly worn by Alan Page had been retired 10 years prior.
"Dennis said, 'Well, you're not having 88; that isn't available,' " Penny says with a chuckle. "So Dennis gave him 18. … he later wore 84."
Penny has sewn names and numbers for thousands and thousands of players – the surname Johnson more than any other – but she ultimately feels most connected to the early years. There's a sense of nostalgia there, before players departed teams in free agency and played for multiple clubs over a career.
"You say No. 67, I'm thinking Grady Alderman. You say No. 30, that's Bill Brown," Penny says, smiling. "You say 55, that's gonna be – well, there's been a lot of good 55s – [Scott] Studwell, for one. It's hard to keep track now because they change so often."
The whirring of the sewing machine, its methodical stop and start, has become a backdrop to Penny's thoughtful voice, and it's easy to imagine similar sounds filling the room decades ago.
Nearing 49 years of service to the Vikings, Penny has decided to take her foot off the pedal.
It hasn't been an easy decision, but it's time. She rubs her shoulder, stretches out a knee, rotates her left wrist, which has developed what is likely carpal tunnel, and emphasizes that it's the right time.
"You're going to miss the people … but I just can't do it anymore," Penny says. "And I want to be able to still hopefully golf, and I've got a fishing trip planned in June – I think I can still cast that rod and pull in a walleye or two."
Penny adds with a smile: "I knew it was coming and that this would be the last draft class, but I wouldn't be surprised if I get a call from Dennis sometime during the season."
Dennis, who has spent 40-plus years working closely with the seamstress, calls Penny a "crucial member" of the Vikings equipment department.
"Everything she did with the jerseys, getting coaches' shirts ready, whatever it might be – caps that needed the Norseman sewn onto them, all the different things. When [former assistant coach] Chip Myers died, when Korey Stringer died, she made the patches so that we were able to have them on the following week," Ryan says. "It really makes the operation look good when you have somebody like that who you can rely on 365 days of the year, if you needed it."
Adds Ryan: "She's really a special person and will be impossible to replace."
At the surface, sewing is Penny's job – and yet it's much more than a source of income. Over the span of five decades and thousands of Vikings jerseys, a little of Penny's heart has been sewn into each one.
Penny's personality is fairly even-keel, but she tells of times she's gotten emotional watching players' journeys. When Chad Greenway returned a 91-yard interception for a touchdown – during his grandpa's first time attending an NFL game – she recalls tearing up listening to his press conference over the radio and realizing the significance of the name "Greenway" stitched on his jersey and the role she had played in the moment.
If she has one regret, it's that she hasn't filed away newspaper clippings from each first-round pick over the years who has held up a freshly stitched jersey: Mark Mullaney, Randall McDaniel, Robert Smith, Kevin Williams, Adrian Peterson, and the list goes on.
She looks down at the now-finished jersey that the Vikings newest cornerback will display during his introductory press conference.
When she lifts her head, tears fill her eyes.
"They work hard to get to this point, and all the people around them…" Her voice trails off, interrupted by emotion. "It's been fun."