There were times when Tom Burnett, Jr., needed to inspire a huddle.
On Monday, the memory of his courageous acts inspired an entire stadium.
The Bloomington native was one of the brave passengers who fought back after United Airlines Flight 93 from Newark, New Jersey, was overtaken by terrorists on Sept. 11, 2001.
Once Burnett learned about the terrorists' plan to use the plane as a weapon, he worked with passengers Mark Bingham, Todd Beamer and Jeremy Glick to fight through the door of the cockpit.
The plane crashed in Shanksville, Pennsylvania, killing all 44 passengers, but the courageous actions prevented additional loss of life.
Burnett was selected as the Hometown Hero for Monday's Vikings-Saints game. His family was recognized on the field of U.S. Bank Stadium during the game after a video tribute. The moment drew a standing ovation from the crowd of 66,606.
Vikings.com recently spoke with Burnett's parents about their memories of their son and how his death has inspired them to make sure the tragedies of that day are not forgotten.
Last Saturday, the American flag on the Burnett family's deck fluttered in a gentle breeze against the backdrop of a bright and sunny sky.
Inside, Tom, Sr., and Beverly, married for 63 years now, replayed joyful memories of watching Tommy play quarterback at Jefferson High for Bruno Waldner and at Saint John's University for John Gagliardi, a pair of coaching legends.
Tom laughed as he recalled a play where he yelled, "Run it, Tom!" so loudly that the entire stadium heard. The quarterback tried but was stopped shy of the goal line on the play, and Waldner reminded Mr. Burnett, "We'll do the coaching."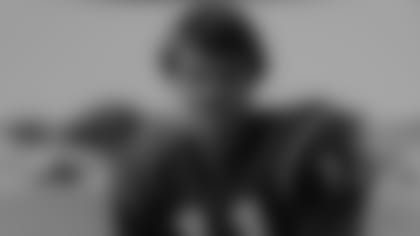 "Bruno really liked Tom a lot, and when Bruno was inducted in the [Minnesota Football Coaches] Hall of Fame, he spoke about Tom," Mrs. Burnett recalled. "That's what he remembered about football and how Tom was very coachable but also very smart. We were honored that he reme
The Burnett family believes the lessons and values that their son learned through football and applied as a successful businessman shaped his response in the face of adversity.
"Tommy was a quarterback. He used to tell us that everything slowed down after the snap, that he could see the whole field, he could see the play taking shape, he could see the order in the chaos," Mr. Burnett said. "I believe that is exactly what happened on the plane. In those terrible last seconds of their lives, Tom and those men were running the play they had strategized."
"We know that the leadership he displayed on the field shaped his life and determined his role on the plane that bright September day," Mr. Burnett continued. "Tom was calm, focused and determined on United 93, and he led a play that prevented the plane from hitting its target."
Burnett had visited his parents the previous weekend. He also phoned them from New York on September 10. Tommy had recently mentioned the possibility of leaving his career as Vice President and Chief Operating Officer of Thoratec Corporation based in Pleasanton, California, to return to Minnesota, earn a PhD and become a history professor.
He also suggested that his parents experience New York in the winter time instead of their usual trips south for golfing.
"I just laughed at him and said, 'We'll think about that,' " Mrs. Burnett recalled. "That conversation lasted probably a half hour. That next morning, Mary Margaret was getting coffee and saw the [World Trade Center] tower being hit in New York and called us and said, 'Where's Tommy?' I said, 'I'm sure he's OK.' "
After the plane was taken by the terrorists, Burnett phoned his wife, Deena, and she relayed information about the other attacks. Deena also informed the Burnetts of the perilous situation that would shape every day of the rest of their lives.
When the Burnetts traveled to Shanksville, they were joined by daughters Mary Margaret and Martha.
"When we drove into Shanksville, we all felt like we had been there before," Mrs. Burnett said. "It was a scary feeling, that we had been there and we knew Tom was there."
Instead of teaching history, Tom helped write it. His life ended at 38, but a legacy was only beginning.
Burnett, Bingham, Beamer and Glick were posthumously honored with the Arthur Ashe Courage Award during the 2002 ESPY Awards.
The Tom Burnett Family Foundation (**tomburnettfoundation.org**) was created in September 2002 to help inspire and impact the leaders of tomorrow **through scholarships*** *at Jefferson and Kennedy High School, Saint John's University and the University of Minnesota, as well as a leadership program.
"We like our scholarships that we have," Mrs. Burnett said. "Hopefully [recipients] will tell people, 'Don't forget 9/11, don't forget what Tom Burnett did.' That's what we do. It's hard. It's not easy. I think a lot of people think it's easy for us. It's not. It's very difficult still after 16 years."
The challenge is real, but so is the Burnett family's commitment to act out some of Burnett's final words, "Do something."
"Do something good. Do something kind. Do something courageous. Do something right," Mr. Burnett said.