EAGAN, Minn. – Excitement reverberates through the room, fists punch the air and high fives are exchanged across the conference table.
The atmosphere feels similar to Draft Night, Kirk Cousins notes, when a team secures a player who's topped their draft board for months.
Only the goal of this game isn't nabbing the likes of Justin Jefferson. It's really quite the opposite.
It's Immaculate Grid, a new online puzzle game created by Sports Reference for its pro-football-reference.com site. Every night after concluding offensive meetings for the day, a close-knit team tests their minds in a whole different way:
Offensive Coordinator Wes Phillips
Quarterbacks Coach Chris O'Hara
Assistant Quarterbacks Coach Grant Udinski
Pass Game Specialist/Game Management Coordinator Ryan Cordell
Bill Walsh Diversity Coaching Fellow Cordale Grundy
Head Coach Kevin O'Connell sometimes joins as he does on this occasion, slipping in the door to check the group's progress.
Using categories given on an X- and Y-axis of a nine-square grid, players attempt to find a name that fits intersecting categories. The fewer times an answer has been given – in other words, the more obscure and unknown the player – the better. Only nine guesses are allowed during the game, and unfilled squares send scores skyrocketing.
The room sticks to a general strategy: Backup quarterbacks and offensive linemen tend to be valuable, while skill-position players typically are more widely selected. Remember, the name of this game is relative anonymity instead of fantasy football fame.
"Backup quarterbacks and linemen are a gold mine," Cousins says, "because they provide you with a lot of inventory."
The game is a good way to wind down after long days at Vikings Training Camp, and the group's camaraderie is undeniable. Plus, it's a good memory challenge.
"We've gotta know the league," Cousins says. "Jon Gruden used to tell me, 'You've gotta know the league, man.' "
The first name of the evening comes from Cordell, who points out that journeyman TE Eric Tomlinson – Who? Exactly! – made stops at the Jets and the Ravens. There's a collective silence as O'Hara types Tomlinson's name into the game's search bar, which is projected onto a screen at the front of the room.
The results are in: 0.06 percent of people have guessed Tomlinson.
Cheers erupt. Off to a great start. Prior to tonight, the group's lowest rarity score was a 56, which seemed unbeatable at the time – but higher bars have been set.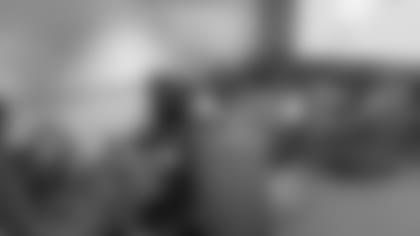 "Cordell and Grant are the ace cards in our back pocket," Cousins says, before pointing at Cordell. "Mr. SAT over there."
Adds Phillips: "These guys are all geniuses."
Next is former RB Dave Meggett (1989-98), who played six seasons for the Giants and later finished his career with a single season – and just two games – with the Jets: 1.0 percent.
"We're literally on pace for 9, boys," Cousins says excitedly.
"Trumaine Johnson is a great name, but it'll probably get, like, 8 percent. That's too high," Cousins later chimes in when trying to find the right former Ram/Jet. "But it's nice to know we have it in our back pocket."
There's former NT Kelly Gregg for the Ravens/Chiefs box, which triggers another round of applause with a score of 0.1 percent. Backup QB Austin Davis (0.3), C Austin Blythe (1.0) and LB Reggie Ragland (0.4) are filled in.
"Yes! Single digits!" Cousins exclaims. "We're pulling out all the stops for Vikings.com."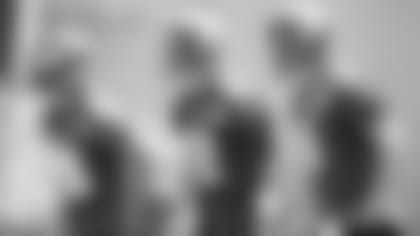 A hum of voices keeps a steady pace, with the occasional name being thrown out and then shot down.
Was Tyrod Taylor ever a Seahawk? No. Malcolm Smith didn't end up with the Giants, did he? He ended up somewhere. Maybe the Raiders. How about one of those tailbacks Seattle's made its way through? Did one of them ever make his way to Baltimore? Did Leon Washington ever play for the Rams?
"I think the game should have a time limit on it," Cordell says.
"No, no. It's immaculate. It's not a race," Udinski counters.
Adds Phillips: "Perfection takes time."
As the group rifles through specialists, O'Connell mentions he believes kicker Greg Zuerlein went to the Jets in 2022 after spending time with the Rams earlier in his career. Having interviewed Zuerlein last season for a story on Vikings Special Teams Coordinator Matt Daniels, I confirm he was, in fact, with New York.
"Lindsey coming through for us!" Cousins exclaims before adding, "He may be a high percentage, though, boys. But maybe not as high as Trumaine Johnson."
The group settles on Zuerlein, which brings up a whopping 14 percent … much to the chagrin of the room, who lets out a communal groan.
"Soul-crushing," Cousins says. "Absolutely soul-crushing."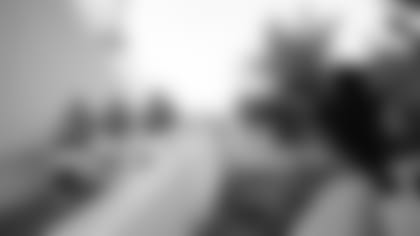 With two spaces remaining, it's O'Connell who comes up with 2008 NFL Draft classmate Justin Forsett to fill the Ravens/Seahawks box.
There's a panic when O'Hara accidentally clicks on the incorrect box and starts to type Forsett's name – then relieved laughter as he corrects the mistake before hitting "enter."
Whew. That was a close one.
Twenty minutes in, and there's only one space left on the board – the center square that intersects the Giants and Seahawks.
Cousins leans up against the wall, resting his head against a whiteboard scribbled with route trees and install notes.
"If we somehow get single digits, we could be looking at a Joe DiMaggio history. Unbreakable," he says.
Former WR Golden Tate is suggested, but it's decided he'll likely bring up too high of a score.
"I'm not willing to stand on a table for that one," O'Connell says. "He could be, like, 28 percent."
What about former tackle D.J. Fluker? The room is certain he played for the Seahawks. Did he also spend a season with the Giants?
One thing Cousins knows for sure: "He's an enormous human."
Then a conversation about TE Nick Vannett. Phillips, Mullens and Udinski feel strongly he played for the Giants in 2022, but others aren't quite sure.
"Oh, man," O'Connell says, "this is stressful."
Ten minutes tick by, and indecision still looms. Play it safe with Tate, or take a risk with Fluker or Vannett?
"Considering you're the one who invited Vikings.com, it's gonna be you making the final call," O'Hara tells Cousins.
"Maybe we just take the check-down," Cousins ponders. "You know, just move the chains."
At one point, Phillips can't resist removing himself from the competition and peeking at his computer. He closes the lid of his laptop, nods his head slowly and offers, "I know the answer, and he either did or didn't."
"I'm 98 percent sure D.J. Fluker played for the Giants," O'Connell says before adding with a laugh, "But I'm 100 percent about Golden Tate."
Cousins pats Mullens on the shoulder and announces, "I'm kind of riding with this guy. He had a good practice today."
The debate continues for a few more minutes before Cousins makes the final decision, and the room holds its breath as O'Hara slowly types in N-I-C-K V-A-N-N-E-T-T.
High fives make their rounds, and the volume raises as excited chatter escalates. A new record rarity score of 23. It's gotta be unbreakable, right?
Cousins stands up, smiles, stretches and throws his backpack over his shoulder.
"All right," he says, "bedtime at the Omni."
The quarterback can sleep well.