Vikings Coach of the Week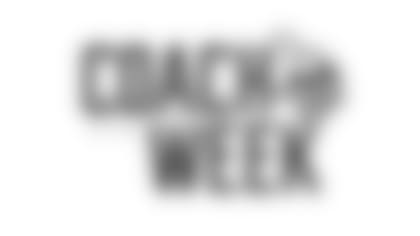 After each week of games during the high school football season, the Vikings honor a high school coach of the week. Coaches are chosen based on their contribution on the football field, but more importantly, on the impact they make within their community and for their student-athletes. In addition to being recognized in local media for the achievement, the school's football program receives a $1,000 donation on behalf of the Minnesota Vikings.
2023 Coach of the Week Winners
Week 1: Jason Freed - Brainerd
Brainerd Coach Jason Freed is beginning his fourth season as Warrior football's head coach and his fifteenth season with the program. Prior to taking the reigns as head coach, he was the defensive coordinator for the Warriors. Freed also coached at Houston High School from 2004-2008, where he turned the program around and led them to two state tournaments – including a 9-man State Title in 2008. Born and raised in Iowa, he played at Luther College where he was a 4-year starter, team captain, and all-conference player. Off the field, Freed is an educator at Brainerd High School. The Brainerd Warriors kicked off their season by beating Mahtomedi. 
Freed's favorite part of coaching is helping his athletes reach their full potential both on and off the field. He has created a culture utilizing the five-pronged PRIDE concept that enables his team to build a foundation that they can take with them into their future beyond Brainerd High School. He attributes the success of the program to his staff and team, saying, "Any recognition as a coach is a direct reflection of my staff and team as well." Freed places importance on building relationships and continually finding ways to improve.
Week 2: Cullen Nelson – Chanhassen
Coach Nelson has been coaching for 22 years and became the head coach of the Storm in 2019, where he has a 27-10 record. The Chanhassen Storm opened their season with a 34-28 win over defending state champions Elk River, followed by a 35-14 win over Owatonna. Nelson went to Gustavus Adolphus College in St. Peter where he was a student coach. He was also a member of the 1997 Northfield High School state championship team. Nelson is student-centered, hardworking, and passionate about developing "quality young people, win[ning] championships and lead[ing] a program the community is proud of and wants to be a part of." Off the field, Nelson teaches social studies at Chanhassen High School.
Week 3: Chris Mensink - Filmore Central
Coach Chris Mensink is the Athletic Director, Dean of Students, and Head Football Coach at Fillmore Central. Mensink is coaching in his 17th season and has a 24-3 record over the past three seasons. Last year, Fillmore Central earned the program's first section title and first state tournament victory. Mensink values the life lessons learned through football. "You're teaching kids how to handle different life circumstances through sport and it's a great outlet for kids," Mensink said. He preaches the importance of how you respond to situations in life, because that is where you have the power. Mensink said it was "powerful to see" his team emulate that message all year long in 2022.