Minnesota Vikings Business Summit – vikings.com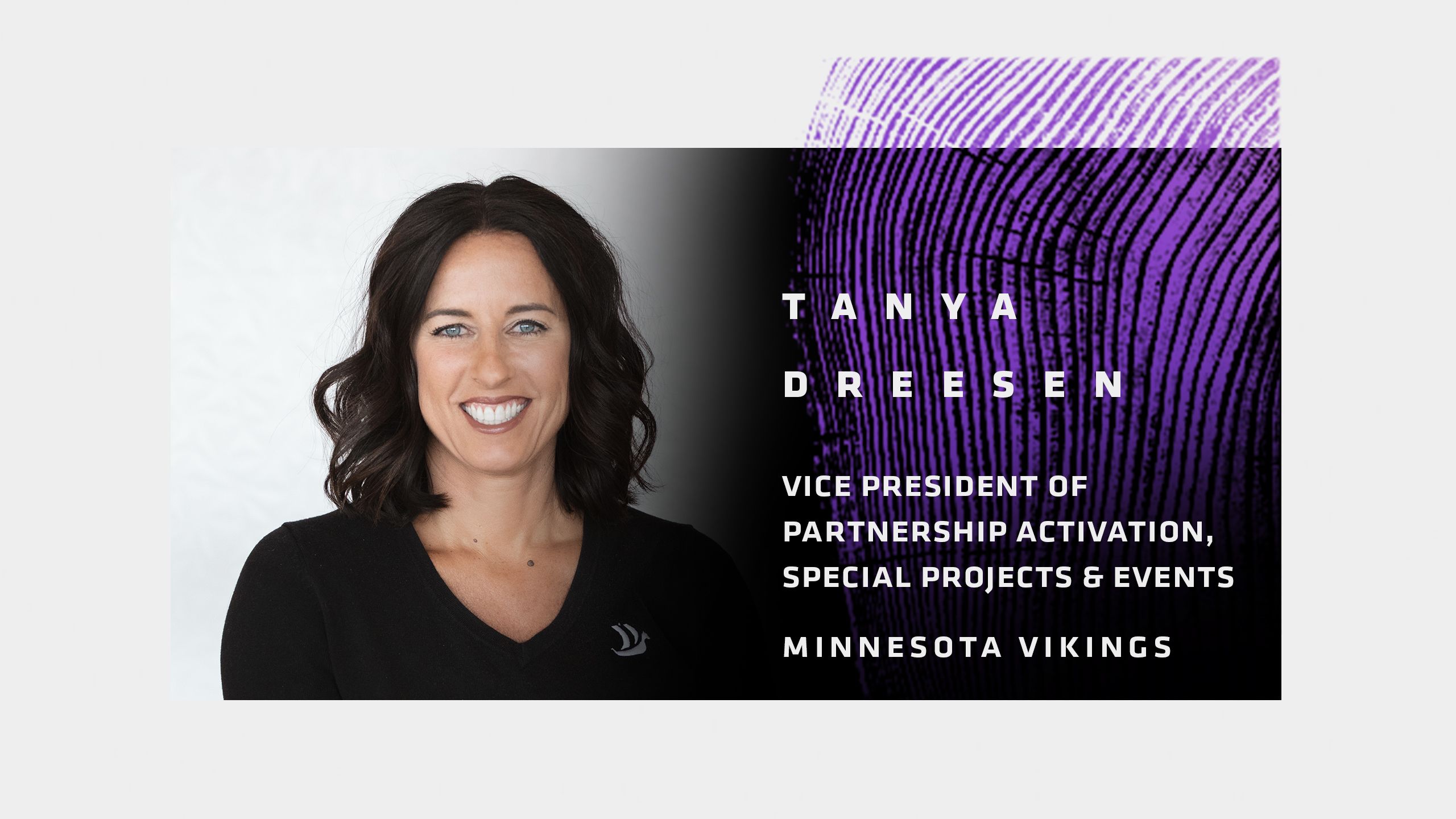 Tanya Dreesen, Vice President, Partnership Activation, Events + Special Projects, (Minnesota Vikings)
Tanya Dreesen married, mother of 2, is currently in her 15th season as a prominent member of the Minnesota Vikings. As Vice President of Partnership Activation, Events + Special Projects, she collaborates on team and U.S. Bank Stadium partnerships, and community relationships. She is responsible for the team that activates all +100 sponsorships, including naming rights and Founding Partnerships and well as all team tentpole fan facing and partner public or private events. 
Prior to joining the Vikings, Tanya served as Vice President of Marketing and Major Accounts for the Denver Post and Rocky Mountain News, activating Founding Partner roles for the Colorado Rockies and exclusive category sponsorships of the Denver Broncos, Colorado Wild and Denver Nuggets. Prior to Denver, Tanya led the Major Accounts Advertising Department for the Minneapolis Star Tribune. 
Born in Toronto, Canada, Tanya began her career at The Toronto Sun as a member of the special projects team, which marketed and supported the launch of the Toronto Raptors NBA team. She was then recruited to a director position with Canada's largest daily newspaper, The Toronto Star, where she led sponsorships for events, art and sports partnerships, including the Toronto Blue Jays, across all media properties. 
Tanya graduated with honors with a specialty in Advertising/Marketing from Canada's Sheridan College (concentrates in art, animation, game design, business and engineering). She was a three-time medalist in the Edmonton World Master Games for Rowing and has competed at the World Rowing (FISA) International level in Boston and Montreal, Canada. 
Tanya is active in the Twin Cities business community. She currently serves on the Champions Council, Title IX Advisory Board and Committee Chair for Minnesota Sports and Events. She is also a Member of Minneapolis Downtown Council Reanimation Project, restoring confidence and behavior change to return to downtown. Tanya was a member of the 2018 Super Bowl LII Bid + Host Committees and VIP Committee Chairperson. Tanya was also Chairperson of Advisory Council and VIP Committee for the 2022 NCAA Women's Final Four Advisory Council.