Minnesota Vikings Business Summit – vikings.com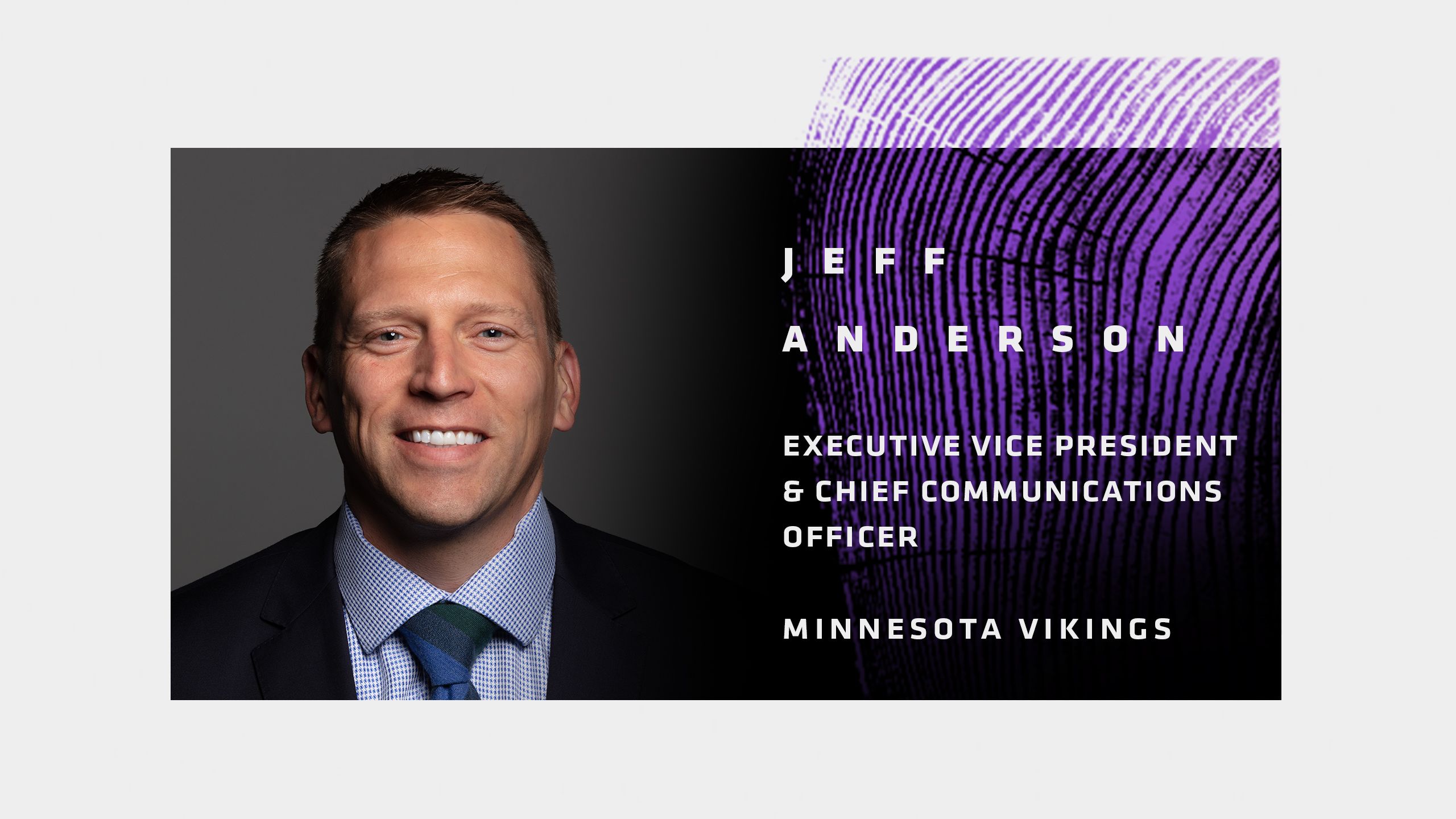 Jeff Anderson, Executive Vice President & Chief Communications Officer (Minnesota Vikings)
Jeff Anderson is entering his 21st season with the Vikings and his second as the team's executive vice president and chief communications officer.
In his role, Anderson leads the Vikings communications staff, directing football, corporate, strategic and ancillary communications functions. He serves on the Vikings executive leadership team, acts as a team spokesperson on business matters and provides media relations guidance for ownership, executives, football personnel and players.
Anderson oversees a department that was named a 2023 finalist for the Pete Rozelle Award, given by the Pro Football Writers of America to the NFL public relations staff that displays consistent excellence in dealings and relationships with the media. The staff previously won the award in 2018.
Anderson has held several roles inside the organization since joining as a public relations intern in 2003. Prior to this latest move, Anderson served as the team's vice president of strategic & corporate communications from 2018-2021, overseeing communications plans on non-football initiatives and serving as a primary media contact for Vikings ownership. Earlier in his career he worked closely on the organization's internal stadium team in the quest to build a new home for Vikings football, an effort that culminated with the passage of stadium legislation in May 2012. Throughout the endeavor, Anderson led media relations, external and strategic communications and grassroots development. He continued to collaborate with the Vikings stadium team during the four-year design and construction of U.S. Bank Stadium, overseeing the communications plans and driving national and international media coverage leading up to the venue's opening in July 2016.
A native of Adair, Iowa, Anderson graduated from Buena Vista University in Storm Lake, Iowa, before joining the Vikings in 2003. He has served on the boards of the Minneapolis Regional Chamber of Commerce, the East Town Business Partnership and Buena Vista's National Alumni Association. Anderson and his wife, Brittany, have two daughters, Ruby and Isabelle.