Minnesota Vikings Business Summit – vikings.com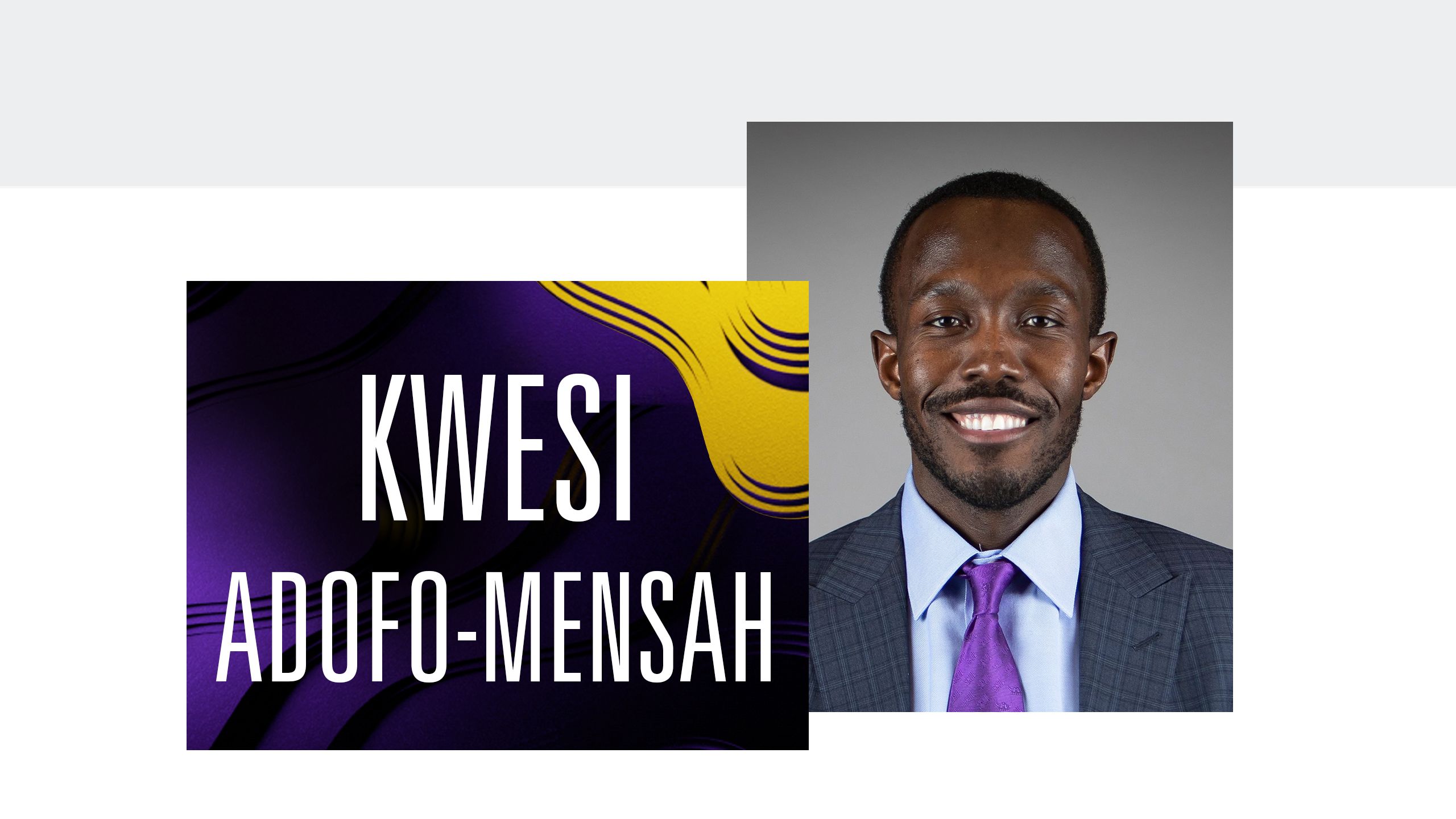 General Manager l Minnesota Vikings
Kwesi Adofo-Mensah (Quay-see Ah-Dough-Fo Men-Saaw), a first-time general manager in the NFL, enters his first season as GM of the Vikings bringing a variety of strong football experiences and a diverse background. Adofo-Mensah is entering his 10th season in the league.
In Cleveland, Adofo-Mensah worked closely with Browns Executive Vice President of Football Operations and General Manager Andrew Berry and provided input for all roster and strategy decisions. Additionally, he assisted Berry and the football staff with overseeing and managing the day-to-day operations of the team.
Adofo-Mensah helped oversee the Browns 2021 NFL Draft, where the team selected CB Greg Newsome II and LB Jeremiah Owusu-Koramoah, two immediate impact rookies that landed on the NFL's All-Rookie Team. Newsome, their first-round selection (26th overall), started in 11 games and posted nine passes defensed, the most by a Browns rookie since CB Denzel Ward in 2018. Owusu-Koramoah, their second-round pick (52nd overall), started in 10 games, posted 76 tackles, two forced fumbles, 1.5 sacks and three tackles for loss. Owusu-Koramoah and LB Micah Parsons were the only two rookies in the NFL to have at least 75 tackles and two forced fumbles in 2021.
Prior to the Browns, Adofo-Mensah spent seven seasons with the San Francisco 49ers, where he first entered the NFL. During his tenure with the 49ers, Adofo-Mensah quickly advanced in the football research and development department. He joined the team as a Football Research and Development Analyst (2013-15) before earning promotions to Manager of Football Research and Development in 2017 and Director of Football Research and Development in 2018. As the lead of football research and development, Adofo-Mensah ran the team's efforts to develop and implement advanced quantitative methods for game strategy and personnel evaluation, playing a vital role in helping the 49ers capture the 2019 conference title.
While with the 49ers, Adofo-Mensah helped the front office select three All-Pros (LB Fred Warner, WR Deebo Samuel and TE George Kittle) and the 2019 Associated Press Defensive Rookie of the Year DE Nick Bosa. Warner went on to ink a long-term contract with the 49ers, making him the highest-paid inside linebacker in the NFL.
In June 2021, he led a session at the NFL and Black College Football Hall of Fame's fourth annual Quarterback and Coaching Summit and inaugural Ozzie Newsome General Manager Forum, where he shared his personal story. He chronicled his rise from a Wall Street trader and portfolio manager to working in NFL front offices — using a data-driven approach to finding talent, while providing a quantitative view to grading a quarterback's short-, medium- and deep-ball accuracy that could be used league-wide.
Adofo-Mensah began his professional career as an associate portfolio manager at Taylor Woods Capital and Vice President/Executive Director at Credit Suisse as a commodities trader before entering the NFL in 2013. The Cherry Hill, New Jersey, native received his bachelor's degree in economics from Princeton University, where he also played basketball. After graduating from Princeton, Adofo-Mensah went on to receive his master's in economics from Stanford University.