Minnesota Vikings Business Summit – vikings.com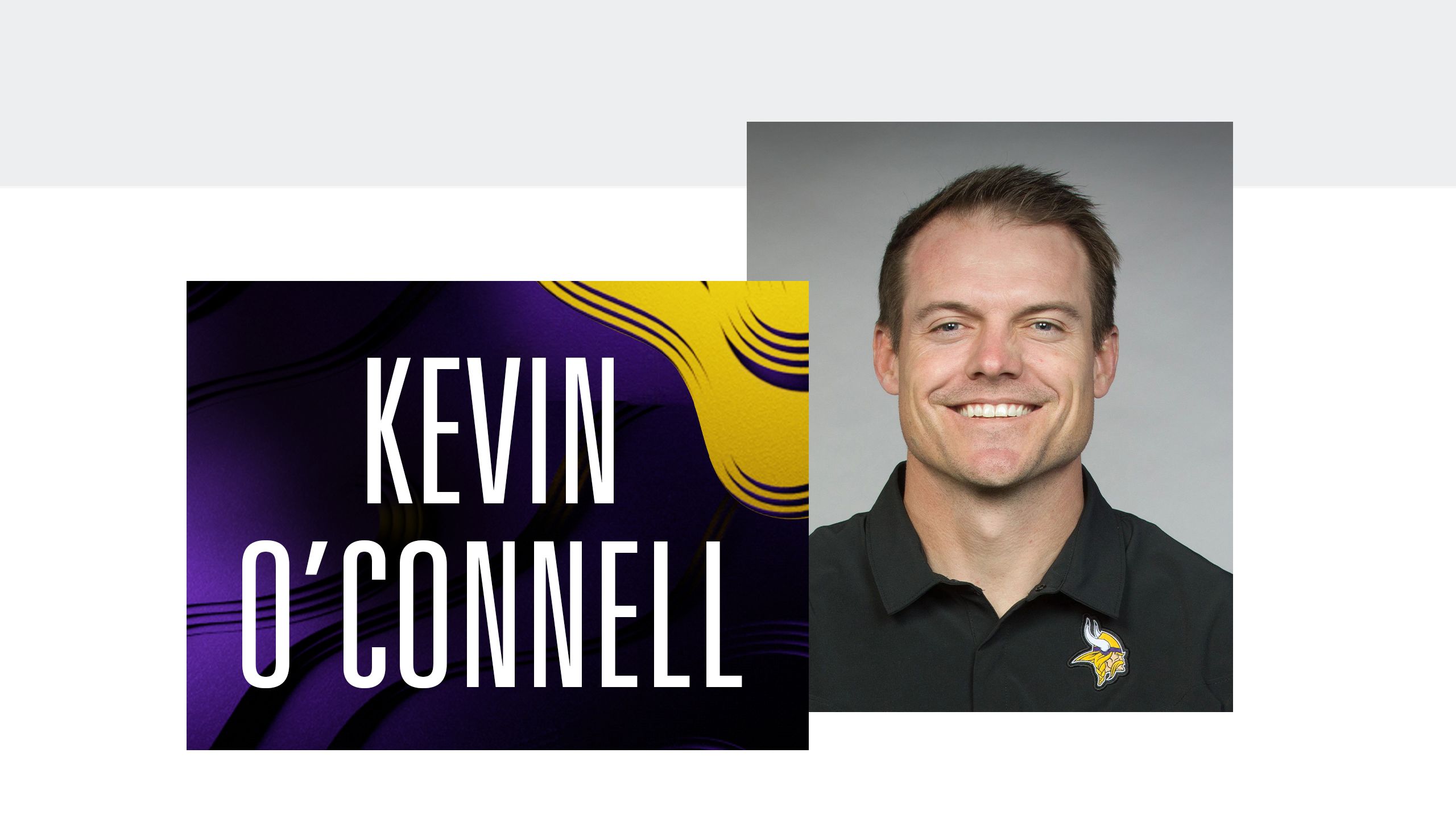 Head Coach l Minnesota Vikings
The Minnesota Vikings named Kevin O'Connell as the 10th head coach in franchise history on Feb. 16, 2022. Coming off a Super Bowl LVI victory over the Cincinnati Bengals, O'Connell joins the Vikings after serving as the offensive coordinator for the Los Angeles Rams the past two seasons.
O'Connell, who led the Rams to finish ninth in total offense (372.1 yards per game) this season, helped his unit rank second in plays of 50-plus yards (10), fourth in yards per play (5.98) and eighth in offensive touchdowns (51) in 2021. Under the guidance of O'Connell, Rams QB Matthew Stafford and WR Cooper Kupp both had career years in 2021. Stafford set the single-season team record for passing yards (4,886) and tied Kurt Warner from his 1999 MVP season for the most passing touchdowns in a season by a Rams quarterback with 41, while also winning his first playoff game in his 13th season in the NFL. Kupp, who was named 2021 NFL Offensive Player of the Year by The Associated Press and Super Bowl LVI MVP, had one of the best receiving seasons in NFL history, leading the NFL in receptions (145), receiving yards (1,947) and receiving touchdowns (16), earning AP First-Team All-Pro and Pro Bowl honors.
During the 2021 season, O'Connell's lone season with Stafford, the signal caller threw for the third-most passing yards (4,886) and second-most touchdowns (41) in the NFL, all while achieving his career-best 102.9 passer rating (in seasons with more than eight starts), the sixth-best in the NFL. Kupp's wide receiver Triple Crown in 2021, which he won after leading the NFL in receptions (145), receiving yards (1,947) and touchdowns (16), joined him with WR Jerry Rice (San Francisco 49ers, 1990), WR Sterling Sharpe (Green Bay Packers, 1992) and WR Steve Smith (Carolina Panthers, 2005) as the only players since the 1970 merger to achieve this feat. Kupp's 145 receptions and 1,947 receiving yards both ranked as the second-highest single-season totals in NFL history, trailing only Michael Thomas's 149 receptions in 2019 and Calvin Johnson's 1,964 receiving yards in 2012.
O'Connell was instrumental in aiding mid-season free agent signee WR Odell Beckham, Jr., to five receiving touchdowns in eight games played with the team, the most since his 2018 season with the New York Giants. O'Connell also helped the Rams offense tie for seventh in scoring offense (27.1 points per game) and score on 45.9% of their offensive drives, which ranked third in the NFL behind the Kansas City Chiefs (48.2) and New England Patriots (48.0).
The 2020 Rams offense featured the 10th-ranked rushing attack, posting 126.1 yards per game on the ground, behind two 600-plus rushing seasons from RB Cam Akers and RB Darrell Henderson. Anchored by T Andrew Whitworth, the oldest offensive lineman in the NFL, the Rams offensive line only allowed 56 sacks in the two years O'Connell was in Los Angeles, which was good for the seventh-fewest among NFL clubs. The offensive line's sack rate, 4.5%, was the fifth-lowest in the NFL over the past two years. In addition to helping QB Jared Goff to his fourth consecutive season with at least 3,800 passing yards and 20 touchdowns in 2020, O'Connell prepared QB John Wolford for a win-and-in game against the Arizona Cardinals in Week 17, helping him pass for 231 yards and rush for 56 more in his NFL debut, while leading the Rams to a 18-7 victory and a playoff berth.
Under O'Connell, Rams quarterbacks have thrown for 1,517 passing yards (third in NFL), 11 touchdowns (fourth in NFL) and a 106.4 passer rating in playoff games (second in NFL). He recently coached Stafford to a Super Bowl win, helping him post a 4-0 record in the postseason and 108.3 passer rating, which trailed only QB Josh Allen and QB Patrick Mahomes. Furthermore, the Rams' 1,186 passing yards in the 2021 playoffs were the most in NFL history, surpassing the 2011 New York Giants (1,144). O'Connell helped Kupp (478) and Beckham, Jr., (288) post a combined 766 receiving yards in the playoffs, the most be any wide receiver duo this postseason.
Prior to joining the Rams, O'Connell worked in Washington, serving as the quarterbacks coach in 2017-18 and the offensive coordinator in 2019. O'Connell coached QB Kirk Cousins in 2017, helping him throw for more than 4,000 yards and 27 touchdowns, and record a career-high 342 rushing yards and a league-leading four game-winning drives. Cousins' 4,093 passing yards marked his third-consecutive 4,000-yard passing season, helping him become the 11th quarterback in NFL history to accomplish this feat. During the 2018 season, O'Connell was tasked with getting three different quarterbacks (Josh Johnson, Colt McCoy and Mark Sanchez) up to speed following a devastating injury to starting QB Alex Smith.
In 2019, O'Connell helped guide rookie WR Terry McLaurin to 58 receptions, 919 receiving yards and seven touchdowns, the second-most receptions and third-most receiving yards and touchdowns among rookies in franchise history. O'Connell oversaw the production of three quarterbacks in 2019, specifically rookie QB Dwayne Haskins, Jr. Once Haskins, Jr., became the full-time starter in Week 9, he passed for 1,225 yards, seven touchdowns, three interceptions and an 85.5 passer rating. O'Connell also helped Vikings all-time leading rusher Adrian Peterson eclipse 1,000 scrimmage yards (1,040) at the age of 34.
Since O'Connell became an offensive coordinator in 2019, he has coached one Super Bowl MVP (Kupp), two Pro Bowlers (G Brandon Scherff and Kupp), one All-Pro (Kupp) and one PFWA All-Rookie Team member (McLaurin).
O'Connell worked on special projects with the San Francisco 49ers in 2016, where he overlapped with Vikings General Manager Kwesi Adofo-Mensah. Prior to his one year in San Francisco, O'Connell was the quarterbacks coach in Cleveland during the 2015 season, assisting QB Josh McCown to becoming the only player in team history to throw for 300 or more passing yards in three consecutive games. McCown also broke the single-game passing record in 2015, throwing for 457 yards against the Baltimore Ravens.
As a player, O'Connell was drafted in the third round (94th pick) of the 2008 NFL Draft by the New England Patriots out of San Diego State. He played one season for the Patriots behind QB Matt Cassel following a season-ending injury to QB Tom Brady. During the 2009 preseason, O'Connell was claimed by the Detroit Lions and was then later traded to the New York Jets for a seventh-round pick. Before his NFL career ended in 2012, O'Connell spent time with the Miami Dolphins, a second-stint with the Jets and the San Diego Chargers.
As a four-year captain at San Diego State, O'Connell finished his career after appearing in 40 games while ranking third in completions (664), fourth in passing yards (7,689) and fifth in passing touchdowns (46) in school history. The Carlsbad, California, native and his wife, Leah, have two sons, Kaden and Kolten, and a daughter, Quinn. O'Connell's father, Bill, was a longtime FBI agent, and his mother, Suzanne, is a teacher. O'Connell has an older sister, Kelly, who is an attorney.