Minnesota Vikings Business Summit – vikings.com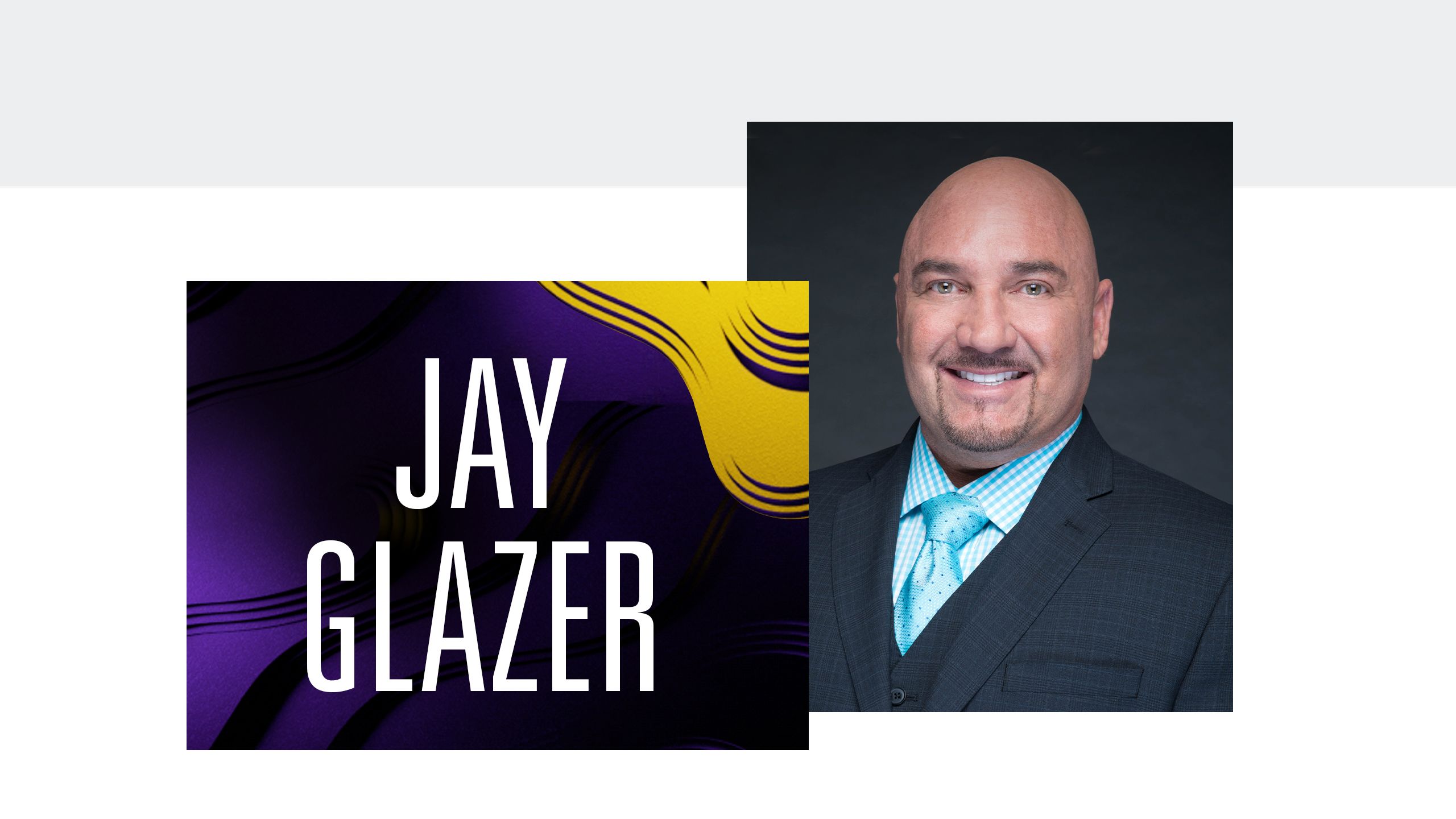 NFL Insider, Mental Health Advocate, and Author l FOX
Jay Glazer is currently serving as the NFL Insider for FOX Sports' award-winning NFL pregame show, FOX NFLSunday, where he breaks in with exclusive, late-breaking updates and injury news, and other various reports right up until the start of Sunday's games and all the way through FOX's Sunday coverage. He has also been part of FOX'sThursday Night Football broadcasts.
Glazer has established a reputation for breaking major stories in the NFL all year round. He prides himself on his hard work and accurate reporting, two traits that have helped bolster him to the next level of NFL reporting and has made Glazer a "go-to" source for news and information.
Glazer was the only reporter with access to the video showing the New England Patriots illegally filming the Cincinnati Bengals sideline; he uncovered the mystery of Tom Brady's missing Super Bowl jersey, which was picked up by sports and non-sports outlets across the country. Before the 2014-15 NFL campaign started, Glazer reported that 49ers Head Coach Jim Harbaugh would not return for the following season, no matter how well the Niners would perform. Harbaugh subsequently left San Francisco for the University of Michigan at the end of the season. Later that year, right before Super Bowl XLIX, Glazer broke the news that the NFL had obtained video of a New England Patriots' locker room attendant taking the game-ready footballs into an alternate room to be deflated before the AFC Championship Game with the Indianapolis Colts.
Glazer scored the first sit-down interview with Richie Incognito after the Miami Dolphins' locker room bullying scandal. He was also the first to report the end of the NFL Lockout at 3:52 AM. Glazer was on top of every Brett Favre retirement, un-retirement and signing. His biggest scoop likely was the New England Patriots' SpyGate scandal. Glazer remains the only person in possession of the SpyGate videos and has refused to surrender despite being threatened with jail time. The hardest-working man in the industry, Glazer was named Sports Illustrated's Media Person of the Year in 2007.
Glazer also currently serves as a Host for Bellator's signature MMA fights on the Paramount Network. Prior to joining Bellator, Glazer served as a UFC host and analyst. As a former fighter himself able to combine his hosting and reporting background, Glazer brought a unique personality and perspective to the UFC broadcasts.
In the past, Glazer has hosted other various shows for FOX including FOX Football Daily and Fantasy Football Uncensored, among others. Glazer has also worked as a host/reporter/analyst for NFL Network. On the entertainment side, Glazer has starred in multiple TV shows including HBO's Ballers and The League on FX. In 2015, hosted the season finale of "Wicked Tuna" for National Geographic. He is a natural in front of the camera, allowing his fun, outgoing and unique personality to shine through on the biggest of stages.
Glazer also started the first MMA-training program for professional athletes with more than 1,000 athletes having utilized his training program. In the past few years, he and his team have trained All-Pros Von Miller, Aaron Rodgers, Odell Beckham, Bobby Wagner, Andrew Whitworth, Jadaveon Clowney, Lane Johnson, Cam Jordan and the entire New Orleans Saints team heading into the season. Other sports stars who've trained with Glazer recently included Clipper star DeAndre Jordan, Texas Ranger All-Star Adrian Beltre and NHL star Milan Lucic.
When the cameras are off, Glazer can be found at his West Hollywood gym, Unbreakable Performance Center. He opened the gym in 2014 with former Chicago Bears all-pro linebacker Brian Urlacher, and U.S. Women's volleyball captain Lindsey Berg. The gym has become the home to many elite athletes, actors, musicians and members of the business world. Clientele include Demi Lovato, Dwayne "The Rock" Johnson, Odell Beckham Jr., Chuck Liddell, Michael Strahan and P.Diddy. In the spring, Glazer runs NFL training camps for players who want to be in top physical and psychological shape before their team camps open. Yahoo Health named UPC the "Most Elite Gym in America" because of its top-of-the-line trainers, equipment, clientele and philosophies. Glazer prides himself on making a difference in his clients' lives and helping them to live happier, healthier and more successful lives.
With all of his accomplishments, Glazer is most proud of the charitable organization he launched in 2015, MVP (Merging Vets & Players), which works to match former combat veterans and former professional athletes to help each other through the transition into their new lives away from the battlefields and playing fields. MVP has locations in several cities and regularly hosts workouts and counseling sessions for the members of MVP both in person and virtually.
In January 2022, Jay released his first book, Unbreakable: How I Turned My Depression and Anxiety Into Motivation and You Can Too.