Vikings Training Camp

The Minnesota Vikings are excited to welcome fans back to Twin Cities Orthopedics Performance Center for 2022 Vikings Training Camp.
Spend the day making memories with family and friends and be the first to see the 2022 Minnesota Vikings take the field!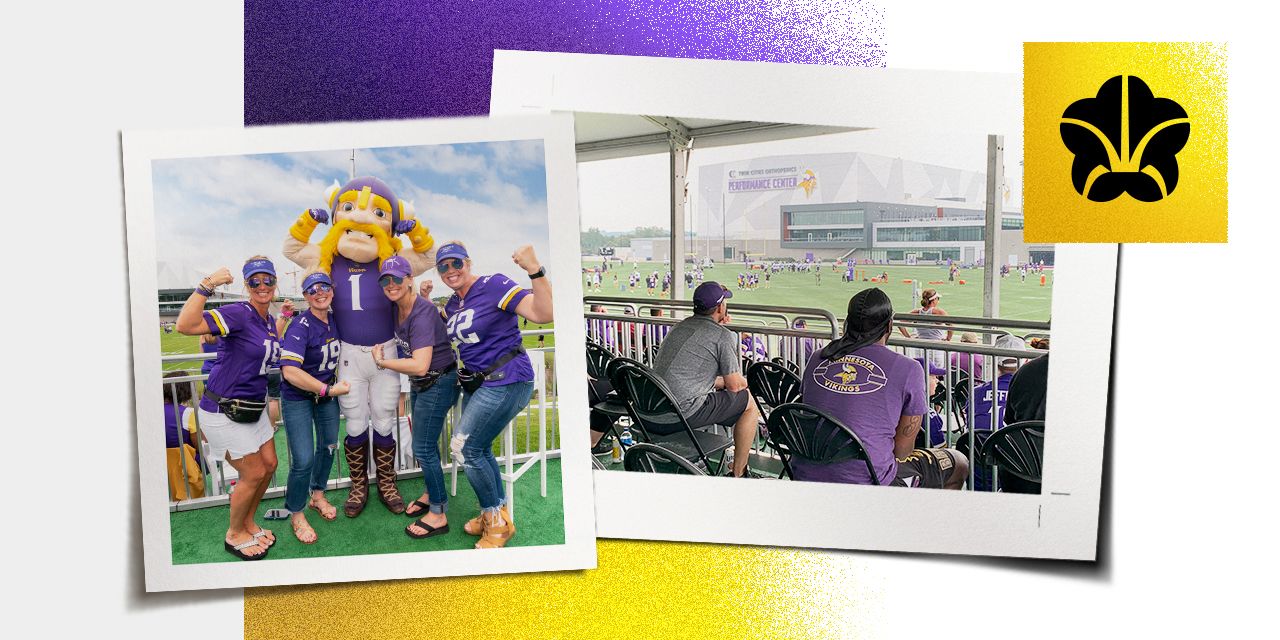 Omni Viking Lakes Hospitality Tent
The Omni Vikings Lakes Hospitality Tent is the perfect way to upgrade your training camp experience! You will enjoy a prime location from which to watch practice in addition to exclusive hospitality amenities. Tent access includes shaded seating, non-alcoholic beverages, a cash bar for alcoholic beverages and an all-inclusive buffet catered by Hy-Vee.
The tent opens at the start of practice.

Monday, Aug. 8 (Sold Out)
Watch the team practice under the lights at TCO Stadium, presented by Vizzy! Enjoy happy hour from 5 – 6 p.m. where Vizzys are a 2-for-1 special. Vikings Legends will be onsite for a free autograph session and live Q&A. After practice, stick around for player autographs and a fireworks display! Fans attending can also redeem an exclusive NFT ticket to commemorate the event.
Timing
• Camp Hours: 5 - 10 p.m.
• Practice – Pads: 7:30 - 9 p.m.
Autographs
• Full team autographs after practice (open to all)*
Tickets
• Sold Out
Other Info
• Kids Zone: Closed
• Omni Viking Lakes Hospitality Tent: Closed

Join the team for open practice and explore the family-friendly activities and free daily autographs for kids 17 and younger. On Aug. 17 and Aug. 18, the Vikings will host the San Francisco 49ers for joint practices prior to their preseason game on Saturday, Aug. 20.
PRACTICE
Open Practice – Pads
LOCATION
TCO Performance Center l Land O'Lakes, Inc. Practice Fields
TICKETS
General Admission: $5 Adults (Sold Out)
Kids (17 & younger): Free (Sold Out)
Omni Viking Lakes Hospitality Tent: $75

Pet Adoption Day presented by Warrior Dog Rescue and Caribou Coffee
JOINT PRACTICE vs. 49ers
Team walk-through closed
Gates open: 9 AM
MVC & Viktor the Viking Autographs: 9:15 – 10 AM
Practice: 10 AM – 12 PM
Gates close: 1 PM
TICKETS ARE SOLD OUT

Come enjoy a FREE day of Training Camp at TCO Performance Center! We have light practices without pads, family-friendly activities, free player autographs for kids 17 & younger and more.
TIMING
Camp Hours: 11:45 a.m. - 5:30 p.m.
Practice: 2:30 - 4:30 p.m.
Autographs: 4:30 p.m. (First Come, First Serve)
*Schedule and autographs are subject to change.
PRACTICE
Open Practice – No Pads
LOCATION
TCO Performance Center | Land O' Lakes, Inc. Practice Fields
TICKETS
All ages: FREE

Practice (NO PADS)
Team walk-through closed
Autographs:
Defensive Backs + Outside LBs (17 & younger)*