EDEN PRAIRIE, Minn. —Vikings Head Coach Mike Zimmer said a handful of Vikings will need to get patched up this offseason.
That includes himself, too.
Zimmer said defensive tackle Linval Joseph is going to have surgery on his toe for an injury that caused Joseph to miss four games this season.
Zimmer also said wide receiver Adam Thielen will need surgery on his shoulder and defensive end Everson Griffen may require a procedure on his shoulder if he doesn't go to the Pro Bowl (as an alternate).
"Let's see – offseason surgeries, let me think about it," Zimmer said. "Linval is going to get his toe, it's not very many. Thielen's shoulder. Everson may have to get something done if he doesn't go to the Pro Bowl. I think that's probably about it that I can recall."
Zimmer said tight end Nick Easton already has undergone surgery for a knee injury he suffered Jan. 3 in a win over the Packers.
The second-year head coach also will go under the knife and have knee surgery this offseason.
"I have to get a knee operated on," Zimmer said.
Zimmer was then asked why he needed the procedure done.
"I don't know," the 59-year-old coach said. "Old age, stress."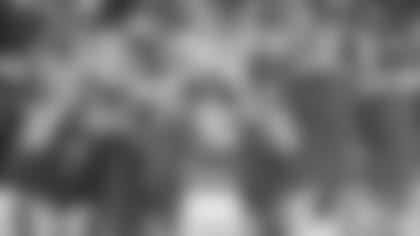 Coaching change: Zimmer also announced offensive line coach Jeff Davidson's contract has not been renewed.
When asked about the play of the offensive line, which dealt with injuries to starters John Sullivan and Phil Loadholt before the season, Zimmer described it as "sporadic."
"We've got to do better," Zimmer added.
"I think guys need to come in and compete whether it's [John] Sullivan or [Phil] Loadholt or [Matt] Kalil or whoever it is," Zimmer said. "They need to compete, but that's really what I want this football team to do as well."
Offensive continuity: Zimmer did say offensive coordinator Norv Turner is expected to be back for his third season as will quarterback Stefon Diggs, giving the Vikings a chance to take another step forward on offense.
Bridgewater threw for 3,231 yards and 14 touchdowns this season as he improved on his completion percentage and quarterback rating, and cut down on his interceptions from his rookie year.
Zimmer emphasized the Vikings belief in Bridgewater going forward.
"Yeah, everything about Teddy I love," Zimmer said. "There's not one thing I don't love about this kid. He's got the right demeanor, the right heart, the right competitiveness and he's a worker. He makes quick decisions and so, we need to continue to move forward with him and keep going."