Bella Glancy couldn't make out the details of the Norseman painted across the 50-yard line at U.S. Bank Stadium, but she excitedly recognized the familiar shape featuring the Purple and Gold that she loves.
At 4 years old, Bella is legally blind. But that didn't hold her back from performing with more than 400 other MVC Junior Cheerleaders before the Vikings game Sunday night. Bella danced her heart out, all smiles in her miniature white cheerleading uniform.
The performance came just shortly after meeting on the sideline with Vikings Head Coach Mike Zimmer. Bella didn't hesitate to wrap her arms around the coach's neck when he knelt down to greet her. The two spent a few minutes talking – with a couple more hugs sprinkled in – and then posed for a photograph.
While Bella is quite a bit smaller than the head coach, and Zimmer isn't quite as bubbly as Bella, the two have more in common that one might expect.
Both have undergone multiple procedures over the past year to correct their eyesight after suffering detached retinas.
"When I found out about his, I was devastated for him," said Bella's mother, Melissa Glancy, an MVC game-day staff member. "I was glad that he went in right away and that he was taking the time off that he needed, because it's just so important."
Zimmer – who has undergone eight surgeries on his right eye since November – is known for his competitive nature, but Bella holds the upper hand in this case. Born with an extremely rare eye condition called Peters anomaly, the young Vikings fan is now up to 20 total eye procedures.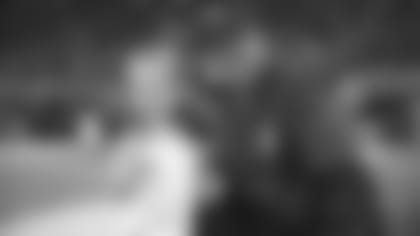 "She was born with cloudy corneas, glaucoma and cataracts," Melissa explained. "She's had two corneal transplants in her left eye, and she's had many, many glaucoma surgeries in both eyes."
The Glancy family calls the Twin Cities home, but after Bella was born, they spent months in Baltimore for Bella's treatment and then continued to see her doctor after he transferred to California.
Zimmer has ridden a roller-coaster of recovery over the past 11 months. It's a ride that Bella's experienced at an even more accelerated pace in her four years of life. Upon traveling to Los Angeles in March to re-do a failed corneal transplant, Bella's parents were told that scar tissue had built up in her left eye and pulled away the retina.
The Glancys were fortunately at the same hospital as a world-renowned pediatric retinal surgeon, who met with them the same day for a consult. A month later, Bella underwent surgery to reattach the retina.
"It's a little difficult with Bella because she has the cloudy corneas," Melissa explained. "So the doctor can't get a clear sight to the back of the eye. He said it was like driving down the freeway, and it's rainy, and you have Vaseline wiped on your windshield. You can't see anything. So he has an endoscopic camera that he's able to get to the back of the eye and see what he's doing."
After a four-hour surgery, it seemed things were a success.
Upon post-op follow ups, however, it was discovered that Bella's retina had once again detached. Three months after Bella's initial reattachment surgery, the scar tissue was removed and the procedure was re-done.
"So we started the [recovery] clock over," Melissa said. "Her right eye is basically the only eye she can see out of right now; she has about 20/400 vision in her right eye, and we are unable to get any readings out of her left."
Similar to Zimmer's experience, Bella has had a bubble of oil placed in her eye to help with the retina reattachment.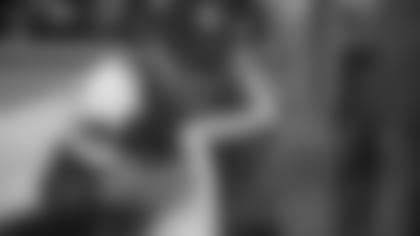 Due to her condition, she has to stay in certain positions. Melissa and her husband take turns sleeping with Bella at night, and Melissa's mother crafted a special pajama shirt with a built-in cushion that prohibits Bella from rolling onto her back.
Even through difficult circumstances at such a young age, Bella is the definition of joyful. She is quick to warm-up to anyone she meets, offering a hug, a toothy grin or a sweet compliment of an outfit she can't truly see.
And being legally blind hasn't stopped Bella from dancing.
In addition to participating with Larkin Dance Studio, this is Bella's second year performing pregame with MVC Junior Cheer.
"Vikings Cheer has been great for so many of us in the sense that it just gives us a positive outlook on life in general," said Melissa, who added that she believes everything happens for a reason.
"It's devastating to find out your baby's blind," Melissa recalled. "But I said, 'This is going to shape her to be who she's going to be. She's going to be amazing. She's going to be smart, and she's going to be able to see the world differently because of how she's growing up.'
"And she's definitely proven that," Melissa continued. "I think that it helps her to not be able to see certain things and to not be self-conscious, and she continues to be the bubbly girl that she is. I hope she never loses that."
MVC Junior Cheer includes noticeable Vikings name
Bella was just one of nearly 500 young people that performed prior to the *Sunday Night Football *game.
The MVC Junior Cheer program has been in existence for more than 15 years, and this year marked the largest yet. In addition to 350 girls between the ages of 5 and 14, the program also included 100 3 and 4-year-olds. The 2017 program also for the first time featured 20 young men who performed as Junior Flag Runners.
"It's great to see everybody coming together, all different ages, and working on skills: building their confidence, working hard to put together a great show, and then leadership," said MVC Head Coach Tami Hedrick. "We put them together in small groups and have them really learn different aspects of what it's like to be a 'Big MVC.' "
Three full practices are staffed by MVC staff and the team's current roster of cheerleaders, who mentor the young ladies in their small groups.
"They fall in love with certain cheerleaders, and the girls come back year after year and look for their 'big sisters,' " Hedrick said.
Among the Junior Cheerleaders this year were the two middle daughters of former Vikings linebacker Chad Greenway: 7-year-old Beckett and 3-year-old Blakely.
"My kids love to sing and dance," said Jenni Greenway Thursday night during a practice. "They do a ton of sports year-round, so this is a fun opportunity for them to get a little dancing in.
"It's always good music, fun moves, and they think it's pretty cool to get out there on the field and perform," Jenni added.
Jenni annually has watched at least one of her daughters perform in MVC Junior Cheer since their oldest daughter, Maddyn, was 3 years old. But this was the first year that Chad won't be in his Vikings uniform.
"It's all about them, and now he's just a fan," Jenni said. "Now he gets to watch them do their thing, which will be fun to see.
"Our 3-year-old is really excited, so let's hope she listens," Jenni added with a laugh. "She's a lot like Chad, so we'll see how this goes."