EDEN PRAIRIE, Minn. — The Vikings defense ranks first in the NFL in a plethora of statistical categories entering Sunday's game in Philadelphia.
Minnesota is giving up the fewest points per game (12.6), the fewest yards per play (4.4) and the fewest yards per passing play (5.25). The Vikings also rank first in opposing passer rating at 65.3 and are tied for first with a pair of defensive touchdowns.
But the stat that might be most key to everything else is that the Vikings give up an average of just 3.53 yards per play on first down, which is tops in the NFL.
A pair of Vikings players insisted that there is no special game that has allowed Minnesota to flourish on first down.
"I wish there was a secret formula to that, because that would be awesome," Vikings safety Andrew Sendejo said with a grin. "But I think it's just us preaching every week that we have to be good on first down, get the offense behind schedule and then go from there.
"The whole mentality is to get them off schedule so we can get them into third-and-long," he added.
Added linebacker Eric Kendricks: "Just play to our standards. I wish there was some magical thing we do, but we just do what we do."
Kendricks emphasized the importance on forcing an opposing offense into second-and-long (which gives the defense a better chance at third-and-long), by stuffing the run or keeping passing plays within a few yards.
"If you give up eight yards on first down, second and third down become a lot different," Kendricks said. "All the situations are (now) different.
"If you give up eight yards on first down, they can take a shot on second down, you never know," he added. "They have a waste down, and you never know how teams may think of that, some might try to get the first down right away. But it's our job to stop them."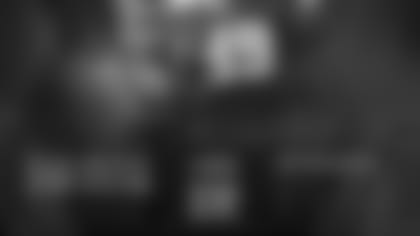 Minnesota's success on first down has correlated with success later in the drive, too.
The Vikings rank sixth in the league on third down, allowing opponents to move the chains 33.8 percent of the time. But the Vikings have clamped down on third downs in recent weeks, improving in each of the first five games of the season.
Tennessee was 8 of 14 on third downs in Week 1, good for a 57.14 percent conversion rate. Green Bay was then 6 of 13 (46.15 percent) in Week 2.
The Vikings held Carolina to 6 of 16 (37.50 percent) on third downs in Week 3 before limiting the Giants to 2 of 12 (16.67 percent) on Monday Night Football in Week 4.
But Minnesota's best performance came in Week 5 as the Texans offense converted just once in 13 tries, good for a 7.69 success rate.
"No offense wants to be in third-and-long situations multiple times in a game," said Vikings linebacker Anthony Barr. "Anytime you make them be in those situations, it gets under their skin a little bit."
Third-and-long also allows Minnesota's pass rush to go to work. The Vikings rank third in the NFL with 19.0 sacks, and the 145 yards they've racked up on sacks ranks first.
Barr noted that the Vikings defense looks for clues or tendencies in stopping an offense and getting off the field.
"When it comes to third-down defense, it's trying to figure out the way teams are trying to attack you," Barr said. "I think once you see something once or twice, you know you might get that again at some point in the game.
"It's just about having good awareness and knowing what they like to do on third down," he added.
Sendejo added that being consistent on first and second down allows Vikings Head Coach Mike Zimmer to sometimes get creative with his play calls on third down.
The other side of that, Sendejo said, is that an opposing offense gets frustrated and has to look up and down its play sheet for plays
"I'm sure they're not excited about it," Sendejo said. "It's the same thing on their end, they're trying to stay ahead of schedule.
"When they get behind, their play calling has to change as well," he added. "It all works back and forth."
Eagles coach Doug Pederson said during a conference call this week that the Vikings "favor in second-and-longs and third-and-longs."
"That's where they want to get you. That's when they're at their best," Pederson said. "Coach Zimmer does a great job with his blitz packages and when to bring them and the timing of the blitzes. It's a fast defense."
The Vikings have been the league's best defense on first down so far in 2016. And that's translated to the stingy unit getting better on third down.
But according to Kendricks, the Vikings don't care what down it is. The defense wants to win them all.
"We try to win every down," Kendricks said. "No down takes precedent over another.
"We obviously know situations and important down and distances," he added, "but every play counts."