Eagan, Minn. (December 11, 2019) – Vikings DE Danielle Hunter has been named NFC Defensive Player of the Week for his performance against the Detroit Lions in Week 14.
At 25 years and 40 days old, Hunter became the youngest player in NFL history to record 50 career sacks. A former third-round pick, Hunter achieved the milestone on the third play of Minnesota's 20-7 win over Detroit on Sunday when he dropped Lions QB David Blough for a 6-yard loss. He surpassed the record previously set by Robert Quinn, who reached his 50th sack at the age of 25 years and 167 days. Hunter went on to tally 2.0 more sacks in the game to push his career total to 52.5. The Texas native is the third Viking to record 50 sacks in his first five seasons with the team, joining Jared Allen (74) and Keith Millard (53).
Hunter leads all NFL defenders in quarterback pressures in 2019 and ranks third in the NFL since 2016 with 46.5 sacks. His 12.5 sacks this season are tied for fourth-most in the league.
It's the second NFC Player of the Week award of Hunter's career, having first earned the honor after his Week 9 performance vs. Detroit in 2018, also a career game for the defensive end as he recorded 3.5 sacks in the outing.
The Vikings have had 17 different players claim 22 total NFC Player of the Week Honors since Head Coach Mike Zimmer's hire in 2014.
VIKINGS NAMED NFC PLAYER OF THE WEEK UNDER ZIMMER
2014, Week 8, at Tampa Bay
2014, Week 13, vs. Carolina
2015, Week 9, vs. St. Louis
2015, Week 10, at Oakland
2015, Week 16, vs. NY Giants
2015,Week 17, at Green Bay
2016, Week 1, at Tennessee
2016, Week 2, vs. Green Bay
2016, Week 3, at Carolina
2016, Week 11, vs. Arizona
2017, Week 1, vs. New Orleans
2017, Week 7, vs. Baltimore
2017, Week 16, at Green Bay
2018, Week 1, vs. San Francisco
2018, Week 9, vs. Detroit
2019, Week 1, vs. Atlanta
2019, Week 5, at NY Giants
2019, Week 8, vs. Washington
2019, Week 14, vs. Detroit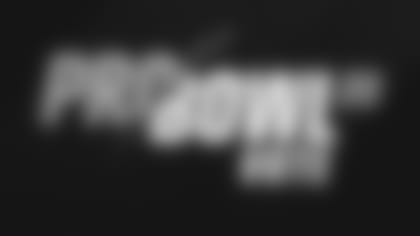 Pro Bowl Voting
Last chance! Vote to help make sure all your favorite Vikings make the 2020 Pro Bowl in Orlando. Voting ends Dec. 12, 2019.