The Vikings and Packers offenses combined to score nine touchdowns last week, as both teams logged lopsided victories – the Vikings winning 41-28 over Atlanta and Green Bay topping the Chicago Bears 38-17. With that being the case, this week's Ticketmaster Hot Matchup shines the light on a pair of defensive players for each team who will look to slow down those prolific offensive attacks on Thursday night – Anthony Barr and Clay Matthews.
Being tasked with similar responsibilities this week is only the beginning of the similarities between these two dynamic defensive playmakers. Both are outside linebackers, both were first-round picks who came from Pac-12 schools, and both have begun the 2014 season impressively.
Barr, a 6-5, 255-pound beast of a defender, is leading the Vikings in tackles with 38 and is tied for the team lead in sacks with 2.0. He began his career with three consecutive double-digit tackle days and his sack last week of Falcons QB Matt Ryan was one of the more impressive plays of the game while coming at a most opportune time.
Barr So Far
Vikings Head Coach Mike Zimmer, as tough a critic of his players as there is, seems pleased with the progress Barr is making in his rookie season.
"I think his progress is going the right way," Zimmer said after Sunday's win. "He's obviously got a lot of things to work on. Like I said, my expectation is very high. There are so many things he can do even better when he's not thinking so much and he's doing a lot of thinking right now. He's got a chance, he's got a chance to be really, really good."
When it comes to creating disruption in the opposing team's offensive backfield, Barr may be well-served to checkout some game tape of Matthews. In his sixth season, Matthews already has 51.0 sacks and 11 forced fumbles. He's off to another solid start in 2014, and just last week grabbed his first interception of the season.
Matthews Makin' Plays
Matthews has 9.0 sacks, three forced fumble and three pass breakups in nine career games against the Vikings, so you can be sure the Purple will have their eye on No. 52 this Thursday night.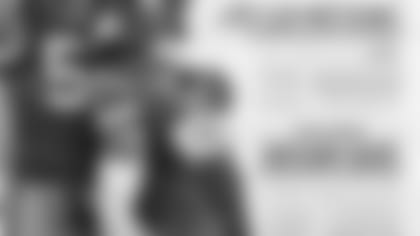 This article has been reproduced in a new format and may be missing content or contain faulty links. Please use the Contact Us link in our site footer to report an issue.