In honor of the Minnesota Vikings 60th season, the team is honoring the 60 Greatest Vikings Fans.
A designated committee reviewed thousands of submissions and has selected 60 fans – of all ages, backgrounds and stories – to be recognized throughout the 2020 season.
Syd Davy — a.k.a. 100% Cheese Free — is hard to miss in the first row of Section 140 at U.S. Bank Stadium.
Davy's face paint, helmet and braided locks are joined by a Viking World Order wrestling title belt, and his passion for the Vikings is unmistakable.
He first became entranced with the Vikings after the team hired Bud Grant, who had been a hero of his when he played and then coached for the Winnipeg Blue Bombers.
The sideline antics of original Vikings mascot Hub Meeds also didn't hurt.
"When Bud Grant went to the Vikings, that cemented me as a Vikings fan the rest of my life," Davy said. "Hub Meeds made me want to become the Vikings fan I am today."
Davy attended his first game on Sept. 28, 1986. Tommy Kramer threw a career-high six touchdowns in leading the Vikings to a 42-7 victory over the Packers.
"I never experienced anything so loud, being my first time in a domed stadium," Davy recalled. "100% Cheese Free was born that day."
Well, technically, it was a few years later.
Davy became a season ticket member (Section 101, Row 1, Seats 13-16) at the Metrodome in 1992. On Oct. 31, 1993, Davy painted up and donned the horns and braids for the first time. He sported a shirt with 100% Cheese Free on his back.
The phrase spun off from a shirt Davy wore to gyms while working out that said 100% Steroid Free. Davy said he "didn't care much for" the Cheesehead look created by Ralph Bruno while reupholstering a couch in the late '80s. The wedge, first cut with a turkey slicer, has admittedly aged well, but Davy's commitment as 100% Cheese Free is also still going strong.
"I have done it every game I have been to since, home or away," Davy said.
The iconic look is reinforced by Davy's arms that hoisted Randy Moss and Adrian Peterson during touchdown celebrations. Davy's first career catch occurred in 1998 when Moss was a rookie.
"I didn't know what I was doing and held him in the stands in a bear hug till Cris Carter begged me to lower him back down to the field," Davy said. "I learned on my third catch of Randy Moss to always make sure to get my face out of the way of his helmet. It is much harder than my nose, and they come up fast."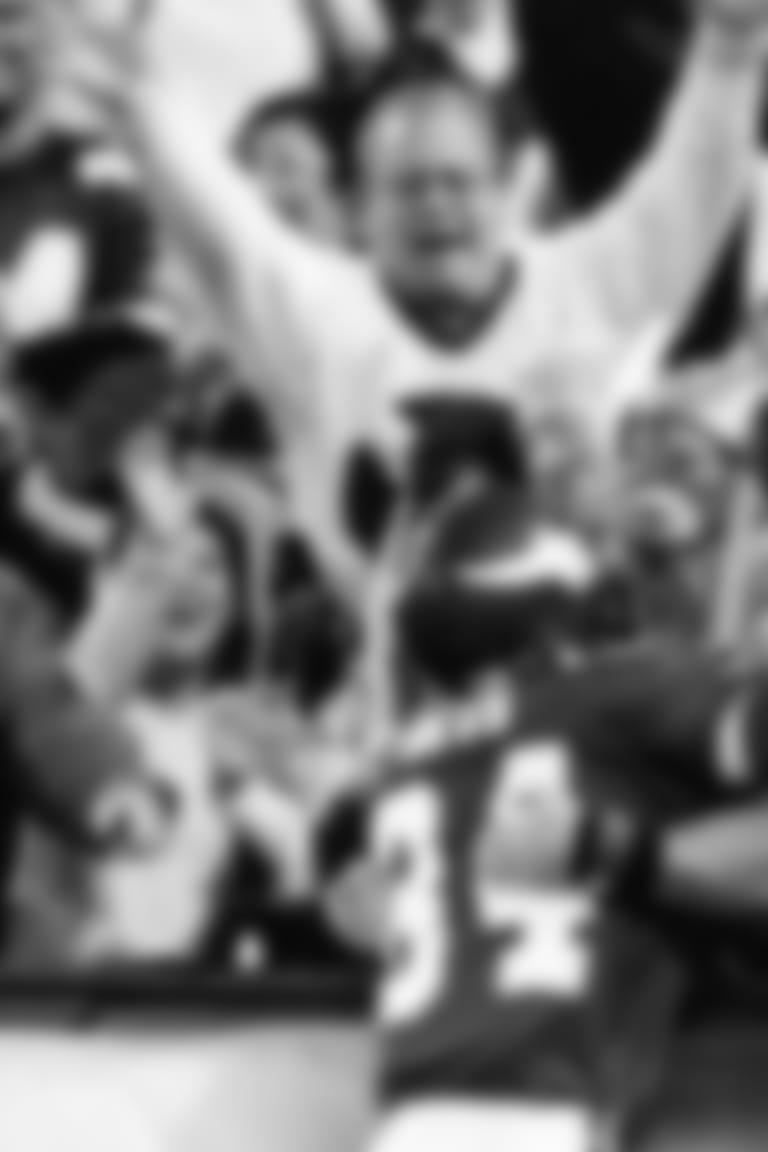 Legendary sportscasters John Madden and Pat Summerall broke down a catch of Moss by Davy during a game against Dallas.
Madden: "He saw that guy with those big arms there …"
Summerall: "And a Viking hat on …"
Madden: "and said I'm gonna jump up there because I think that guy can not only catch me, but he can pull me up."
The video game NFL Fever 2002 on Xbox featured a digitized version of Davy catching Moss. When Moss in 2017 reached the rare air of the Vikings Ring of Honor, the receiver invited Davy on the podium with him during the halftime ceremony.
"He thanked me and gave me one of his famous hugs on stage. Randy Moss has such class and has come a long way," Davy said. "He made me a better person. He made me who I, deep down as a child, wanted to be, and for that, I can never thank Randy Moss enough."
Davy's longtime support of the Vikings led to his selection to sound the Gjallarhorn on Dec. 28, 2008.The unique experience was special to Davy because Meeds had been the first person to sound the original Gjallarhorn created by TJ Johnson in 2007.
The season finale fell on the 23rd wedding anniversary for Davy and his wife Susan. The game against the Giants ended with a 50-yard game winning field goal by Ryan Longwell to help the Vikings clinch their first NFC North crown and 17th overall division title.
"Catching and pulling AP into the stands after his 67-yard touchdown that game was a pretty spectacular cherry on top to say the least," Davy said.