Sue LaCroix never thought she would be entertaining clients at a Vikings game or helping to run a nonprofit.
But then again, she never thought she'd be a nurse, either.
Sue, married to Vikings Executive VP and Chief Marketing Officer Steve LaCroix, didn't originally want to be in the nursing field, despite being surrounded by the profession.
"I'm kind of from a family of nurses," Sue said, chuckling. "My mom's a nurse. I have probably eight aunts who are nurses."
When she started at the University of Iowa, however, Sue gravitated toward all the science and health education courses – and although it was never her intent, she ended up declaring a nursing major at the end of her sophomore year.
"In the first nursing class I took, I knew, 'Oh, this is exactly where I'm supposed to be.' It just fit like a glove," said Sue, who worked at the University of Iowa Hospitals and Clinics.
After a clinical internship on the pediatric ward of the hospital, Sue "knew immediately" that she had to work with children. A self-proclaimed people person, Sue enjoyed the daily nurse-to-family interaction and treasured the time she spent caring for infants.
"Even when I was growing up, I was always the Pied Piper of children," Sue said. "I just have an instinct with children, and I adore them."
Nursing was an extremely rewarding career, albeit equally challenging.
"You saw a lot, and you grew up in a hurry," Sue said.
Shortly after Sue and Steve – who met at Iowa – were married, they encountered the second life step that Sue hadn't anticipated and initially balked at: moving to Indiana. Steve had accepted a position with the Indiana Pacers, and it was time to relocate.
"I wasn't thrilled about moving to Indiana, although it turned out be lovely," Sue said. "Steve told me, 'You know, in this industry, we're going to have to move around a lot. We're going to be bouncing around from place to place, until we really find a place to settle down."
Fortunately, the LaCroix family did very little bouncing, instead making one jump from Indiana to Minnesota in 2001.
After meeting Dennis Green, who was the Vikings head coach at that time, and hitting it off due to the shared Hawkeyes connection, Steve returned to Indiana and told Sue he would be thrilled to work for "such a great organization."
Looking back over the past 16 years, Sue said she couldn't be happier.
"We're just Midwest people – this is what we're comfortable with," Sue said. "I didn't want to have to leave the Midwest."
Sue took a hiatus from nursing while their son, Alex, and daughter, Katie, were young but transferred her license to Minnesota in anticipation of returning to the field when the children were in grade school.
Once again, life took a different turn.
"Steve's job was our priority and unpredictable with hours, and we didn't have any family here, so we didn't have any childcare," Sue said. "So I took a few more years off, and a few more turned into a few more.
She ended up transitioning permanently into a role that allowed her to both manage the home front – with two busy and athletically active children – and tackle a number of volunteer opportunities.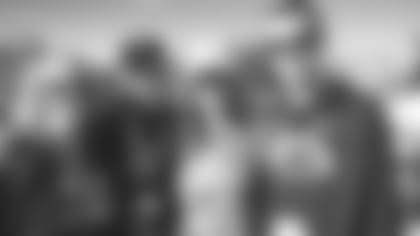 Sue no longer works full-time in nursing, but she hasn't given up her love for interacting with people.
Through Steve's position with the Vikings sales and marketing team, Sue works very closely with him to build relationships and partnerships.
"It sounds so antiquated … but I'm really just a new generation of an executive spouse," Sue said. "His whole department feels very strongly that [relationships with] a client or partner extends beyond the board room to their spouse and children, for example."
Although not technically a Vikings employee, Sue thoroughly enjoys connecting with current, prospective or past clients at U.S. Bank Stadium on game days and entertaining on weekends. Many many of the people she's met in a business context have now become close friends of the family.
"I'm kind of the friendly face, the meet-and-greet," Sue said. "Just cultivating those relationships to further support the Vikings and then also to bring partners together … It's fun to see the network kind of blossom.
"You know, I'm a nurse. And now I feel like I have a degree in sales and marketing," quipped Sue, whose two grown children are currently pursuing sales and marketing degrees at the University of Iowa.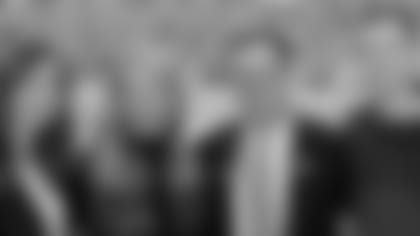 In addition to the on-site commitments of game days, Sue is involved in many community areas that are near and dear to the heart of the Vikings.
And it all goes back to her nursing background.
Since meeting the president of the Children's Hospital and Clinics of Minnesota Foundation Board in 2014, Sue has returned to a hospital setting in a different capacity, this time as a volunteer for the Children's Hospital Star Gala committee. She served as the co-chair in 2017 and maintains the position for the upcoming 2018 Star Gala.
"It's just a lovely, lovely group of mostly women. And I love a good party, so being able to plan a party for such an important cause was great," Sue said.
"Being with Steve and meeting so many people in the community through his job, it turned out very beneficial to the children's hospital because I knew the names and had connections or relationships with several people in the community that they did not," she continued. "So we were able to bridge some of those partnerships and then get donations and get some more support for the hospital through that."
Sue also is a volunteer with the March of Dimes Foundation (since 2016) and from 2012-14 was a founding board member for the National Charity League West Lakes Chapter. The program is a mother-daughter service organization that focuses on volunteering, leadership and character development.
Through the West Lakes Chapter located in Eden Prairie, Sue and her daughter Katie were able to serve the Minnesota community alongside other mothers and daughters. From one year creating an assembly line to stuff 10,000 pairs of earbuds into party favor bags for the Starkey Foundation Gala, to packing food at Second Harvest Heartland or manning the registration tents at a Special Olympics Minnesota Polar Plunge, Sue and Katie have enjoyed a variety of valuable experiences.
"She was in high school, she had her own stuff to do, but it was really fun [to work together]," Sue said. "Since 2012, our members have logged over 25,000 volunteer hours. That's crazy to me – it gives me goosebumps. It makes me feel like it was 110 percent worth every drop of blood, sweat and tears."
Never one to slow down, Sue also is involved with the Vikings Women's initiative and appreciates the individual volunteer opportunities available there, as well.
She believes the initiative is a significant part of the organization.
"It sets the precedent and the standard that 'Not only do we recognize the job that you do, but we respect your input, and we also value what you bring to the organization,' " Sue said. "It's just fun to watch it kind of unfold.
Added Sue: "It's good to feel included and good to have all of us working together and getting to know each other and serving side-by-side."
If you would have asked Sue 20-plus years ago what her life would have looked like, she never could have envisioned the path she's taken.
But although none of it is what she planned, she wouldn't go back to do anything differently.
"I didn't ever imagine I would be here. I'm a nurse, I would've been happy being a nurse, I was happy being a mom," Sue said. "[But] I feel just very, very blessed and happy. I believe in the work that we're doing, I believe in the work the Vikings do, I believe in the soundness of the organization and how they foster growth and community.
"I didn't plan to be here, but here I am. And it's been very fun along the way," she continued. "I truly believe that life is a journey and not a destination, and you don't always know where you're going. But if you go at it with the right attitude and open mind and good heart, great things can happen. I feel now just like I felt in my first nursing class: 'Oh, this is exactly where I'm supposed to be.' "