The Vikings are scheduled to make eight selections in the 2017 NFL Draft, including five in the first 129 picks later this month.
Minnesota is scheduled to select from the 48th, 79th, 86th, 120th, 128th, 160th, 199th and 232nd spots. The first round of the draft, which will be hosted by Philadelphia this year, will be Thursday, April 27. The second and third rounds are set for April 28, and rounds four through seven are slotted for April 29.
Last week, we took a look at the *selections that the Vikings have made* from those spots. Now, we'll take a look at the past five players selected from each of those spots, as well as the three players picked before and after those spots in 2016. Lastly, we'll have a quick recap of notable players whose names have been called at the spots since 1961 with help from pro-football-reference.com.
The Vikings have selected from the 120th spot five times in franchise history, including 1986 when they nabbed Hassan Jones. The two most acclaimed players off the board at 120 since 1961, however, are defenders: defensive tackle Geno Atkins, who has been named to five Pro Bowls since his selection in 2010 by Cincinnati; and DB Asante Samuel, who totaled 51 interceptions and returned six for touchdowns during his career with New England, Philadelphia and Atlanta.
Past Five Players Selected at 120
2016: Saints — DT David Onyemata, Manitoba (appeared in all 16 games)
2015: Bengals — CB Josh Shaw, Southern Cal (started 13 of 31 games; one interception)
2014: Cardinals — QB Logan Thomas, Virginia Tech (1-of-9 passing for 81 yards and a touchdown; now with Bills after time with Cardinals, Dolphins, Giants and Lions)
2013: Vikings — LB Gerald Hodges, Penn State (started 10 of 29 games played in two-plus seasons; returned first interception for a touchdown; added eight passes defended and 0.5 sacks with Vikings; was traded to 49ers in 2015)
2012: Browns — LB James-Michael Johnson, Nevada (started 18 of 47 games with Browns, Chiefs, Buccaneers, Dolphins and Jaguars from 2012-15)
3 Before, 3 After in 2016
Rams — WR Pharoh Cooper, South Carolina (14 receptions, 106 yards in 10 games)
Jets — CB Juston Burris, North Carolina State (one interception and five passes defended; appeared in all 16 games)
Texans — RB Tyler Ervin, San Jose State (returned 27 punts 261 yards; returned 14 kickoffs 263 yards)
Vikings — G Willie Beavers, Western Michigan (appeared in two games)
Bengals — NT Andrew Billings, Baylor (did not play in 2016)
Steelers — T Jerald Hawkins, LSU (did not play in 2016)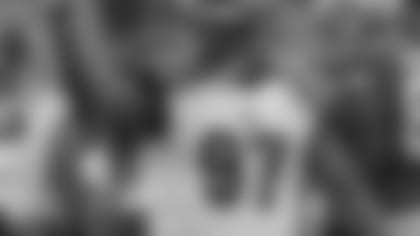 Vikings/others of interest at 120
2010: Bengals — DT Geno Atkins, Georgia (five-time Pro Bowler, two-time All-Pro; started 89 of 105 games; has 250 tackles, 52 sacks and eight forced fumbles)
2003: Patriots — DB Asante Samuel, Central Florida (four-time Pro Bowler, one-time All-Pro; member of two Super Bowl champs; started 133 of 157 career games; totaled 51 interceptions and six "Pick 6s," along with 163 passes defended and seven forced fumbles; played five seasons with New England, four with Philadelphia, two with Atlanta)
2001: Broncos — P Nick Harris, California (183 games in 12 seasons with the Bengals, Lions and Jaguars; 943 punts for 39,996 yards for an average of 42.4)
1999: Vikings — DB Kenny Wright, Northwestern State (totaled nine passes defended and an interception in starting 27 of 47 games with Minnesota)
1993: Jets — RB Adrian Murrell, West Virginia (1,375 rushes for 5,199 yards and 23 touchdowns; added 214 receptions for 1,369 yards and five scores; played five seasons with Jets, two with Cardinals, one with Redskins, one with Cowboys)
1986: Vikings — WR Hassan Jones, Florida State (started 56 of 100 games with Minnesota, totaling 222 receptions for 3,733 yards and 24 touchdowns)
1978: Giants — DB Terry Jackson, San Diego State (started 73 of 107 games; recorded 28 interceptions, returning three for touchdowns; added 5.0 sacks; started 73 of 75 games with Giants; played in 32 with Seahawks)
1974: Vikings — DB James Ferguson, Stanford (did not play for Vikings)
1969: 49ers — DL Earl Edwards, Wichita State (started 110 of 150 games with San Francisco, Buffalo, Cleveland and Green Bay)
1965: Vikings — DT Frank McClendon, Alabama (did not play for Vikings)