Vikings Head Coach Mike Zimmer
Good team win today. I thought we started fast. We came out, sacked them the first play of the game, the three and out defensively, I believe it was, and then blocked punt and then went down and scored. Kind of set the tempo for the day a little bit. I thought offensively we ran the ball effectively. We were smart with the ways that we did it, and defensively I thought we played well until the end. We've got to clean up those penalties that we had today. That was way too many. Then I was impressed with the special teams today. I thought they did a nice job in the coverage phases and also kicking the ball, both the punter and the kicker, I thought did well, and obviously the blocked punt, and we protected well today. So that was good to see.
Q. In the off-season, is this about the kind of game you envisioned with running the ball and playing good defense?
A. Well, I never thought we'd throw it ten times, but the score of the game dictated that. We get midway in the third quarter, and the clock is our friend. They really had no reason to throw the football, being up 28-0 or whatever it was. When you get in those situations, the clock's your friend. It's just the faster that clock goes, the better it is. We didn't turn the ball over today. They turned it over, I don't know, four times, three times. So those things help you win football games.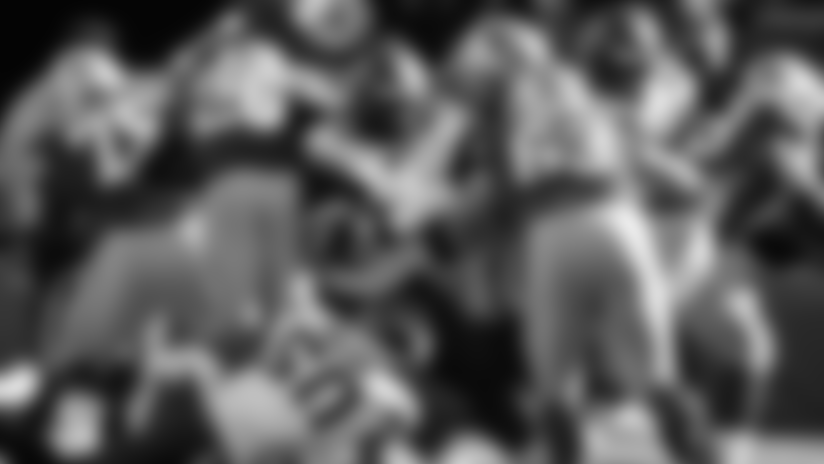 Watch Saturday's Game Online
Start 7-day your free trial of NFL Game Pass today and watch back Saturday's game against the 49ers...
Q. When you're up by that much, does it make it also easier to maybe expect a pass instead of a run from the offense? When you're on defense?
A. Sure, yeah. Well, they kind of abandoned the run game early, I thought. At halftime, they didn't have very many runs, and it was 21-0 at that point, so I knew we were going to get a bunch of throws. So we adjusted some of the coverages because we knew it was going to get to be that way. We figured our rushers could do some damage on them.
Q. Is there a certain amount of anxiety? In the preseason, you don't show much. You've got a new offense, new offensive line, and they go out there and perform today?
A. Did it help my anxiety?
Q. Well, assuming you had to have some anxiety wondering how it's all going to work?
A. I like this team. They come out and work hard. I think the offensive coaches do a nice job. Usually, we're pretty good on defense. I was anxious probably about the special teams more than anything, but it was good to see it start out like that.
Q. Along the lines of special teams, Rick Spielman was talking a couple months ago about a different emphasis on blocking punts and kicks and that sort of thing. You guys hadn't had a blocked punt since 2014, and you get one early. What's kind of changed there, and how pleased were you?
A. Just mentality really. We had some blocks in, trying to get those guys -- and if you don't block it, you hope that you hold them up a little bit. So it was -- we'll continue to put emphasis on all areas really.
Q. Is this an example of some of the complementary football things that might have been lacking last year? When you take a look at really the whole three phases you mentioned during this off-season?
A. I think, the thing is, when we got up 28-0, we didn't need to throw the football. So now we had to play to our strengths, which was the clock, and even though it looked boring at times and we were just running the football, that's what we had to do to win the game. Now, if it was 14-7, it wouldn't have looked like that. So each game is dictated a little bit differently. I really thought it was going to be a fourth quarter game today because of I know how talented they are offensively and defensively. So it was good to get up there. But we had a lot of things go right for us today. The interception that Anthony (Harris) made in the end zone, stopped a goal line stand for them. So there's quite a few good things that happened for us today.
Q. How good is Anthony Harris? You obviously elevated him to a starter. You knew a lot about him last year. Good nose for the football?
A. Yeah, he's a smart guy that's always played well when he's gotten in there. I think he's more healthy this year than he was a year ago. He's a little bit gimpy, but I think he's moving around well. With him and Harrison (Smith), it's a good combination back there because he sees Harrison doing one thing, and then he's trying to disguise to do something to let them think that. So they've got a good little, I don't know, aura about them that they can kind of you show this time, I show that time, whatever.
Q. Cook's play, just the fact that he got, what, 100-plus yards today and a couple touchdowns?
A. Yeah, and Cook's -- you know, Dalvin's a great player. His feet are amazing. A couple of those plays were designed to go inside, and he just outran the perimeter. So he's a terrific weapon for us, and obviously we'll have to continue to use him to the best of our ability.I know (Kirk) Cousins threw the ball ten times today, but he had -- he was 8 out of 10. He completed 80 percent of his balls, and he was 140 quarterback rating or something. He didn't turn the ball over. We didn't turn the ball over all day. They did, and usually that's what happens.
Q. How much credit does Xavier deserve for helping to contain Julio again? And how much pressure that you got on Ryan early in the game kind of help with that?
A. It all works together. Xavier is a tough, competitive kid, and we've been working real hard on his technique. He still has work to do, just like we all do, but it's nice to have another big strong guy in there that can move on a guy. It's not always Xavier all by himself, but it is sometimes. So it's good. It helps.
Q. I know it's only one game, but what can winning the opener do to set the tone for the season?
A. Well, you can't win them all unless you win the first. It's like that birdie them all -- you can't birdie them all until you birdie the first. It really doesn't mean much. Like I told the players afterwards, it's one game. Let's move on. Let's get back to work. Let's do what we do. Let's learn how from our mistakes from this game. Let's learn to the next game.
Q. Is the high penalty total, is that a result of the first week, just kind of feeling it out a little bit?
A. I don't know. I was not very happy about it. I'm going to harp on it pretty good this week, and hopefully it cleans it up. But we had two hands to the face on the last drive. You do that, the other team is going to score points, and they did. We have to eliminate those things.
Q. I know it's just one game. Do you feel that tonight's game, picking up a victory, kind of puts the past in the past about you guys not meeting expectations last season?
A. If we go and lose a bunch of games, they'll be saying the same thing. We're just trying to win each week, one at a time. We had a nice game today. We got some good breaks. I thought we played hard, which is important. I thought we played fast. Other than the penalties, I thought we played smart. So if we can continue to do that, I think we have a chance to win some games.
Q. Any word on Mackensie Alexander's injury?
A. He's going to get an MRI tomorrow.
Q. You talked about running it. As you evaluated it this week, did you feel that was going to be a good chance to do that coming off the bat?
A. They're really good defensively, and they've got eight, an extra guy in the box almost every single play. So to run the football effectively, I thought our offensive coaches did a great job making some of the scheme runs that they ran today, and then obviously Cook and the offensive line did a really nice job. I did not foresee us throwing the ball ten times, but I'm happy we did.
Q. Looks like Alexander Mattison is going to be a pretty good complement to Cook.
A. Yeah, I think he is. He had a nice run coming on our sideline that one time. He's got good physicality. He usually falls forward. So, yeah, I think it was good.
Q. Did you challenge to just try to find out what they're going to look at?
A. The replay, they never got the rear end -- the replay from behind because of the number of cameras that were here today. So the one I was seeing in the stadium was not the same one that they were looking at. So I don't know, but I figure it's worth a shot to get them back to the 20-yard line, but then we intercepted the ball. So some of the players said why did you do that? They didn't, but I know they were thinking it.
Q. How much does it help the defensive pass rushing you guys had? It's not often Matt Ryan looks as uncomfortable as you made him look today?
A. They had two rookie offensive linemen too starting the game. They were helping him a lot with the tight ends and sometimes the receivers were chipping, but, yeah, it's good. The pass rush -- and if you get a team one-dimensional like they kind of became, I think it gives us some advantage because we have enough coverages and rushes and blitzes and things like that that we can affect them.
Q. Did you send more expert rushers -- blitzers than usual?
A. Mushers? Did you say mushers?
Q. Rushers, pass rushers.
A. Oh, I thought we were talking about the Iditarod. Say it one more time?
Q. Did you send more pass rushers and blitzers than you usually do on defense?
A. I don't know that for a fact. There was a lot of times I wanted to blitz some more, and the clock was in our favor. They got us a couple times on the guy was checking out and we didn't get to the coverage fast enough, but we'll look at it and figure it out.
Q. It looked like Jaron Kearse came in and played well in that nickel package a lot after Mackensie got hurt?
A. Mohamed Sanu is a big, physical receiver, so we kind of planned on him playing some today anyway because of matchups that we thought we might have, but Jayron's been doing a nice job, and hopefully we can continue to keep getting him more looks and more plays in there.
Q. After the blocked punt, there was a holding call right away that could have easily killed the drive before it started. You mentioned setting the tempo. How big was not settling for that field goal and keeping the energy in doing that, setting the tempo?
A. One of the things we talked about is not settling for field goals. You're not going to overcome first and 20 too many times, so it's nice to see that happen. We've got to eliminate those things because other than that we're kicking field goals there. We've got some cleaning up to do for sure.
Q. I know you probably have to go back to the tape to get a good look, but your initial impression of Garrett Bradbury? What did you see today?
A. Honestly, I have no clue. It's hard for me to look at those things. I'll tell you -- I'm sure I'm doing a press conference tomorrow, right? I'll look at it tomorrow.
Vikings Quarterback Kirk Cousins
I'll just start by saying an outstanding team effort to win today. It's a cliche line, but today is certainly true. Any time you start your season with the field position we had, our defense and our special teams gave us some gifts there. It makes a huge difference. Great to be able to capitalize off turnovers. Coach Zimmer always talks about that. He also always talks about coming away with touchdowns in the red zone and not field goals, which was great to do today. It was really unique to be able to run the ball as effectively as we did so consistently. I was telling the guys in the locker room it felt like a youth football game where you don't get to throw much. You run right, run left, up the middle. It was working, and it was really effective. No reason to change it up. A lot of credit also to our coaching staff, just very impressive. The scheme they put together and the plan this week, the runs they dialed up, it worked. So they did a great job. Just great to have a team win, not have turnovers. I think we may have had one sack but didn't really feel like we took any sacks, so that was positive. Unique game. I never played in a game quite like that, but great to get a win at home week one, and it's so important now, big emphasis to wipe the slate clean. That playbook goes in the recycle bin, and you start from scratch now. They're all separate games. We start from scratch to get ready for the Packers. With that, I'll open it up to any questions you have.
Q. How did it feel to throw ten times?
A. Throwing ten times is really unique. Probably haven't had a game with that few attempts since probably Pop Warner. I think I threw ten times or more in most high school games too. It's what the game called for. I have no problem with being conservative. As long as we win the football game, that's all that matters to me. We found a way to get the win, so the approach was a great approach.
Q. It probably won't always be this extreme where you're having the ten passing attempts. Can this be the identity of the team to play good defense, run the ball, that sort of thing?
A. I think every game calls for something different. Don't be surprised if we have to win a game 52-51 this year. Coach Zimmer wouldn't be very happy about that, but every week is different. I think you look around the league today, and you see how wacky the league can be and the scores can be, and you realize every game is its own entity. You have to go play what the game calls for. It's very important you understand what kind of game we had to play to win, and that's what we played. When you consider through the lens of what was asked of us today and what type of game did we have to play to win, and then you can understand why the numbers or stats are what they are. But the number one stat, the only stat that matters is a win.
Q. That's a team that plays eight in the box, cover three behind the offense. When you analyzed them this week, what told you guys this would be a good week to establish the run?
A. I don't think it was unique to the Falcons. I think that we're going to want to run the ball effectively, stay patient with the run game and believe that, if you keep at it, you'll break a few later in the game. I think that will be a philosophy regardless of the opponent or the scheme. What was unique is typically you think you're going to hit some big runs when you go to split safety and take a guy out of the box. So to have an eight-man box was a little unique to hit some of those runs as consistently as we did, and all the more reason to keep doing it if it's working. No reason to change. And the run kept working.
Q. What kind of energy did you sense from the offensive line in the huddle with getting to run block as much as they did early on and seeing (Dalvin) Cook and (Alexander) Mattison generate those big plays?
A. Football is a game of momentum. Any time you have it, you feed off it. You use it to your advantage, and the crowd feeds off it, and it's a snowball rolling down the hill. You could lose momentum quickly with a turnover, a sack, whatever, and you've got to find a way to get it back. Certainly when you have a few productive runs, everybody is feeling that good energy in the huddle, in the stadium, and it's a great place to be. The key is a mature team that, when you don't have that momentum, you can put your foot in the ground and redirect and make sure things go back in the right direction. Today didn't really call for us to do that, but a good team is going to have to do that at some point this year, and we're going to have to do that.
Q. A lot has been made about complementary football with this team. Is that first series, where Anthony Barr gets the sack then Eric Wilson has the blocked punt and then leading to the offense getting the touchdown. Is that a microcosm of what Mike Zimmer's meant by that all offseason?
A. I think that's probably a great example but also even an over-the-top example. You don't expect to have a blocked punt every series and a sack and a short drive and a long run. They all just came together today. Complementary football also means when the punt isn't blocked and the sack doesn't happen, still finding a way to make the plays and pick one another up, and if a game calls for us to win in the 50s, to be able to do that too. You've got to play the game that's called, and today was a unique one.
Q. What was it like to get in on the rushing game a little bit yourself and to get in there today?
A. Yeah, they told me I had 97 yards passing and three runs for a yard each. So I guess that gives me 100 all purpose today. I'll take that. Great to just convert, stay on the field, and especially at the points where we had the sneaks called, it was important to convert, stay on the field, and keep the clock running. I can't take much credit for a sneak. If your center and your two guards get push, I can follow right behind them. It was like a snow plow. They got push, and it's always fun to get those sneaks.
Q. How would you describe your celebration after your touchdown?
A. That's kind of an inside joke between me and an old buddy, friend, teammate Tom Compton. I texted him and said, "See if you can find a video of that. I think you're going to like it." I told the guys in the locker room if I scored today, I was going to do it, so they were ready for it. It was just fun, having a good time, enjoying playing.
Q. Was there a special emphasis this game on red zone?
A. Our red zone offense is going to be really effective if we run the ball well. When you study red zone offenses, the two things that jump out are good ones run the ball into the end zone, not throw it, and they can play off schedule. So when the play breaks down, they can find a way to still make a play passing. So those are two keys. When you run the ball the way we did in the end zone, you're going to feel pretty good about your effort. For me as a quarterback, I'm always thinking through the lens of when it's third and nine from the nine. Those are the tough looks that I've got to be ready to answer. Today it wasn't what the game called for, and, again, just a very unique game and a unique game for a quarterback to play.
Q. From your perspective, how was Garrett Bradbury's first game as a center?
A. He did a great job. Any time you have the success we have running the football, you've got to be pretty happy with your center, with your O-line. So no complaints.
Q. I know it's only one game, but winning the opener and feeling good about yourselves heading into week two, how does that set the tone for the season?
A. It's really important we take each of these games as its own entity and move on and we're back to ground zero, and we have to build back up. The week is a process. You start tomorrow and put together a plan and let it build from there. You completely remove yourself from this game and have to start over from scratch, and that will be a big point of emphasis. Obviously, as football is a game of momentum within games, it's a game of momentum through a season. If you can string together good performances, sometimes your team can find that extra heartbeat, and you can play off that momentum.
Q. Early on, it looked like the pre-snap motion was giving Atlanta fits. How can you use that to your advantage in these situations?
A. That's something to credit the coaches with. I'm the one sending the motion. I don't dream it all up. They do a great job of trying to find ways to unsettle a defense with change of strength motions and motions that would suggest one play, but then obviously actually run a different one. Any time you can unsettle a defense, get them off their keys, you're going to try to find ways to do that. Certainly, motioning, shifting, changing the formation on the fly is a great way to do that.
Q. Dalvin Cook had a very good game. How much are continued performances like that a key to the season?
A. I think it's key. I think we need the White Tiger to be there for 16 games, right? He's been special when he's had the football in his hands, and we've got to have him out there. So it will be key. Adversity always hits at some point, and the mature teams, the great teams still find a way to get it done. Whatever that adversity is, we've got to be ready and respond.
Q. Now that you've picked up a victory with this offense and a new center, how do you feel about the way you guys are gelling together?
A. Well after a win, you always feel pretty good. You feel good right now. We kind of all pat ourselves on the back, each other on the back, and then tomorrow morning you've got to go in and watch the tape. Hopefully, the coaches really coach us hard on the plays that didn't go the way they need to, and then you go right back to work. I think work is a word we're using a lot in our offseason program and now in season. No matter what, good, bad, indifferent, just get back to work. I think that's kind of our mantra this week was just be having a great week of work.
Vikings Linebacker Anthony Barr
Q: What are your thoughts on how you played right off the bat? You set a tone, but you also sent a message.
A: It was a good way to start the drive and start the season. We wanted to start fast and not let them score on the first drive, or not much at all obviously. Especially on the first drive, to come off fast and give our offense a chance.
Q: Do you feel like the pass rush got in a rhythm and got [Matt] Ryan flustered?
A: Yeah, once we got up and forced them into a lot of passing situations. We let those guys pin their ears back and get after him. Let them do what they do best, and they come through for us like always.
Q: What is it like when Coach Zimmer gives you the opportunity to come up on that rush edge and become a pass rusher in that situation?
A: I am just trying to do my job. Run or pass I do what I have to do to help the team. Whatever he calls, dial it up and let's go.
Q: You were the last guy out of the tunnel. What were the emotions like when preparing to run out there knowing everything that happened this past offseason?
A: It was awesome. This is home and I was happy to be back. The fans were great today and the team played well, so all is well.
Q: Were you charged up more than normal?
A: No, it was just another work day. I am always geeked up on game day. The first one is always a little special, but I am happy get out of here with a win.
Q: Atlanta poses such a difficult challenge with Matt Ryan, Julio Jones and all of their great players. Can you talk about how you were able to really shut them down today?
A: With that team you have to stop the run and you have to shut down Julio [Jones]. Whether it is one guy, two guys, three guys, whatever it takes. We were able to do that for the most part. I am not sure what he finished with, but I know that we limited his production today.
Q: Was this a recipe for what you guys want to do all year?
A: I think as any team goes, come out and play good defense, limit the opposing team on offense. Win the field position battle on special teams. We did a good job of all of that today.
Q: Did you watch the Green Bay Packers versus the Chicago Bears? There is a lot of talk about those two great defenses. Did you watch and think to yourself, "Wait until you see us?"
A: No, I am not worried about what they are doing. I am a football fan, obviously. It is the first football game of the year; I am always going to watch it. I am not concerned with what they have going. We are worried about what we are doing here in the locker room and we did a good job today.
Vikings Safety Anthony Harris
Q: Anthony Barr was singing your praises saying as a defense we came out with a mission, but you were just completely on top of it today. How do you feel?
A: I feel pretty good. I just try to go out there and have fun. The coaches did a really nice job of getting us some calls and I was able to get two interceptions today.
Q: Were you thinking, "What was Matt Ryan thinking on that one in the end zone?" It was clear to you. Take us through that?
A: I just try to have good eyes and know my assignment. After the ball was thrown, I just take my coverage and once I saw the ball in the air, I thought it was a throw away. Then I saw I could have a chance to make a play, so I just went up and tried to get my feet in-bounds.
Q: Defensively, you guys had a really good game plan going in?
A: I think we got the energy going pretty quickly. We came out and did a good job on defense. Special teams did a good job, we got a blocked punt which really excited everybody. It excited the offense and motivated the defense to keep things going.
Q: What does a big lead like that do for the defense when you get up 14-0?
A: It allows you to stay humble. Once you get that momentum, that's when you got to start to have fun and really start to relax and go start to make some plays. I think the offense did a good job of running the ball, kept the defense off the field a good bit.
Q: Not a lot of guys can say they went up against Julio Jones and make an interception.
A: We are all out there just competing. We know how much of a good athlete he is, but that is why we go out there and prepare to make plays like that. Once you are in that position, it's about going out there and finishing.
Q: When Julio Jones has a stat line like that, how much of that is also contributing to the pass rush and what's going on for you guys?
A: I think anytime you got a dynamic player like that, it's always a team effort. You can't expect to put one guy on him. We have Xavier Rhodes on him, and he did a good job battling him all day. I think the combination of having high coverage and pressure up front has to go hand-in-hand.
Q: How much different does it feel this year compared to last with you knowing your position is solidified?
A: I think since I've been here awhile now, I have gotten familiar with the scheme, so it allowed me to be more comfortable. I've gotten time in some meaningful games and make some plays. Coming in this year, everything was just settled in and just focusing on my technique and executing.
Sunday, September 8, 2019
Vikings Running Back Alexander Mattison
Q: How did the reality of your first regular season NFL game compare to your dream?
A: I am chasing my dream every single day. It was great to get out there and take another step forward. Obviously, we did some great things today, but we are always going to continue to work and do better.
Q: Did you ever take a moment today and let yourself take it all in?
A: There was a little moment during warm-ups where I really just sat back and really felt it.
Q: Did you think you got in the endzone on that run?
A: They call it how they call it. That is something to learn from as well, I could have made it something where it's not even questionable.
Vikings Wide Receiver Adam Thielen
Q: How did you feel about the quick start you had in first quarter with two big plays?
A: This team, we do not care how we get the win. We want to score touchdowns, get points on the board, and let our defense do what they do best. That was our mindset in the game and that was what we did. We still have a lot of things to clean up and we have got to make sure that we continue to get better every week.
Q: Did it feel good to only have ten passes today?
A: It felt great, it was a good feeling on the body as well. Again, it comes down to that it does not matter how you are going to do it, you just have to win the football game. Now it's time we focus on Green Bay.
Q: How did you prepare against this impressive Atlanta Falcons defense?
A: We knew we had our work cut out for us with them. They have all their guys healthy again and we knew that they were a good defense. Today's win feels good, but we still have a lot of work to do and the game could have been totally different without the turnovers.
Q: What is the importance of getting the run game going early and gaining a lead?
A: We know that the run game is a strength of our team. We know that we have one of the best running backs in the NFL, if not the best. We know we have an offensive line than can ground and pound, so we are very fortunate there. We have to continue to do those things because it will only help this team. That's what Coach Zimmer wants our identity to be so we are going to make it happen.
Q: With the lead you guys built in the first half, do you get a sense that if the offense takes care of the ball, the defense will do the rest?
A: Yes. Controlling the time of possession is number one. We've got to control the ball and we've got to get first downs because every first down we get keeps our defense off the field and fresh. We know how good our defense can be and so we have to do our job, score points, and let them pin their ears back and rush the passer.
Q: How satisfying is it to have all three phases of the game work so well today?
A: It is something we have been preaching since day one of the offseason. The reason we lost games last year is because we did not have that. It's good when you preach something and then go see it come alive on Sunday, but we still have a long way to go.
Q: Did you know that blocked punt was the first since November 2014 against Carolina?
A: I did not know that but it's pretty cool. I'm glad that we got it done because it is fun to see the guys that work so hard on special teams to finally reap the benefits.
Q: How does the defensive stops and Anthony Barr's sack influence the offense?
A: We feed off of it and that's why we need to allow them to do what they do best. When we can get a score, we can get ahead, just let them rush the passer and cover guys, it's really fun to be a part of. We have to continue doing our job on offense, continuing moving the ball and staying out on the field.
Q: This is the second year with Kirk (Cousins). Are things running a little smoother this year?
A: Yes. The more reps you can have with a quarterback the better, and you really need those game reps. We are really fortunate to have another year with (Kirk), and it's another year for us to understand him better and for him to understand us better. We're going to keep building that and grow every week.
Q: What is the challenge with going to Green Bay next week?
A: It's going to be challenge. Obviously, with watching them on Thursday, Green Bay has a great defense. They have got an offense that can stay on the field and special teams that played really well. That's a really good Chicago Bears team that they beat, and we are going to have our work cut out for us.
Q: How was the offense so successful despite having only 10 passes in the game?
A: It's definitely different, but every game in this league is different. You never really know what you are going to get. Some games you could throw the ball 40 times and other games like today, 10 times. But at the end of the day, it just matters who comes out ahead and that's the mindset that this offense has. We are going to do what it takes to score one more point than the other team and that's all that matters.
Q: This was a great way to start the season. What do you think of the Vikings setting a bold tone with this win today?
A: It's a good start. It's tough though sometimes when you have that good of a start to not get a little complacent. We are going to go back to work and make sure that we're doing the little things. In this league it's tough to win week in and week out and so you have to make sure you are taking care of the little things such as winning the turnover battle. We were able to do that today, but we've still got a long way to go.
Sunday, September 8, 2019
Vikings Running Back Dalvin Cook
Q: How good was it to get the running game going the way you did as a team?
A: It was a great start. It was good to set the pace for the season. The offensive line was moving people up front. We got it going early. The defense kind of sparked this thing, and we took care of business by punching the ball in which got the momentum going. It was definitely a good start for the season, and something we can build on. There are still more yards on the field that we can get by cleaning up the little things.
Q: What does it mean personally for you to get those touchdowns in the first game of the year?
A: It was big for me. Touchdowns are good, but it also helps get the offensive line going. I like giving them the ball after I score to let them spike it. The big thing for me is getting the offensive line going and making sure they are happy. It is important to take care of those guys.
Q: Alexander Mattison was very close to getting his first touchdown, right?
A: Yea, it's just a rookie thing. The most important thing is taking care of the football. I tell him when you get opportunities to score touchdowns you gotta take advantage because it is very hard in this league.
Q: What did you think of Kirk Cousins touchdown dance?
A: I was right there with him. We just do our thing. Kirk is kinda like the football dad on this team. We love seeing him show his personality. It gets the whole team hype.
Q: Was there something to getting out there and proving it by having the type of game you did today?
A: I have been practicing and working very hard. It's just football. Whenever I am on the field, a lot of special things can happen. I just got to stay on the field to help the team that's the most important thing. Being out here with these guys is fun. We worked extremely hard this offseason and training camp to have days like these.
Q: Was it meaningful for you to exchange jerseys with Devonta Freeman?
A: It definitely was. It is a very special moment in my career. We came from similar backgrounds and to make it in this league is special. He set the standard for me. He went to Florida State and put up big numbers. Then, he came into the league and put up good numbers while also making the Pro Bowl. I am just trying to do the same things he did and even better. It was special to be on the same field with him for the first time.
Q: How happy do you think your coach is to win the game with defense and the running game?
A: That is our identity. Everybody knows Coach Zimmer wants to run the football and play great defense. Like I said earlier, they played great defense and set the tone for us today. We were able to piggy-back off of their energy and got this thing rolling.
Q: Could you have envisioned only passing the ball ten times and running it 38?
A: I actually didn't look at it. Whatever coach calls, it is important to execute it.
Q: Adam Thielen minutes ago referenced you as one of the best running backs in the league. Do you feel that you are already there or on that path?
A: I just want to get better every week. This week is over, we can celebrate for the rest of the night. When tomorrow comes, we need to get back to work, and there is still a lot of stuff to clean up. I don't get into that whole conversation of best running back in the league. I just try to be the best version of myself.
Q: How much did explosive plays make a difference today?
A: Coach puts us in a lot of different situations in practice to succeed. We have to make big plays and take advantage of those opportunities. It is hard in this league to make big plays, so when you got the chance to convert on them you have to do so. That played a big role in the outcome of today's game.
Q: Do think getting to the edge is a product of the new system that has been instituted in this offense?
A: We have been trying this whole time to figure this thing out. It has been a long time coming with the offseason, OTAs, and training camp. Alexander (Mattison) and I are two different kinds of backs. We both bring a change of pace that helps us. You never know what you are going to get and people underestimate how fast Alexander really is. He is a great compliment to me. Our offense did a great job of bringing him in.
Q: What can you say about C.J. Ham in front of you?
A: I came from a fullback system in college. I love when the fullback is in front of me. I cherish when C.J. Ham does that for me. He is my guy, and I love when he is on the field with me because he is the brains of this offense. He makes sure I got the plays right when I'm back there.
Vikings Defensive End Everson Griffen
Q: First play was a turnover, then a turnover, after that a blocked punt. Good way to start?
A: We did a good job starting fast today. It is just game one and I feel that we have to do it day in and day out. We have to go out there and enjoy this win, but we have to be ready to execute the same way we did this week against Green Bay. We need to repeat it, I think that's the goal, remember how this feels and repeat it.
Q: The defense has so many weapons, all of you guys up front, Barr had a big game, Harris with two interceptions. We talk about how good the defense is but you guys kind of stepped it up today.
A: It's early and we have a lot of mistakes still, like offsides, I mean I myself jumped offsides and other guys did too, so we must clean up the mistakes and get ready. I do feel like we did well this first game although we have a lot of cleaning up to do.
Q: What is it like when your front can get that kind of pass rush consistently and get into a rhythm?
A: Whenever you can stop the run and execute to get them [Falcons] on a third and eight, third and long, the percentages go up for us to get back there to the quarterback. We stopped the run very well and we kept Matt Ryan kind of uptight by surrounding him which did affect him. We just need to keep on doing that.
Q: When you see a guy like Anthony Harris trajectory what do you say to a young guy like that's kind of going right up?
A: Keep up the good work. Keep on executing. Keep on staying humble and keep on going out there and doing your job. It takes 11 guys to make plays, not just one guy who is making the plays. When guys get sacks it's a team sack. So, each and every time we make a play we have to celebrate together and then we have to move on to the next play and keep on doing it again.
Q: Eric Wilson's blocked punt was gigantic, he's a pretty fierce player on special teams?
A: He is, Wilson, brings it each and every time. The special teams did great running to the ball and hustling. We need to keep it up and it is the first game so we can't get ahead of ourselves. We just need to keep on going out there and executing day in and day out.
Vikings Tight End Kyle Rudolph
Q: On the defense shutting down Atlanta today…
A: It was a lot of fun today. Our defense played really well, especially when they blocked a punt early. I don't remember too many games where we started in their territory two times to start the game and go up 14 to nothing. That was like Arizona 2011 when they scored 28 points in the first quarter. Outside of that, I can't remember a game where we started like that, so it was a lot of fun going out there and seeing guys get to run the ball a lot. Anytime you can start the year 1-0, that's a good feeling.
Q: You talked about the runs, we know Dalvin Cook, but Alexander Mattison has shown he can be a nice number two guy. How important is it to establish that in game one?
A: We talked about it all off-season, we wanted to run the football better. We did that today. Our defense did unbelievable, special teams did so well, blocking a punt to start the game, and just putting ourselves on offense where we can really lean on the run game. Now would I have thought we would have only thrown the ball 10 times? I guess that's how we are going to celebrate the NFL's 100th year. We are going to set the game back about 100 years, but if that's what it takes to win, I think all 53 guys in this locker room are going to be for it. It was fun to lean on those big guys. They knew we were going to run the football and we were still able to do it.
Q: You mentioned all three phases; I know Mike Zimmer really emphasizes complementary in football. How much were you able to build off each other today?
A: It was huge like I said. Starting off the game with a three and out on offense and then a blocked punt, setting the stage for us to take advantage of a short field and then getting the turnover going up 14-nothing to start the game. No lead is safe against that team with the explosiveness they (Atlanta) have on offense, so it was important for us to not get comfortable with a 14-point lead and continue to build on it to get up to 28-nothing. It's pretty impressive against a good team.
Q: On establishing the running game today…
A: Again, I talked about it earlier that we spoke about it all off-season getting back to running the football. It is something we did really well in 2017. We always shot ourselves in the foot last year when we wouldn't give ourselves opportunities to run the football. You can look at the run game, it's not always for a lack of talent up front or lack of running backs. The way the game plays out often dictates how many times we can run the football and today we were able to lean on the run because we got out to a good start, scored early, and stayed on track most of the day.
Q: The advantage of having so many different personnel groups to keep switching, how does that help you guys?
A: It makes it hard on defense when we are not running out there in the same personnel group every time. It makes us unpredictable as an offense and really keeps them on their toes.
Sunday, September 8, 2019
Vikings Nose Tackle Linval Joseph
Q: Did the pass rush get into a rhythm of creating pressure and making it hard to pass the ball?
A: It is kind of hard; they had to pass the ball. Shout out to Matt Ryan, he did throw for 300 yards. He is a very good quarterback, but at the end of the day, we won the game. Today presented more of an opportunity to rush, more than normally get to do in a situation like this.
Q: On Matt Ryan's two interceptions, did the pressure play a factor in that?
A: We had a great game plan offensively, defensively, and special teams. Anthony Harris made some big plays today.
Q: What does it do for you guys when Anthony Barr is coming off the edge?
A: (Anthony) Barr is a special player. He can rush. He can play coverage. He is a really good tackler. You give him some money and he can do a lot of different things. He is living up to the hype.
Q: How satisfying is to have a win where all three phases performed well?
A: It feels pretty good. It still wasn't a complete game, but to make plays and to do your job is a good way to start off.
Q: Why wasn't it a complete game?
A: Penalties, missed assignments, and the quarterback got hit a couple of times. We need to be perfect. We will get back tomorrow and keep working at it. Next week is a big game.
Q: Was the defensive line too excited which caused a few neutral zone penalties?
A: It was kind of loud in there today. It was a great game. Everybody was excited since it was the first game of the season. You always have a few extra penalties and mistakes because it's the first game, but Coach Zimmer will get us corrected.
Q: What goes through your mind when you see the Vikings offense able run the ball?
A: I get excited. If we can run the ball, we can keep the ball in our hands. That is what we want. We want to run the ball as good all year; that means a lot to us.
Q: What have you seen from Anthony Harris over the years as he worked his way up to this being a starter?
A: He has turned out to be one heck of a player. He is smart, works hard, and he comes in every day and wants to be great. He's earned the spot. Nothing was given to him. He has come up from the bottom to the top and he still lives up to the hype. I am happy and excited for him.
Q: How did Anthony Barr's sack on the first play from scrimmage set the tone for the game?
A: To have that first call and to go out there and make that sack really set the tone. Everybody fed off that play. The offense played well, and the special teams got a turnover also. Turnovers win games and we got three today. That is what we need to keep doing moving forward.
Q: Do you like that Mike Zimmer dialed up the heat on the first play?
A: At the end of the day, Coach Zimmer is a very smart coach. He is always going to put us in a great situation. Today he started off on fire.
Vikings Cornerback Xavier Rhodes
Q: Often when a team scores when there's nine minutes left you might worry; you guys had no worries about this game being in doubt.
A: What defense wants a team to score. They don't score points we win. At the same time, you know the situation and you know where you stand so we just played defense and we knew that when we needed to get back out there, we would have to get back out there.
Q: Zimmer talks a lot about complimentary football, how much do you guys feed off of each out there when different phases are making plays.
A: When guys get to the quarterback, we make plays on the ball forcing him Matt [Ryan] to make bad throws and making bad decisions. I give thanks to the d-line and the front seven for making our jobs a lot easier today.
Q: It seemed like the early blocked punt by Eric Wilson and the sack by Anthony Barr, especially on that first series, made it seem like the tone was set from the beginning.
A: That is what we wanted to do was to set the tone in the first series. Coach said it all week that if the defense was out there first that we have to set the tone and that we can't allow them [Falcons] to put points on the scoreboard so that they can gain momentum. We figured that if we set the tone by going out there first it may make the game a lot easier rather than allowing them to score and gain momentum. We just tried to keep being aggressive on defense.
Q: What's it like to see Anthony Harris have a game like he did today?
A: It is great. I am happy for him and it was just great. We always mess with him [Harris] in practice but he showed up.
Q: With Anthony's development, what has helped him go from being a special team guy to a starter?
A: Being here with us, us believing in him as a team, coaches letting him know that they have his back. He [Harris] went out there and the communication was there with everyone. He was communicating with everyone on the field and once you communicate, the sky's the limit.
Q: We talk about continuity on the defense all the time but the fact is, to make the statement that you [Vikings Defense] did in the first game, what does that mean to you on the defense?
A: It means a lot. Like I said, we went out there and played like we have been known to be; aggressive, fast, and we tried to create turnovers, and get off the ball as soon as possible. We are going to try to continue to do that each and every game, but we know that every game isn't going to be perfect but we are going to try to make them as perfect as we can.
Vikings Linebacker Eric Kendricks
Q: What is it like when your front gets revved up and gets that pass rush going?
A: It is hard because when you take away those first pass reads, then he is just moving around in the pocket. He is just dodging Everson [Griffen], Danielle [Hunter], and those guys. We have to apply the pressure every time we go up against a good quarterback. We have to get to his feet and that is the goal.
Q: The first couple series were an ideal start for you guys. The way you went three and out, blocked punt, and the interception. What are your thoughts?
A: It was a full attack. We were all thirsty to be out there and play on this stage.
Q: Is that because you guys have been together for so long as a defense? Going through the preseason is kind of a slog and you all are just waiting to get to this point?
A: You are anxious, but everybody out here loves football. You can tell.
Q: What can you say about Anthony Harris' development?
A: Anthony Harris gets me emotional honestly. I have seen him go through a lot. I have seen him start at the bottom, legitimately. All he did was work. All he did was battle. He is a humble guy and he knows his role on the team. It is no question why we see him have success. It is why he is in the place he is in. He is in the right spot. He is catching these balls and he works for that.
Q: Did you see the potential in [Anthony Harris]?
A: I remember my rookie year, we had a lot of injuries. We played versus the [Arizona] Cardinals. He came in that week from the practice squad and I felt comfortable with him back there even though he had not played a snap all year. I think it was a mid-season game and I heard him talking, communicating, we were on the same page. He was making plays and I was like; this dude is a baller.
Vikings Center Garrett Bradbury
Q: What is your relationship with Kirk Cousins like?
A: Kirk (Cousins) is awesome. He is the leader of this team. He controls the huddle and we have full faith and trust in him. If we needed to throw the ball 50 times today, we were going to get the win doing that. He is a selfless leader of this team, whether we need to throw the ball 5 times or 50 times, we know he is going to be there.
Q: What adjustments have you made from college to the NFL?
A: At the end of the day, we are just playing football. That is what everyone kept telling me. We run similar plays, just a bit faster and obviously bigger stakes.
Q: How fun of is it to play on this team?
A: It is fun. Winning is a blast. There is a great locker room here and great guys that do things the right way as well as great coaches.
Q: Was the emphasis of today to run the ball?
A: That is the goal of every game to run the ball and control the line of scrimmage. If we do that, we will win a lot of games.