EDEN PRAIRIE, Minn. –The NFL welcomed 41 women from around the league in March for an inaugural Women's Career Development Symposium in Boca Raton, Florida.
Specifically designed for the retention and advancement of women at NFL clubs and the league office, the symposium featured presentations, breakouts and group discussions.
NFL Director of Football Development and former Vikings center Matt Birk welcomed the women to the symposium and opened the two-day event. Birk said that a career development conference for women was much-needed and overdue.
"Traditionally, a lot of the jobs in the NFL have been male-dominated, and now we've seen a small number of women ascend and achieve leadership positions," Birk told Vikings.com in a phone interview. "We want to see more of that. So it just felt like it was time – and probably overdue, really – to have a symposium that [worked] specifically with women.
"At the very core of football is this idea that you put the best team together that you can, and then you work hard and develop your players," Birk continued. "Sure, you have games every week, but you're really competing against yourself. You're working to become the best that you can be. I think if you take that and apply it to not just the players but our organization and all the different departments, we have to make sure our talent pool is as wide and as deep as possible."
Symposium speakers and panelists featured women from the NFL and female executives from outside organizations, including Bengals Executive Vice President Katie Blackburn, Dolphins Executive Vice President of Football Administration Dawn Aponte, CIA counterterrorism analyst Gina Bennett and The Players' Tribune President Jaymee Messler.
Anne Doepner, Vikings Manager of Football Administration, attended the symposium and described it as an invaluable experience.
"It was such an excellent program," Doepner said. "I was blown away and just amazed at the quality of the presenters there."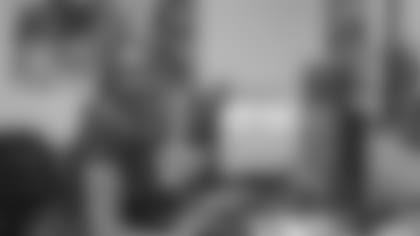 In her role with the Vikings, Doepner wears many hats related to contracts, compliance tracking, and analyzing. Primarily, she works closely with Executive Vice President of Football Operations Rob Brzezinski on matters of the salary cap and compliance with the NFL on player contracts and all CBA (Collective Bargaining Agreement) related issues.
"Anne plays an essential role in our football operations and administration," said Brzezinski. "She is well-versed in the CBA and salary cap, and we rely on her expertise on a daily basis."
Doepner conducts extensive market research prior to the Vikings signing players and also ensures that Vikings contracts are compliant with the salary cap and do not in any way violate terms of the CBA, which was updated in 2011.
"Now that we're five years into the new CBA, we've been able to start identifying some trends for how contracts are being structured," Doepner explained. "We do a lot of analysis on contract language and try to make sure we're writing our contracts in the most prudent way possible."
Doepner's position also entails budgeting, projections, serving as a liaison with the finance department, league correspondence and tracking of player bonuses and incentives.
"The offseason tends to be my busiest time as we do a lot of preparation and work toward what will eventually make up our final roster," Doepner said. "It's always exciting to get to the regular season and see everything come together."
The symposium's career development content catered specifically to women and offered Doepner several takeaways.
"One of the universal messages I got from almost every female presenter was to embrace being a female," Doepner said. "The NFL historically has been a male-dominated business, so you might have a tendency to try to emulate men. But all [the presenters] said to be true to yourself, because it's important to have diversity. Being a woman, in the NFL specifically, is a diverse component. Adding more ropes to the netting of a hammock makes it stronger. It was a very empowering message to hear."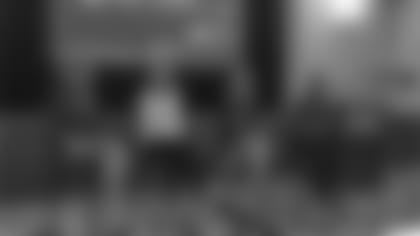 Doepner enjoyed the chance to network with women from all different life and career backgrounds who now work in an NFL position.
"It was really nice to make some personal connections around the league," Doepner said. "Even though we all work for different clubs and we all have the unique goal of our own club winning the Super Bowl, it's important, I think, to have people [in similar positions] so that we can share ideas, best practices, that sort of thing – help each other."
Doepner's career journey is a unique one. Interestingly, she does not hold a degree in law or finance like a majority of individuals in her role do. Rather, Doepner's French degree jump-started her path to the Vikings. Doepner first worked for a student travel company that coordinated trips to France for high school groups, followed by a position with a vendor that worked for the PGA Tour. The experience in leadership, travel coordination and the professional sports industry combined with Doepner's Minnesota background and love for football, and she couldn't be happier in her role with the Vikings.
After attending the women's symposium and finding it a major success, Doepner hopes to attend future events as well. Doepner's love for her role with the Vikings organization is evident, and the conference directly supported that passion.
"My work continually presents me with new challenges and opportunities for growth, which is very rewarding," Doepner said. "Attending the symposium added even more resources and support to supplement what I receive through the Vikings organization."
Birk said feedback for the inaugural symposium has been overwhelmingly positive.
"Not just from the attendees appreciating it, but everybody from the league office saw that it was a really impressive group of people and [overall event]," Birk said. "A lot of our clubs said, 'Oh – we wish we could have sent more than just one attendee – which is great. That means there are a lot of women in the NFL who have high ceilings and high potential, and I look forward to working with them in the future. It's just going to make our league better."