There were plenty of memorable moments in my first season covering the Vikings.
Seeing the inner workings of an NFL team, opening U.S. Bank Stadium with a win over Green Bay and traveling with the team on road trips were some of the highlights.
But nothing topped the Oct. 9 home game, a 31-13 victory against the Texans. The final score hardly mattered, what meant more was having my mom there in the stands. 
That happened to be the Vikings Breast Cancer Awareness game. We didn't realize it when we booked her trip from Arizona, but it was ironic she was here for that moment. 
Seeing thousands of pink shirts and ribbons throughout the stadium was a personal connection for me. I know the strength and willpower it takes to battle through that disease.
My mom is a survivor. She was diagnosed in March of 2015 with inflammatory breast cancer, one of the rarest forms of the disease. My brother and I helped shave her head, something that still ranks as one of the most surreal moments of my life.
She endured 20 hellacious weeks of chemotherapy, never wavering in her strength or attitude.
On the day she underwent a double mastectomy, doctors pronounced her cancer-free. She still went through 30 radiation treatments just in case, sessions that left her skin black and charred.
But we weren't out of the woods yet. After slowly getting things back to normal as they could be, doctors announced in December that her cancer was back.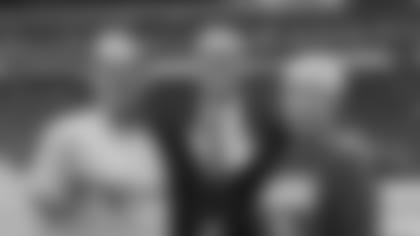 Vikings.com team reporter Eric Smith was joined by his mom, Lori Kunz, on the field before the Vikings 31-13 win over the Houston Texans in October. Kunz is a breast cancer survivor.
While the treatment wasn't as vicious this time around, she gets a monthly steroid shot to fight off the cancer. She also takes chemo pills for three straight weeks and then goes a week without them.
Doctors have deemed her cancer cells to be inactive. She'll likely keep up her current regiment for the rest of her life. She might not be happy about it, but she's adjusted to her new normal.
Whether she's known it or not, my mom has always taught me plenty along the way.
Work hard. Go for your dreams. Don't be afraid to stand out.
She always made sure dinner was on the table, that we made it on time to soccer practice and lent a hand with one school project or fundraiser after another.
But seeing her fight, and win, in her battle with cancer was the biggest life lesson she could ever pass on to me.
She wasn't the only survivor in attendance that autumn afternoon. She was joined by many more who helped form a pink ribbon on the field before the game.
But seeing my mom celebrate her victory was likely one of the greatest joys of her life.
Happy Mother's Day to all the moms out there, especially mine.