The skyscrapers of Miami rise starkly above the coastline, but they aren't the only entities reaching for the stars.
The dreams begin early in the youth leagues where players have been told about and witnessed success stories of Miamians who have made it to the NFL and impacted the game.
A vast array of talent fuels competition that extends to elite high school football teams and on to established and emerging college programs.
"Kids in Miami play football at the age of 4 or 5, and it's real contact. They take it seriously," Xavier Rhodes said. "Me, I think I played at the age of 10 or 11, so I was more of a guy that was into wrestling, but once I got into football and I realized I could do well in it, that's when I took it seriously."
Rhodes, 27, starred as a running back and receiver at Norland High School before becoming a cornerback at Florida State. The position switch worked well for the 2013 first-round pick who recently signed a contract extension with the Vikings.
Before Teddy Bridgewater, 24, helped Louisville trounce Florida in the Sugar Bowl and became an eventual first-round pick, he quarterbacked a powerhouse at Northwestern.
Just three years after helping Miami Central win a 6A state title with a 223-yard, four-touchdown game, Dalvin Cook racked up 207 total offensive yards on Michigan in the Orange Bowl on his path to the 2017 NFL Draft, where Minnesota selected him in the second round.
Rhodes, who learned about others ahead of him and continued to progress, heard about younger players' reputations growing with each play on the gridiron. He made a vow to help other Floridians as they reached for their goals, not knowing he was destined to become teammates with Bridgewater, Cook and others in Minnesota.
"Yeah, I knew about them," Rhodes said of Bridgewater and Cook. "Once you know about them, once you figure them out and hear about them, and I've been hearing about those guys because Dalvin went to Central. When I was in high school, I played Central a lot. Northwestern was the big school in Miami, so I knew about Teddy, too.
"Those were the guys when they were coming out that I knew about and felt I always had to look out for, and we all looked out for," Rhodes said. "It was a great feeling, to know that your friends and people around you grew up in the same neighborhood as you."
In addition to Rhodes, Bridgewater and Cook, the Vikings 90-man roster includes 10 other players who prepped in Florida. Rookies Stacy Coley (Northeast in Oakland Park) and Danny Isidora (Cypress Bay in Weston), Emmanuel Lamur (King's Academy in West Palm Beach) and Jabari Price (Ely in Pompano Beach) all have ties to the Miami area.
Coley and Isidora were even able to stay close to home for college and suit up for the Miami Hurricanes.
Coley said he was inspired to play football by a cousin who coached him in youth football.
"He inspired me to live out my dream, and my high school coach was Coach [Donnell] Bennett from Northeast High School who played at the University of Miami," Coley said. "He was a mentor and a father figure to me and just kept me going every day.
"Going to the University of Miami changed my life and my family's life," Coley added. "It was a great experience. My family could go to all of the games and have that journey with me, so they could experience my journey."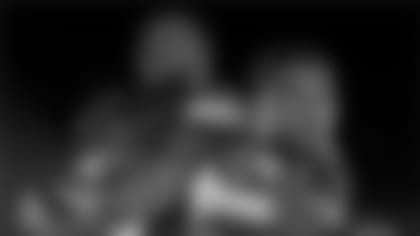 Isidora also appreciated playing for Miami and values the opportunity to represent his home and school well as a pro.
"[Attending Miami] was really important to me because I love where I'm from, and I went there to do the best I could to make it better," Isidora said. "Another thing was I wanted my family to come out there and be able to support me. It's a great school, a great location, the best decision I've ever made. I'm glad I made that decision, and it wasn't anywhere else."
Isidora also was familiar with Cook and Joe Yearby when the running backs teamed together in high school. Cook opted for Florida State, and Yearby wound up joining the Hurricanes and running behind blocks by Isidora.
Isidora and Coley were thrilled to continue as teammates via their selection by Minnesota in April. They also said it has been helpful to have so many Miami Vikes in the locker room who can relate to their experiences growing up and help them adjust to a new environment.
"We have a lot of pride," Isidora said. "We don't want to let ourselves down, our family down, our school down, me and Stacy, so we're just out here trying to get better every day."
One thing is for certain, as they progress as professionals, the influence of Miami will stay with them if they are like Rhodes and Bridgewater, who did considerable charity work and continued to rehab his knee at home before reporting to training camp. Bridgewater has remained strong in his recovery efforts.
Cook, who was raised by his grandmother, partially credited Miami's football culture for his successes.
"I feel like I have a good football IQ, coming from where I come from," Cook said during training camp. "We take football very seriously at a young age. This is what I love to do, so why not put all the hard work into it?"
Reaching the next level isn't just a point of pride; it's a necessity. Football in Florida isn't just a way of life. For many neighborhoods, it's the way to a better life.
"Basically, growing up there helps you realize you have to grow up fast. Everything in Miami is fast living," Rhodes said. "You grow up in a neighborhood that's a poor neighborhood, you have to live fast, you have to go out there on your own and find your own way, so growing up there, I was probably 12 and had the mind of a 20, 21-year-old guy."
Inland from the sandy beaches lined with high-rise condos and the manicured mansions on the Intracoastal Waterway sit more modest houses. Instead of an adornment of gently swaying palms, pitfalls await.
"People want to do better for themselves and family, and they choose football as a way out," Coley said. "Everybody puts all of their focus on football and one day lives out their dreams to have success with football.
"It's real competitive. You have young people out there going at it," Coley added. "You have different rivalries, people going to school and talking about the game that's coming up, Friday, Saturday, it's just real competitive down there. We like to compete and have fun."
Rhodes said football is the most visible positive path for many Miamians, and he's tried to emphasize to young players to take advantage of athletic scholarships to further their educations.
"When you're from Miami, you feel like you have two options, and that's to play football or be in the streets, and the thing is, the fact that we're able to take the positive route and make that change shows a lot," Rhodes said. "We try to take everyone in, try to change everyone's life in Miami, but we try to bring everyone that is playing football in and have them spread the word and knowledge and go the same route because we know how big football has been for us."
Rhodes, who was able to enter the NFL Draft early, plans to finish his college degree. He said he's also tried to encourage the next wave of young players to have a backup plan in case football doesn't work out.
"We get a full scholarship because of something we're blessed with, and that's talent. God has blessed us with talent, so why not take advantage of that free scholarship and try to get our degrees, and if we don't make it to the NFL, that will be our backup plan," Rhodes said. "Now we have to take another step and encourage kids not only to worry about football and making it to the NFL but worrying about getting a degree and figuring out something outside of football."
Rhodes tells young people that less than 1 percent of players make it from high school to the NFL and adds, " 'I'm not trying to kill y'all's dreams, but that's the God's honest truth, so you guys have to have a backup plan in case you don't make it.' "
Coming off his first Pro Bowl and signing a contract extension, Rhodes is definitely living his dream, but he can relate personally to friends who haven't been able to do so.
"I know a lot of kids, a few of my friends that didn't make it to the league and felt like they were failures," Rhodes said. "They wanted to take it to the utmost and commit suicide. I feel like if we tell those guys to take advantage of education and not worry too much about sports, which we all know we want to be NFL players in Florida, but if we take our education seriously, we'll be all right."