In the history of the NFL Draft, a large number of players drafted No. 1 overall have gone on to log incredible careers.
The 2018 NFL Draft is fast approaching, and NFL.com's Elliot Harrison took the opportunity to reflect back over the years and rank the top overall picks according to their respective pro careers.
Tackle Ron Yary, whom the Vikings made the first offensive lineman to be drafted from the top spot in 1968, is No. 8 on Harrison's list. He wrote:
A Hall of Fame tackle, Ron Yary was as steady a player as there was in the 1970s, a six-time first-team All-Pro and seven-time Pro Bowler. While you hear so much about the Vikings defense from Yary's era (the "Purple People Eaters"), Yary was the most consistent offensive performer on Minnesota's four Super Bowl teams.
Yary played 199 games, making 187 starts, for the Vikings from 1968-81, and he played one season for the Los Angeles Rams before retiring. He received All-Pro honors six times (1971-76). In 2001, Yary was enshrined in the Pro Football Hall of Fame.
Other No. 1 overall picks who had stints with the Vikings and were ranked by Harrison include Sam Bradford (No. 35), Jeff George (No. 32) and Jake Long (No. 31).
The complete top 10 (starting with the 10th slot) were T Orlando Pace (1997), DL Lee Roy Selmon (1976), Yary, RB Earl Campbell (1978), RB O.J. Simpson (1969), QB Troy Aikman (1989), QB Terry Bradshaw (1970), QB John Elway (1983), DE Bruce Smith (1985) and QB Peyton Manning (1998).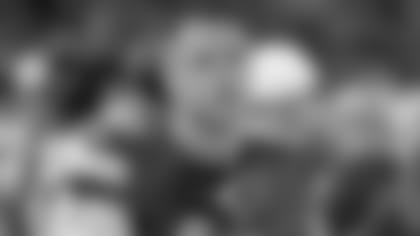 Former Vikings WR Isaac Fruechte coaching collegiately
Minnesota native and former Vikings receiver Isaac Fruechte is sticking near the gridiron, recently turning to coaching at the college level.
According to Colten Bartholomew of the *La Crosse Tribune, *Fruechte joined UW-La Crosse as the team's wide receivers coach and has been "impressing those around him with his ability to share his skills." Bartholomew quoted freshman receiver Dominic Labellarte, who said it's been "awesome" working with Fruechte.
"He knows the game in and out; it's crazy. His footwork is incredible. He breaks down the littlest things that help us receivers out that we've never seen before. We just didn't know them," Labellarte said. "We've made tremendous strides in the three, four practices we've had with him as receivers coach. We're all super excited to continue with him in the fall."
Fruechte, whose father has been an extremely successful head coach of the Caledonia High School program, spent two seasons on the Vikings practice squad and played in the 2016 regular-season finale against the Bears. He also spent time with the Lions. Bartholomew wrote:
*[Eagles Head Coach Mike] Schmidt and Fruechte had talked off and on about a coaching spot while Fruechte was finishing his three-year NFL stint. *
Fruechte kept watch of the Eagles this year as they went 8-2 — their best record since 2006 — and were in the NCAA Division III playoff conversation the final weekend.
"Coach Schmidt has got a tremendous staff, and they were awesome to me when I was trying to figure out what I wanted to after being done (in the NFL)," Fruechte told Bartholomew. "I was attracted to coming to UW-L, and getting involved with football, because obviously it's in my blood a little bit with my dad."