After a 2016 season in which the Vikings offensive line was ravaged by injuries and inconsistency, the unit has a new look heading into 2017.
Minnesota signed tackles Riley Reiff and Mike Remmers during free agency in addition to drafting center Pat Elflein (70th overall) and guard Danny Isidora (180th overall).
Tim Yotter of *Viking Update *caught up with Reiff during minicamp and talked to him about acclimating to a new team and specifically with guard Alex Boone. The two are expected to line up alongside one another on the left side. Yotter wrote:
Reiff, a South Dakota native, is soft spoken, preferring to let his play do the talking. Boone, [an Ohio] native, conveys the nasty throwback attitude of NFL linemen of the past, playing hard and talking in sentences laced with expletives.
"He's great. He brings a lot of energy, a good person to work next to. Plays hard," Reiff said of Boone. "I'm just excited for this year."
Reiff admitted that "it takes a while" for offensive linemen to get used to playing next to each other, but has no doubt it will come together by the start of the regular season.
Ultimately, the Reiff-Boone combination on the left side of the line will be one of the biggest keys to the offense improving in 2017, and they will be judged not by their differing personalities but by their performance on the field.
Boone referred to Reiff as "a very reserved guy, quiet, about his business."
"I think that's one thing I like about him the most – when we're in there, we're all business," Boone said. "When we're out of it, we're kind of messing around. It's a nice addition to have."
USA TODAY lists Vikings secondary in top 10
In an ongoing series ranking the top position groups across the NFL, *USA TODAY *recently tabbed Minnesota's secondary as the League's seventh-best.
S Harrison Smith has all-pro ability if he can remain healthy. CB Trae Waynes needs to elevate his play to the level of fellow former first rounder Xavier Rhodes. Ageless CB Terence Newman remains a key performer.
Coming in at 1-3, respectively, were the Seahawks, Broncos and Giants. Davis called the Jaguars at No. 4 a potentially "surprising" pick but said Jacksonville – whom the Vikings defeated last season – has been effectively bolstering its secondary.
The Patriots and Ravens were listed at fifth and sixth, respectively.
The only other NFC North squad included by Davis was Detroit, who landed at 17th-best with safety Glover Quin and cornerback Darius Slay.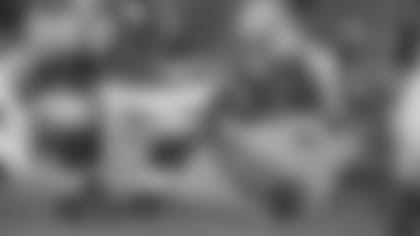 Former Viking tops list of long snappers
Keeping with his "best all-time" lists throughout the offseason, NFL.com senior analyst Gil Brandt opined the top seven long snappers in League history.
Brandt tweeted the rankings on Thursday, topping the list with former Vikings long snapper Cullen Loeffler.
Originally signed by Minnesota as an undrafted free agent in 2004, Loeffler spent his entire 11-season career in Purple. He played 171 games, missing only the final five games of the 2011 season when he was placed on Injured Reserve.