One legendary connection in Vikings lore weighed in on another this week.
Quarterback Tommy Kramer and receiver Ahmad Rashad, who famously combined for the "Miracle at the Met" — a 46-yard touchdown pass — connected through Twitter on Sunday to celebrate the "Minneapolis Miracle" — a 61-yard pass from Case Keenum to Stefon Diggs on the final play of the game.
The Kramer-to-Rashad pass defeated Cleveland on the final play of a regular-season game and secured the 1980 NFC Central title.
The Keenum-Diggs highlight sent U.S. Bank Stadium, which was making its postseason debut, into a frenzy and the Vikings into the NFC Championship, which will be hosted by Philadelphia at 5:40 p.m. (CT) Sunday.
Vikings.com chatted with Kramer this week to talk about both "miracle" endings.
"It was a helluva a play, and we needed it, that's for sure," Kramer said from his home in Texas, where he was grilling up a ribeye. "Keenum made a great throw, and Diggs made an even better catch to keep his balance and stayed in bounds."
The play brought back memories for Vikings fans who were there on Dec. 14, 1980, or have since seen footage from the play that has been posted online.
"It was our last chance, as it was for our guys Sunday night," Kramer said. "It's why they call it a Hail Mary, because there's got to be a prayer in there somewhere."
Following is the play-by-play account from the official game book:
1-10-V20 (0:14) Kramer passes middle to Senser at the 30, laterals to Brown at 28, who runs oob. at the Brown 45, gainst 4 (Senser 8 receiving, Brown 26 yards rec.)
1-10-C46 [0:05] Kramer throws long, long pass to R corner of end zone at the flag, ball tipped by more than one player, then caught in end zone by Rashad for Viking TD, a 46-yard play (drive 80 yards, 2 plays, TR 0:00, drive time 0:14), Danmeier EPK blocked by Bradley
FINAL SCORE: MINNESOTA 28, CLEVELAND 23
(NOTE: TV replay shows that Rashad caught the ball on the 1-yard line and backed into the end zone for the TD. We could not determine the last man who tipped the ball for Clevel.)
"You practice it at least once every week, so 'This is what we're going to do if we have to do it,' " Kramer said. "You always tell the guy that's running the point, 'You don't try to catch the ball. You just try to bat it a little left or right.' "
The Vikings penultimate day against the Browns was pretty special, too.
After taking over at the Minnesota 20 with just 14 seconds and no timeouts left, Kramer fired a pass to Joe Senser that gained 10 yards. Senser quickly lateralled the ball to Ted Brown, who streaked to the Cleveland 46 before stepping out of bounds to stop the clock with :05 remaining.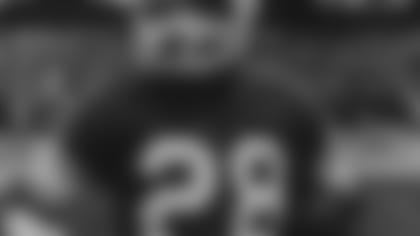 On Sunday, the Vikings overcame a false start penalty that backed them up to the 20 with a 19-yard completion to Diggs to the Minnesota 39 and took their final timeout with :18 remaining.
A pair of incompletions followed before the Vikings ran "7 Heaven" for the second time in three plays. Keenum heaved the ball to his deepest option, Diggs caught it and defenders missed, keeping alive Minnesota's hope of becoming the first team to participate in a Super Bowl in its home stadium.