The eyes directed toward the stage as Kirk Cousins walked up to the podium formed a collective gaze filled with dreams and the wonder of what's in store.
The Vikings quarterback and former Spartan spoke to the accompanying ears at Michigan State's undergraduate commencement ceremony last Friday, encouraging the spring class of 2019 to focus on who, not what; over-deliver; see life through a window instead of a mirror; make good decisions; and enjoy the journey.
Cousins, 30, is not too far removed from one of the seats occupied last week, yet he is preparing for his eighth NFL season.
He said that "WHAT" questions have their place, but the "WHO" questions are far more important.
"I can tell you from experience that your joy in life moving forward will come far more from WHO you do life with than from WHAT you do," Cousins said.
He reminded those in attendance that he served as a backup for two of his four-and-a-half years at Michigan State and for three of his seven NFL seasons. Cousins credited his former coach Don Treadwell for encouraging him to "prepare and lead like the starter." Cousins said it became clear that just punching a clock "wasn't going to get me where I wanted to go."
Cousins also traced back to a major source of inspiration after his first Spartans practice in August 2007.
He tried to call out the plays but would have done just as well with a mouthful of marshmallows and peanut butter. Getting the snap count right wasn't a snap, and when the ball was in his hands, he missed reads.
Cousins told the graduates that as he left the field that day, the idea of transferring back to his hometown crept into his mind.
Defensive tackle Justin Kershaw (2004-08) provided a boost, walking up to — and lifting up — the freshman.
Kershaw: "How do you think practice went for you?"
Cousins: "Not well, Justin."
Kershaw: "I don't know man, you may not know the plays yet, but those of us on defense could see you have a lot of raw ability. Just keep working, and it will come. We all struggled on our first day."
Does Cousins, who finished his first season in Purple as the only player in NFL history to pass for at least 4,000 yards, 30 touchdowns, complete at least 70 percent of passes and throw 10 or fewer interceptions in a season, wonder what would have happened without Kershaw's influence as a "window" person?
"I certainly would have walked off the field and gone on to practice the next day with far less confidence," Cousins said Tuesday in an interview. "I don't know that I would have for sure transferred in that moment, but it was certainly a shot in the arm to have a veteran player speak belief into me and help give me perspective.
"My freshman year as a whole, much like your rookie year in the NFL, is a learning experience and a grind, and you have a long ways to go to keep the long view in mind and understand it's a marathon and not a sprint," Cousins added. "It's so important to just keep learning and believe that the accumulation of knowledge and skill over the season can become a powerful thing, but it does take time to learn and grow into the player that you someday hope to be. I think that's why I'm grateful for my college career, because it taught me so much that then happened again in my pro career, but having gone through it one time prepared me so much more for what was coming."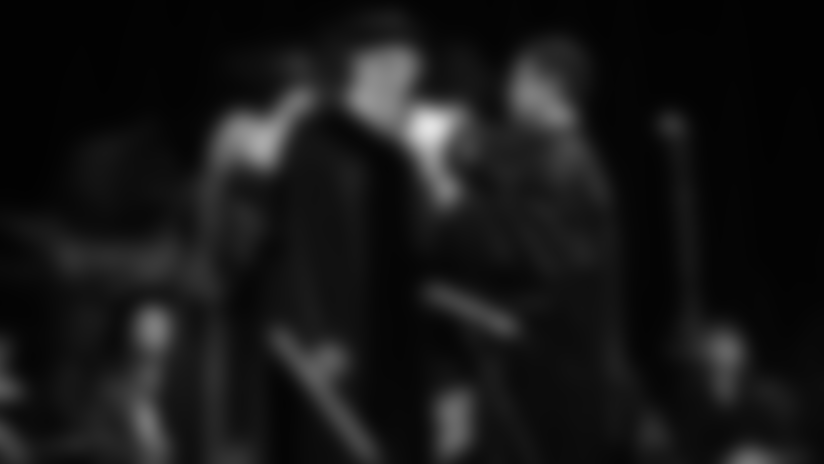 Be it a window or glass, Cousins also told the graduates that life is "a reflection of the decisions you make." He said playing quarterback in the NFL hinges on making good decisions, a lesson first illustrated by his position coach at MSU, Dave Warner, who had a "MAKE GOOD DECISIONS" sign in the quarterbacks meeting room.
"As a quarterback, you're always going to be asked to lead, but you're thrown into experiences that will stretch you as a person and as a leader, just like giving a commencement address," Cousins told Vikings.com Tuesday. "That was a stretching experience, something new and different. It was a challenge to know what to say or how to best communicate, but I enjoy taking those challenges and growing myself as a person. I don't think anything has stretched me or challenged me or grown me more than playing football at a high level, whether it was in the Big Ten conference or at the NFL level."
Cousins, whose father is a Christian minister, closed his commencement address by referencing two Bible verses and a secular source of inspiration.
"The Bible puts it this way in Galatians 6:7: 'Whatever a person sows, this they will also reap,' " Cousins said to reinforce the importance of good decisions.
A bonus "half-thought" that Cousins doled out in honor of his extra half-year on campus while earning his degree was to "ENJOY THE JOURNEY" because "you can prepare for the future today, but you can't live the future today."
"I think the people who enjoy the journey tend to have greater success, and they certainly can have greater impact. The Bible also offers good advice here in Psalm 118:24: 'This is the day the Lord has made, let us rejoice and be glad in it.' "
Cousins said it comes natural to share the influence of his faith and how he uses the Bible as his off-the-field playbook "because it is the foundation of what I've built my life on, and the principles of scripture are truth."
He also illustrated to the graduates that rectitude can stem from a less reverent source, pivoting to his favorite sitcom, The Office, which he watched during his campus days and continues to enjoy.
"As Andy Bernard says in the final minutes of the final episode of the final season … 'I wish there was a way to know you were in the good old days, before you've actually left them. Someone should write a song about that.' "
"That would certainly be a message I would give to anyone coming behind me," Cousins told Vikings.com, "to say as much as you're chasing a goal or a dream, don't forget to enjoy the journey along the way and cherish the good old days while you're in them, and believe that wherever you're headed next is going to be great, as well.
"When you focus on other people and how you can impact other people, life has a way of coming around and impacting you in a positive way. I'm sure they'll go on to great things, and as I look back, it's only been, I guess seven-and-a-half years since I graduated, and I never would have thought I would where I am at this point in life at only 30. I'm living a dream, and hopefully they can say the same thing as they go through their turn."