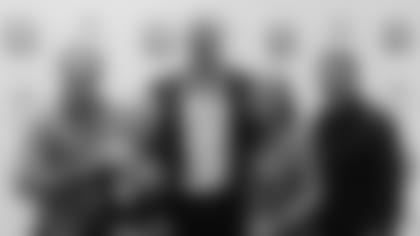 EAGAN, Minn. –Tracy McDonald recently traveled to Las Vegas for a golf tournament, but what she found was a much deeper connection to the NFL Legends Community.
McDonald, the Vikings Alumni Affairs Coordinator, was part of the winning team that competed in the NFL Alumni Charity Golf Classic in Minnesota in June. After she and her teammates defeated three other groups in a shoot-out, they advanced to the NFL Alumni Super Bowl of Golf, which took place April 12-14 in Nevada.
The national charity golf event was established in 1980, dovetails with the NFL Alumni's Annual Meeting and raises funds for children's charities.
Teams representing 24 NFL alumni chapters from across the country teed off against one another. Off the green, however, was more about camaraderie than competition.
McDonald enjoyed networking throughout the weekend with new names and faces, from Dana Lihan, who helps facilitate health screenings for alumni through the NFL, to former Vikings players John Haines (1984), Kyle Richardson (2002) and former offensive line and running backs coach Dean Dalton.
"I had heard Dean's name in the past, but never met him, and I talked to him for hours," said McDonald, who said that Dalton was excited to connect further with the Vikings and its philanthropic work.
McDonald was able to share information with others about the work she does with Vikings Legends. She and Senior Manager of Alumni Affairs Deb Jones consistently communicate with Vikings Legends, whether local or out-of-state, and plan events that include the annual Legends Weekend, attending games at U.S. Bank Stadium and various community appearances.
McDonald, who has been in her current role since 2014, is proud of the relationship between the Vikings organization and Legends, particularly under the Wilf Family Ownership.
"It's significant because many teams do not have the relationship between Ownership and their Legends like we have at the Vikings," McDonald said. "To see all the changes in the Alumni Department over the past four years – it's amazing how much the program has grown."
One aspect that McDonald highlighted was the "open-door policy" that Vikings Head Coach Mike Zimmer has established for alumni.
"They're welcome any time, and the alumni are so honored. We want them to know, 'You laid this foundation, and we appreciate it,' " McDonald said. "And I think the current players enjoy it, as well – 'Here's a Hall of Famer coming to talk to me after practice – how great is that?' It's really a win-win all around."
McDonald emphasized that word of mouth travels quickly about the Vikings efforts to include their former players in unique events throughout the year.
"When I first started, I think we had 40 guys attend Legends Weekend, then it was 70, and in the past couple of years, it's been more than 100," McDonald said. "It's making a difference."
Added McDonald: "We couldn't do what we do without the support of the Wilfs and the entire executive staff.  We are very blessed to be part of this wonderful organization."