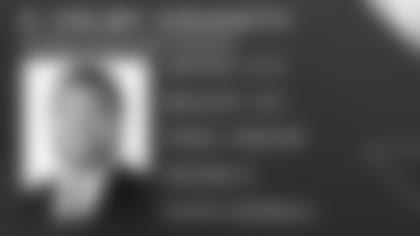 EAGAN, Minn. –The Vikings used their first of two sixth-round picks on Saturday to draft Appalachian State guard Colby Gossett.
Gossett was the second offensive lineman selected this draft by the Vikings, who added tackle Brian O'Neill in the second round on Friday.
"It was something else," Gossett said of waiting for a phone call. "I heard a lot of stuff going around fourth, fifth and sixth rounds. The nerves start to get flimsy on you, but it's nice and I'm very happy where I ended up."
The lineman prides himself on being a tough, physical player.
"It's something I can bring to the team," Gossett said. "I really enjoy being very physical and very tough, and I mean, I play with a lot of emotion, but I'm also going to be very technical while I do that."
Gossett started all 13 games at right guard and helped lead Appalachian State to a 9-4 season, after which he received First-Team All-Sun Belt honors for the second consecutive season.
After redshirting in 2013, an injury sidelined him for part of his freshman season the following year, but Gossett still played in eight games and started seven. He started the first seven games at right guard as a sophomore and moved to right tackle for the final six games of the season.
In 2016, Gossett started 11 games at right guard and two at right tackle.
Although he spent his entire collegiate career on the right side, Gossett played left guard at the 2017 Senior Bowl in Mobile, Alabama.
"I'm comfortable at both positions, and I've had a few workouts at center, as well," Gossett said. "It's something that I can definitely work on and become more comfortable at throughout the year."
Interestingly, NFL Media analyst Mel Kiper predicted in his mock draft earlier this month that the Vikings would target Gossett, but Kiper projected the lineman as a third-round prospect.
Kiper called the guard an "under-the-radar gem."
Gossett was grateful for the chance to demonstrate his skill set at the Senior Bowl and at the NFL Scouting Combine, where he ranked fourth among offensive linemen with 32 reps of 225 pounds on the bench press.
"I feel like it was very important coming from Appalachian State, which is just recently getting into the spotlight," Gossett said. "It was great to get out there where I could go against those big D-I guys from Alabama and Georgia. I really felt like that helped me and helped project me forward."
Prior to his collegiate career, Gossett was a standout at North Forsyth High School in Cumming, Georgia, where he played offensive tackle and defensive end. As a senior, he earned First-Team All-Region recognition as an offensive lineman and recorded 42 tackles and 3.0 sacks as a senior.
Below is his Combine Profile on NFL.com:
Versatile and strong, Gossett is one of the top prospects from App State on NFL scouts' radar. The first-team All-Sun Belt pick in 2017 led the Mountaineers to a strong 9-4 season, starting all 13 games at right guard. As a junior, he was also a first-team All-Conference pick after standing up well against Tennessee and Miami, as well as conference foes, starting 11 games at right guard and two at right tackle. Gossett was a reliable member of the line as a sophomore, starting the first seven games at right guard and the final six at right tackle. He was scheduled to start in 2014, but a preseason injury forced him to sit out the first four games of the year; he played in eight games, starting seven, at right guard that season. As a two-star recruit from Cumming, Georgia, Gossett redshirted in 2013.
Gossett had trouble sustaining blocks against talented competition from Georgia and is unlikely to be ready to face off against NFL competitors. Gossett's NFL-ready frame will appeal to power teams who may look to stash him on a practice squad early on while they work on his technique to unleash more power at the point of attack.
Started in 46 straight contests
Possesses NFL-ready frame with thick calves and a broad waist
Comes of the ball with adequate quickness
Has mass and strength to create some movement and secure his down blocks
Able to sit down and play with enough anchor against bull-rushing defensive tackles
Hitch in his punch allows defenders to land first
Will lean laterally to make up for sluggish mirror and can be knocked off-balance
Plays with leg tightness on the move
Lumbers in space and will struggle to connect consistently on second level and as pull blocker
Unable to keep blocks centered after contact