MINNEAPOLIS –Army Sgt. David Waters wanted to say "thank you" to the Vikings, but they flipped the tables and expressed gratitude in a bigger way than he could imagine.
Waters, a native of Florida, started following the Vikings at an early age because of his mother's Minneapolis roots.
"It was kind of a long-distance relationship," Waters said of his connection to the team.
Last year, it became even more long-distance.
Waters joined the Army as a UAV operator in 2014, and in 2016 he was deployed and served in Afghanistan for nine months.
"I love this country and want to give back to it and have an impact, however small it may be," said Waters.
While in Afghanistan, he sent an email to the Vikings.
"It's kind of boring in the desert, and I was looking for a kind of morale boost," Waters said. "I just reached out. A couple weeks later, I got this nice box with some memorabilia, a lot of cool stuff. A handwritten note. I just thought it was really great."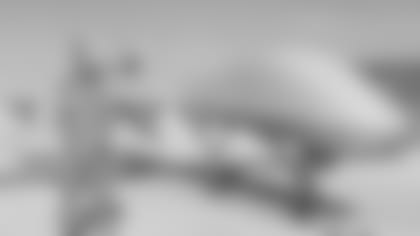 Waters wished to thank the team for so thoughtfully responding to his message. And then it came to him – the perfect, and unique, token of gratitude.
"I fly UAVs, unmanned aircraft, and there's just a small little compartment that's not really used for anything, so we put U.S. flags in there and fly them on missions; it's just kind of a symbolic thing," Waters said. "I flew [a flag], had a certificate made and sent it back to the Vikings. I was just saying 'thank-you.' "
Waters, who returned to the States last March, was surprised to once again be contacted by the Vikings, who invited him to today's Salute to Service game.
The lifelong fan said he couldn't believe it. He, his father and his wife flew from Fort Campbell, Kentucky, to be on the sidelines of U.S. Bank Stadium pregame. As Waters stood in awe, pointing out his favorite players and taking in an energetic atmosphere, he was presented with one more surprise: the flag that he flew in Afghanistan and sent to the Vikings will once again be unfurled, this time proudly run out of the Vikings tunnel prior to kickoff. Rookie linebacker Ben Gedeon, whose brother serves in the U.S. Navy, will carry the flag.
When Waters heard the news, he was initially speechless.
His father, Scott, grew noticeably emotional.
"I am so proud. That's all I can say. I'm just so proud of him," Scott said. "This is one of the greatest days of my life, truly. I'm blown away by this.
"I've been an NFL fan since I can remember. And just watching football growing up and always just in awe of what these athletes do," Scott added. "For them to stop, to take a moment to honor my son, it's really awesome."
Waters said the Vikings gesture meant more to him than he could describe.
"I've gotten married, and I held my wife's hand as she gave birth to my child, and I've come home from deployment – and this is right up there with the greatest days of my life," Waters said. "This is tied for a close third. This is up there. Just … wow."