When the Vikings returned home from three straight road games (at Detroit, Atlanta and Carolina) on Dec. 17, they were cheered by a fan who had been with them stride-for-stride for two consecutive weeks.
Josh Spigelman attended the Vikings narrow victory against the Falcons and the close loss against the Panthers before making his way to Minneapolis to see Minnesota clinch the NFC North with a 34-7 win against Cincinnati.
The Vikings have traveled well to road games all season, including to Week 8 in London, but Spigelman's trek began with a flight from his homeland of Australia.
"It's been absolutely amazing," Spigelman said of his travels before his first game at U.S. Bank Stadium. "It's taken a few months of planning, obviously a lot of travel, hotels and flights and all of that. It's quite pricy, but well worth it. I took all of my leave from work and have enjoyed every single second.
"I managed to sneak in a few sightseeing opportunities in D.C. as well," Spigelman added. "I love the States. I work for a company that has an office in Minneapolis, so a potential move could be in the future. I'd love to live here one day and come to every home game."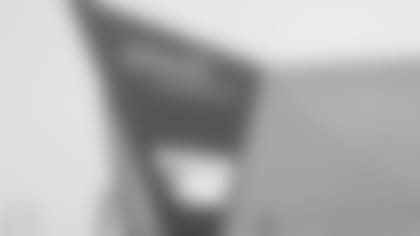 Until then, Spigelman is fully committed to following the team. He is part of a Facebook group that connects through its members' enjoyment of Vikings football. The most passionate fans wake up in the wee hours of Monday mornings to cheer on the team.
A game that kicks off at noon in Minneapolis — like Sunday's Vikings game against the Bears — goes live at 5 a.m. in Sydney and earlier than that in other parts of Australia, but it's totally worth it, Spigelman said.
We caught up with Spigelman, who was decked out in a yellow Randy Moss jersey he purchased online a few years back. Spigelman estimates that three-quarters of his wardrobe is Vikings Purple and said his jersey collection is about 15 deep, including a Daunte Culpepper one he picked up during a trip to the U.S. in 2005, as well as Antoine Winfield and Kevin Williams.
Culpepper to Moss — on *Madden *video games — sparked Spigelman's love for the Vikings.
"In Australia, most fans adopt the game through the *Madden NFL *video game, so when I was about 11 or 12 years old, I got my first copy in 2002 and fell in love with two players in particular: Randy Moss and Daunte Culpepper and have followed the team ever since," Spigelman said. "I'm not a fan of jumping teams like a few other people, so stick true to the team through the ups and downs. Here I am in 2017, fifteen years later, being a Vikings fan."
This prolonged trip wasn't the first time that Spigelman was able to see the Vikings in person.
"I went to the Metrodome [Jan. 3, 2010] when we absolutely thrashed the Giants by [37] points, so I got to experience the Metrodome before we moved, which was great," Spigelman said. "I also got to experience TCF Bank Stadium when the Metrodome collapsed. I was also there against the Bears in the last game of the [2014] season."
So what did he think of the three facilities on this trip?
"I've traveled to Atlanta and their new, impressive stadium — obviously not as good as ours, but still very impressive," Spigelman said. "To see the win was absolutely amazing. Caught a bit from Falcons fans but gave it back to them. Glad we got the win in that one.
"Traveled to Charlotte, a bit of a downer but exciting nonetheless, a great comeback, a great atmosphere, so that was really good," he continued. "Now, here I am at U.S. Bank — amazing stadium. I was able to locate the Legacy Brick that me and my dad purchased a few years ago, representing Australia of course, and our love for the Vikings."