To get a passing game off the ground consistently, a combination of things must occur in unison – protection must be sound, receivers must break open and the quarterback must deliver on time. While the Vikings offense hasn't been able to accomplish the task with great consistency so far in 2014, there have been plenty of flashes. Perhaps last week's most impressive moment came when QB Teddy Bridgewater stood tall behind perfect protection to find WR Greg Jennings for 38 yards on 3rd and 7 from the minus-43. That crucial connection led to the first touchdown pass of Bridgewater's career just two plays later.
Let's take a closer look at this big-time play…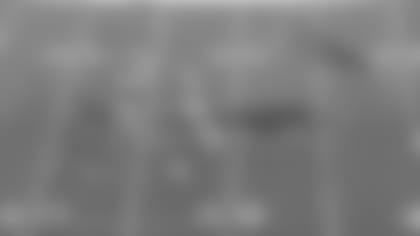 The Vikings are lined up in a 3x1 receiver set with WR Cordarrelle Patterson at the top of the screen and TE Chase Ford in the short slot right, WR Greg Jennings slot right and WR Jarius Wright wide right. QB Teddy Bridgewater is in the gun and RB Matt Asiata is in the backfield on Bridgewater's left side. The Bills defense counters with a nickel package that includes four down linemen (rectangle) and four defenders aligned in what appears to be man coverage (arrows) – CBs over WR Patterson, WR Jennings and WR Wright, and a safety over TE Ford. There are two LBs in the middle of the field – one is responsible for RB Asiata and the other drops into what appears to be zone coverage. There is one deep safety (triangle), and he is shaded to Patterson's side of the field.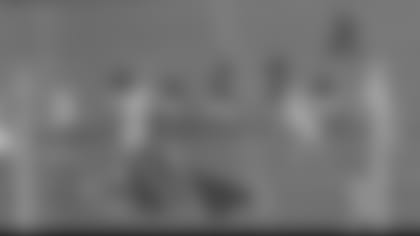 A critical part of the operation is the pass protection provided by the offensive line. On this play, Buffalo's defensive line executed two stunts (also referred to as "games"). On the left side, DT Marcel Dareus (LT) penetrated upfield while DE Mario Williams (LE) looped underneath. On the right side, DE Jerry Hughes (RE) used an inside move to cross LT Matt Kalil's face and engage with LG Charlie Johnson while DT Kyle Williams (RT) came underneath Hughes' inside move and then went upfield.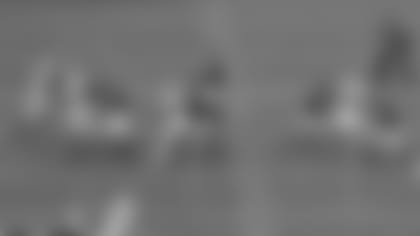 One key to effectively blocking a defensive line while they execute stunts is communication by the linemen. The Vikings communicated very well on this play and were able to make the proper adjustments to protect Bridgewater. With RB Asiata on the right side to help, C Joe Berger was able to slide to his right and pick up DE Williams (circle) as he came underneath Dareus' penetration. RG Mike Harris passed off Dareus to RT Phil Loadholt (also in the circle) and then rocked back to help Berger on DE Williams. On the left side, LT Kalil engaged with Hughes and passed him off to LG Charlie Johnson (left arrow). LT Kalil then worked his way back to his left to block DT Williams (left arrow); Asiata chipped Williams to help Kalil. The proper communication and blocking created a clean pocket for Bridgewater (dashed line) as he scanned the field and found WR Jennings breaking open down the middle of the field.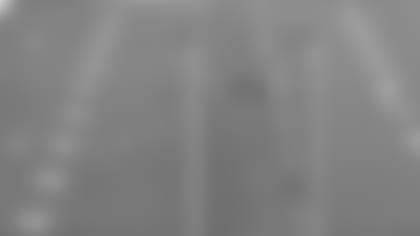 As QB Bridgewater's pass cuts through a brisk wind at Ralph Wilson Stadium, WR Jennings has gotten behind his defender. With the throw coming in slightly underthrown, WR Jennings re-positions his body perfectly (circle) by squaring up the line of scrimmage and keeping the defender behind him, similar to how a basketball player would box out for a rebound. This allows WR Jennings to extend his arms before the defender can knock the pass down and make the catch at the plus-19, setting up a Bridgewater-to-Cordarrelle Patterson touchdown pass just two plays later.