After Further Review is a deeper look at plays or stats after Vikings games…
The Vikings ignited the crowd and took their first lead of 2017 with a three-play, 74-yard drive that ended with an 18-yard touchdown pass from Sam Bradford to Stefon Diggs.
Everyone was able to see Bradford drop dimes to Adam Thielen for 35 and one of his most impressive passes in Purple for a 21-yard gain to Jarius Wright, as well as Diggs running freely toward the end zone and being met by the ball. With the help of NFL Game Pass, we'll take a look at other elements of the three plays that helped Minnesota take control in what became a 29-19 Vikings victory.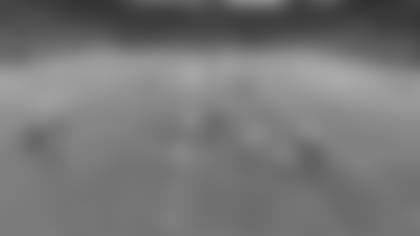 Q2, 5:26 remaining — First-and-10 at the Minnesota 26
The Saints have just taken a 6-3 lead, and the Vikings are beginning their third possession.
Minnesota uses what New Orleans thinks could likely be a run-oriented personnel grouping with running back Dalvin Cook, fullback C.J. Ham, Thielen, Diggs and tight end Kyle Rudolph, but the Vikings throw in a twist by sending Cook wide to the left and lining up Ham wide to the right.
Thielen is moved into the slot and gets a 1-on-1 matchup against linebacker Manti Te'o.
New Orleans rushes three defenders and drops eight, and the Vikings offensive line is able to provide ample time for Thielen's deep route. Bradford had that one in mind and had plenty of time to let the play develop.
ESPN's Jon Gruden provided color for play-by-play announcer Sean McDonough and the television audience:
"Just a three-man rush, the Saints against that empty backfield set, checked to a three-man rush. Nobody near Sam Bradford. Sean, if he gets protection, he can be as accurate as anybody I have studied. Heisman Trophy winner, No. 1 overall pick, looks sharp."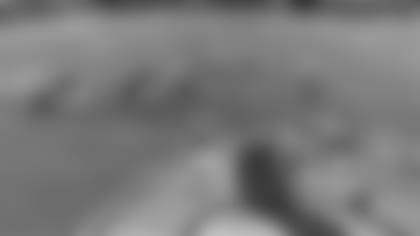 Q2, 4:44 remaining — First-and-10 at the New Orleans 39
This time the Vikings start the play by switching up their alignment on the offensive line by moving right tackle Mike Remmers to the left of Riley Reiff. Left guard Nick Easton leaves his post and picks up a blitz by safety Kenny Vaccaro, and Cook picks up late-charging linebacker Craig Robertson.
Rudolph is matched up against Saints DE Cameron Jordan, the son of Vikings Legend Steve Jordan and New Orleans leader in sacks the past two seasons.
Easton keeps Vaccaro at bay, knocking him down once and then making sure he can't get back up and get Bradford, who has enough time to make an anticipation throw to Wright. Even though Jordan is closing in fast, Bradford's accuracy isn't compromised. He places the football just over the shoulder of cornerback P.J. Williams for a gain of 21.
Q2, 4:13 remaining — First-and-10 at the New Orleans 18
The Vikings go no huddle, and Bradford fakes a handoff to Cook that draws the attention of the Saints defense.
Diggs is able to scoot past cornerback De'Vante Harris and everyone else. He's so open on his way to the end zone that home crowd begins to celebrate before the ball even leaves Bradford's hand.